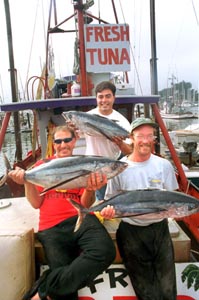 Hard to the Albacore: Captain Mark Russo, Joe Ruvalcaba and Fred Sebers deliver the goods from Monterey Bay.

Photograph by George Sakkestad





Fish Story

The albacore comes straight from the sea to the dock, thanks to Captain Mark

By Janet Blaser

SUSHI, ANYONE? That's been my greeting to friends the last few days after a weekend visit to Captain Mark and the Reliance down at the Santa Cruz Harbor. With my own 15-pound albacore safely in hand (triple-bagged against leakage), I've been enjoying a high-protein diet the likes of which is pretty darn special. Even after all the maguro is said and done, I froze enough fillets to keep me set for quite a while.

Albacore season started a few weeks ago and will continue till about Halloween. Prices are already low compared to those in the grocery store, and the Captain says they'll get even lower once the fish really start running. Right now, whole fish are $1.50 a pound, with dressed-out fish at $2 a pound. (Legally, the fishermen are not permitted to actually clean the fish, so consider using the money you save to buy a new, sharp knife to do the job yourself.) He'll pack your fish, anywhere from 12 to 30 pounds, in ice-filled plastic bags, but feel free to bring a big bucket or some such container to make carrying it home easier. If that's more fish than you can handle, find a friend to share in the bounty.

Captain Mark Russo, my fishy friend, has been a fisherman for just about his whole life. Like his dad before him, the sea is his home for many, many days a year. On the boat is a sticker that reads, "Fish tremble at the sound of my name," and I'll bet that's no joke. Captain Mark fishes for salmon, crab and albacore in season and sells the majority to canneries down the coast, but he still saves some for local landlubbers like you and me.

Although an ad in the paper caught my eye ("Get Hooked Up! Straight from the fishing vessel Reliance ... to you!"), the captain said he does a brisk business with regulars from the area as well as tourists visiting nearby Twin Lakes Beach who see the signs and come on Sunday afternoons to buy dinner before they head home. And you can bet local chefs--like Al Dente's Lucio Fanni--come here to buy their fish, too.

Designed for speed, albacore have sleek, dynamic bodies with small fins and powerful muscles. They stay far offshore in the warmer water--Captain Mark catches them anywhere from 40 to 150 miles out, trolling with hand-tied lines. He keeps 'em fresh in the hold, packed heads-down in big barrels of ice to prevent bruising the delicate, pinkish flesh. How does he know where to go? Although he has all the most modern tracking and sonar equipment, the Captain said basically it comes down to a simple premise: "If I'm getting bites, it's a good spot. If I'm not, it's a bad spot."

No matter. He'll find the fish, and you just need to find him. Head to "T" Dock, right behind Rosa's Restaurant at the Santa Cruz Harbor, every weekend during daylight hours. Monday through Friday he's out at sea, but 21st-century guy that he is, you can still reach him via cell phone at 809.7627.
---
Got a food tip or restaurant news? Send an email to Janet at [email protected]
---
[ Santa Cruz | MetroActive Central | Archives ]