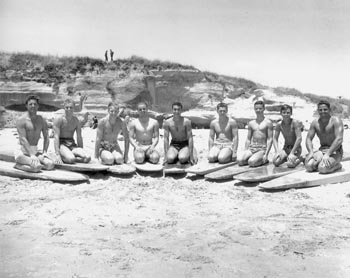 Covello & Covello Historical Photo Collection

Santa Cruz Surf Club, June 8, 1941: Some of these guys now nearing their 75th birthdays are probably still around town and probably still surfing. These tall-board, early surfing photos are often seen around here, but what makes this one unique is that Covello & Covello Photography has the original negatives. Those boards must be 12-feet-plus!




Bruce Bratton

VISITING HOME DEPOT. Finding myself with nothing else to do in Sunnyvale last week, I stopped at the brand-new Home Depot at 975 De Anza and Sunnyvale Boulevard just off traffic-jammed Highway 85. I'm not sure all the independent business owners around Santa Cruz County are aware of some of the huge and competing departments Home Depot would bring here if it ever got in over at Soquel and 41st. Think about what your favorite locally owned businesses supply. Home Depot sells gardening supplies, lighting, carpets and rugs, tiles, cabinets, refrigerators, washing machines, doors, concrete, brick, rebar, plywood, paint, stains, Jacuzzis, spas, outdoor plants, truck rentals, flooring, blinds, fans, kitchen and bath supplies, millwork, lumber, tools and hardware--and Home Depot delivers and installs and has its own contractor service representatives. It's a matter of watching our friends and neighbors go out of business and our locally spent money go to Home Depot headquarters.

FINAL CAFFEINE WORDS? Dena Hope sent me the following words direct from the SCAA (Speciality Coffee Association of America) Espresso Lab handbook: "Caffeine is another misused fact of espresso. You use only 7 to 9 grams of ground coffee for a single espresso, so you are really only extracting a little less caffeine than in a regular 8-to-10-oz cup of coffee, but you are getting it in 1.5 ounces of espresso." She's invited me over for an espresso with a lemon zest or a Café Borgia, which is an espresso with an orange zest. Dena owns and operates the Pacific Coffee Roasting Company at 7554 Soquel Dr., Aptos.

DYING WITH BILL MOYERS. The four-part series, On Our Own Terms, on talking about death that Bill Moyers concludes tonight on Channel 9 (and which runs again, starting tomorrow night, on KTEH) makes death so fascinating, cultural and interesting that it's hard to decide whether to die or go to the aquarium.

KENNEDY KICKOFF NAME DROPPING. It's amazing what you can learn from these City Council campaign kickoffs. There were no trade unionists there, and the 10 progressives who attended Scott Kennedy's kickoff were there as spies for the candidates they are supporting. As you could expect, the developers and money people are supporting Kennedy. Norm Lezin, Mike Vasquez, Karen and Daryll Darling, George and Gail Ow, Harriet Deck, Rod Quartararo, John Lisher, Peter Eberle, Carol McPherson, John Isbister, Mike Mason, John Bakalian, Marsha Shanle, Lou Vertin, Robert DeFreitas, Bruce Cooperstein, Gary Garmann, Doug Deitz and Arnoldo Gil Osorio--not to mention Robert Norse--were all present. Signing on as supporters were Jim Bosso, Neal Coonerty, Matt Farrell, Stephanie Harlan, Diane and Richard Klein, Erik Larsen, Madelyn McCaul, Art Pearl, Larry Pearson and Scott Roseman. The old City Council quartet's presence was noted: Cynthia Mathews arranged the party, Michael Hernandez attended and Mike Rotkin gave the stirring intro and pitch. Bob Fitch of the Resource Center was there, too, and he explained to me in no uncertain terms that the Resource Center and Kennedy are very separate entities.

MOVIES OVER LIGHTLY. Just go see Nurse Betty. Renée Zellweger and everybody else in it are perfect. It's in the Blood Simple category: a bit bloody but great fun and intelligent. I saw Whipped for the same reasons I saw Bring It On. Somebody, somewhere, wrote that there was something worth seeing in it. Being an optimist and loving films, I hope for the best each time, but Whipped is nearly as stupid as that other one--don't think of going. Love and Sex has a nicely written plot that reminds you of a West Coast Woody Allen story. It's not as much fun as Nurse Betty, and it's a different kind of funny; go for it.

WHERE'S STAN FULLERTON? Screenwriter William Hjortsberg is doing a book on his old friend Richard Brautigan. He wants to know more about Stan Fullerton, who created a paper flamingo that Brautigan used to carry around. There must be a million Santa Cruz stories about Stan, so if you have any great ones, or know what happened to Stan (I lost track), get in touch with Hjortsberg at [email protected].

ARNIE LEFF POLITICAL KICKOFF. Aside from having the best food by far on the political party scene, the Arnie Leff kickoff attracted some attendees who made for fascinating guesswork. Bernice Belton is supporting Arnie. Liz Vogel, Paul Brindel, Hal and Marsha Margolin, Josh Gitomer, Sandy Brown, Don Burke and Scott Bugental were there. The Green Party endorsed Bugental, Ed Porter, Bonnie Morr and Arnie, so Bonnie, Jeff Shuey and David Silva were there, too. In a very direct answer to my question, Arnie stated that although Scott Kennedy is a friend and a patient of his (Arnie being a doctor), he is not supporting Kennedy politically in any way, and he said, "Scott knows that." Many political enthusiasts around town were wondering about that, and it's better to have it cleared up.

BLISS TIME. Dan Dickmeyer sez--and I agree--that we need a special name for this most wonderful season of the year. This is that amazing, uncrowded, peaceful, perfect-weather time between the leaving of the tourists and the arrival of the monarchs and the coming of the students. Dan suggested "The Happy Doldrums" and admits there may be something more lyrical.

EMILY REILLY CAMPAIGN PARTY. Eleanor Wasson's having a campaign party for Emily this Sunday (Sept. 17), 5-7pm. What'll make this fun is that it'll be after the SCAN endorsement forum (Sept. 13) and that both John Laird and Supervisor Mardi Wormhoudt will be guest speakers. There will be some extra hot and heavy politicking going on at this one!

NEW NOODLES. Now that Shen's Gallery has left the Redtree building on Pacific and moved into the old Linda Vista market building out on Mission Street a few doors down from Omei Restaurant, Omei is going to open a noodle shop in the Shen's Gallery place on Pacific, next to Artisan's. Roger Grigsby, who owns Omei (and funded the right-wing newspaper on the UCSC campus) is married to April Shen, which explains the coincidental moves.

OTHER POLITICAL NEWS. In answer to all those folks who are wondering where City Councilmember Mike Rotkin is lately, well, he's endorsing Bruce McPherson on McPherson's flyer for state Senator, and calls him "relatively liberal." On another matter, the Downtown Neighbors Association is holding a council candidate forum next week. However, the association is not going to endorse any candidates. I've been trying to track down this group ever since becoming a downtown resident. Robert DeFrietas tells me he's the vice president, William Rubel is the president, and Gil Nordquist is the treasurer. They don't have any regular meetings, and Robert couldn't say how many members they have or where they meet or how to become a member. It does leave some questions unanswered. Since the folks who live in the downtown area of Santa Cruz must care about some issues, you'd think this would be a hot group. I'll let you know if I hear anything.

SPECIAL MOVIE NOTE. If you go to see Girl on the Bridge--and you should--Art Pierce emailed to say that the unusual interview at the opening of the film was a tribute to Francois Truffaut. Truffaut used the interview concept in The 400 Blows. Art sez to check out www.mrqe.com/lookup and I did. If you want to know more about 20,000 films and all the current reviews, go for it.

SUMMING UP. The omnipresent Mark Colen swears he had a license plate that read, "GI1A4RE." He goes on to swear louder that he saw a blonde in a top-down Mercedes with a license plate reading, "IOBA30K." You just never know about Mark.
---
Bruce critiques films every other Thursday on KUSP (88.9FM) at 12:50pm. Reach Bruce at [email protected] or call 457.5814, ext 400.
---
[ Santa Cruz | MetroActive Central | Archives ]