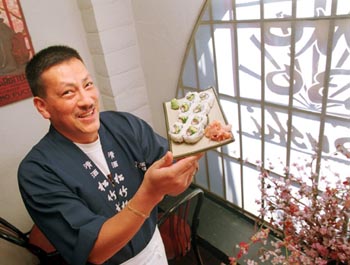 Photograph by George Sakkestadd

Tray Triumphant: Norberto Higaredo shows off some of Mobo Sushi's immaculate offerings.

Sushi Rage Rave

Fresh, fast and stylish--that's Mobo Sushi. It was the day it opened and this local wasabi palace still is.

By Christina Waters

WHO AMONG US has not been suddenly paralyzed by the overwhelming need for rice and fish dipped into a lagoon of soy sauce and wasabi? If that person exists, let them stop reading and take a hike. This story is for the rest of us, those for whom hamachi is a religion and tobiko the garnish of choice. Ravenous for a fix of maki anything, Jack and I grabbed the coveted back booth overlooking the altar where Ricky, Yoshi and the rest of Mobo's banzai babes slice and dice like surgeons.

The main dining room and its atmospheric bar were filling up fast in one of those post-holiday sushi surges that hits this town with tsunami impact. We ordered two small sakes--they stay hotter that way--and took possession of our appetizers. The seaweed salad ($2.50) always hits the spot. Cool, emerald strands of transparent marine fruits make a beautiful statement dusted with a few red pepper flakes and sesame seeds. The crunchy, chewy texture is unlike anything terrestrial. But then so is the crisp, tart bite of gobo, the orange, carrot-like cured burdock root that crowned our order of Mobo's hit appetizer Easy Pickle ($4.75). Completely sexy, this plate has spun daikon like a soft white cloud, handfuls of very peppery radish sprouts, slices of bright yellow takuan--pickled daikon, sweet and crunchy, and slices of avocado and purple cabbage. You can get seriously pickled on this one, and it's a great opening dish to share while your sushi is being hand-crafted.

We always want to eat everything all at once at Mobo--who doesn't? So the best approach is usually to order three or four rolls and wait to see how full you get before ordering a little something more. My sake was still hot when a huge enamel tray arrived with our sushi orders beautifully arranged in long curved rows like plump, edible mosaics. Sliced to show off all the colorful fish and vegetables inside, the arrayed rolls were the tiny jewel-like tekka maki with shiso (my personal passion) ($3.75), a line of pastel-hued eemaki ($4) packed with prawn, avocado and macadamia nut (OK, so I'm not a purist). The much-larger rounds of the terrific Flying Tiger ($5.95) knocked us out with the texture/flavor contrasts of crisp tempura black tiger shrimp, tart lemon, green onion, avocado, fish cake and earthy miso dressing. Jack especially loved the moist, meaty Emerald City ($3.75) a completely veggie number in which shiitake mushrooms make love to daikon, sprouts, avocado and carrots, all rolled in toasted black sesame seeds.

Ah, the flavor and texture contrast--that, along with the searing throb of wasabi paste mashed into soy sauce forms the whole point of the Mobo experience. "Everything's good--everything," Jack murmured, trying to coax another drop out of the little white sake cup.

Yes, we did have room for just one more something special. So I ordered my favorite sushi "dessert"--the all-time classic maguro nigiri-style sushi ($4.25). This particular specialty separates the merely ordinary from the top sushi establishments. The maguro--ahi tuna--must be exceptionally fresh. It must taste like the sea on the first day of creation. It must be cut to maximize texture--and tenderness. And it must ride its rounded torpedo of sticky rice generously, but not to excess. These maguro nigiri were absolutely flawless. Delicious beyond belief. We split the pair--one for each. And then, with a heartfelt arigato, hit the streets in search of gelato.
---
Mobo Sushi
Address: 105 S. River Street, the Galleria, Santa Cruz
Phone: 425.1700
Hours: Lunch and dinner daily.
Live entertainment on weekends; full bar.
Service: ** 1/2 As busy as they want to be, the staff gets the sushi out pretty quick--but it's an artform and can't be rushed
Ambience: *** Eclectic as it gets; Mobo sets its own tone--the sushi does the rest
Cuisine: *** 1/2 Extremely well-crafted sushi, impeccably fresh, amplified by worthy side dishes
Overall: Mobo Sushi nurtures its zone of sophistication and this town wouldn't be the same without it

---
[ Santa Cruz | MetroActive Central | Archives ]