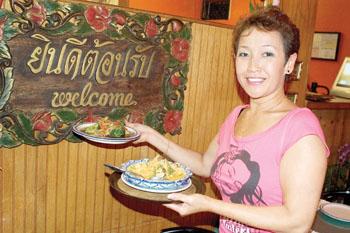 Currying Flavor: Oye Thongma serves up chef/owner Tan's culinary delights at Thai Basil.

A Name Full of Flavor

Thai Basil is the perfect payoff for a journey into the heart of Capitola Village

By Selene Latigo

The town has felt different these last few days: a bit less traffic, empty lots at the Boardwalk, fewer people walking on West Cliff. Could it really be the end of summer—the end of the tourist season? Finally feeling safe to venture out into the typically crowd-heavy areas of town, Dave and I decided to go to dinner at Thai Basil, right smack in the middle of quaint yet often dangerous tourist territory, Capitola Village.

Walking into this tiny Thai restaurant always feels good. People are smiling and the bright pumpkin-colored walls create an inviting warmth. There is a total of six tables, four inside and two outside, and on this particular visit, a consistent but manageable flow of diners occupied each one.

We sat ourselves and were quickly handed menus by our young and exuberant waitress. Deciding on what to order became a difficult task with so many options, but this was our own problem, not at all due to a lack of an organized menu. Every dish is categorized and numbered, with all entrees priced by a protein preference option of vegetarian (with or without tofu, $7.50), chicken, pork or beef ($7.95), roasted duck, shrimp or calamari ($8.95), or scallops or fish of the day ($9.95). We started with hot tea ($1.50), ginger for me and fragrant jasmine for Dave. These were served in oversized bowl-shaped mugs.

Although my tea was more sweet than gingery, it was soothing and a pleasant accompaniment to the whole meal. Along with our tea came the fresh veggie spring rolls ($3.95), two rice paper packages holding fresh mint, sprouts, carrots, cabbage, cucumber, rice noodles and baked tofu. These were served with a tangy sweet and sour sauce as well as an excellent multilayered peanut sauce with hints of coconut, tomato and tamarind. All of the textures, from crunchy to chewy to creamy, made this starter a sensory joy to eat.

Next came our Thai salad ($5.50), a heaping pile of chopped romaine with sliced hardboiled egg and generously doused with the same flavorful peanut sauce, slightly warmed. This salad could easily be a meal in itself, so we tried to restrain ourselves, knowing that we had more food on the way.

Dave slid in one more extraneous appetizer as we were ordering, little needed by either of us. When the plate of Golden Triangles ($4.95) showed up, I just shook my head as I watched him devour all six crispy fried wontons filled with delicately spiced chicken, shrimp and basil nuggets. These also came with a side of sweet and sour sauce, although this version was more cloyingly classic, less peppery and sour than the first.

Entrees arrived in a very timely fashion: the eggplant with cashews in a roasted chile basil sauce ($7.50) was rich, thick and savory, with sweet fish sauce flavor to match the depth of roasted chile. The cashews provided a nutty textural contrast to the velvety eggplant slices. We also ordered the panang curry with scallops ($9.95), which was presented to us in a beautiful ceramic bowl. This curry is a bright and cheerful yellow with light flavors of lemon grass, coconut and Thai basil. A large portion of scallops along with carrots, eggplant and slices of early winter squash swam in this delicate sauce, soaking into the steamed white rice ($1 per person) heaped onto our plates. My first bite of scallop was a bit chewy, but it must have been the only one overcooked because our subsequent bites were tender and moist.

My last sip of sweet ginger tea was enough of a dessert for me, so we skipped the tempting fried bananas with ice cream, saving it for next time. Thai Basil is truly a hole-in-the-wall treasure to stumble upon, no matter what time of year. Crowds notwithstanding, this would also be a wonderful summertime lunch destination, with inexpensive specials from $4.95 to $7.50. I will continue to come here for fresh, affordable and, put simply, really good Thai food.
---
Thai Basil
Address: 210 Monterey Ave. Suite 3, Capitola
Phone: 831.479.8985
Hours: Noon–9pm Mon–Fri
Price: $3.95–$9.95
---
[ Santa Cruz | Metroactive Central | Archives ]