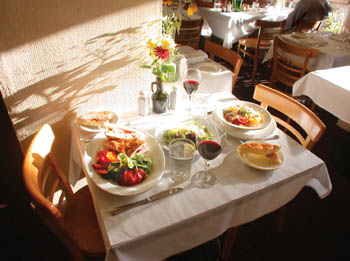 Gift of Gabriella: Let's table this discussion of the wonders of Gabriella.

Seasons in the Sun

Continuing its ongoing mission to conquer discerning diners with exquisite lunches, Gabriella delivers the goods

By Christina Waters

Armed with Simone, a one-woman treasury of Gabriella dining encounters, I aimed for a corner table in the shell-pink dining room, and took a moment to enjoy the simple fact that it exists.

Jim Denevan, chef and artistic mastermind of the downtown cafe, is a longtime pioneer in regional organic fieldwork. His menus chart the seasons, and his daily specials offer artful meditations on sparkling flavors paired in unusual flavoring alliances.

Peaches were at their absolute zenith last week. Jim knew this and splashed his lunch menu with a bevy of peachy ideas. A tall bottle of San Pellegrino water by our side, Simone and I plunged into first courses of very cool cucumber soup ($4) and equally cool, though more three-dimensional, grilled calamari salad on sorrel with slices of fresh orange ($8). Deliciously grilled squid from our very own Monterey Bay went perfectly with the luscious citrus, slices of woodsy fennel and a generous scattering of kalamata olives. Perfect flavor hits in each bite. Almost no one offers sorrel on restaurant menus, but this austere grassy leaf is the perfect foil for the aggressive accents of olives and oranges. Simone loved her cool, light soup, a purée of the nonthreatening cuke fortified with some piquant crème fraîche and a rumor of dill. Every now and then we reached for a piece of fragrant focaccia, dredged through a blend of light olive oil and balsamic.

The vivid artwork on the walls--it changes often and always rewards a second look--lends a distinctive ambience to the vintage '20s interior. I've always loved this room, especially at lunchtime when the handwritten menu seems to offer the most in the way of wittily crafted and unusually choreographed small plates. Pacing can be as leisurely as you like, which was fine with us since Simone and I had a lot of men, travel and politics to catch up on. Beautiful soft light crept in from the tiny inner courtyard--I'm convinced that flattering light is yet another of the attractions of this popular dining room.

We were about to sample the most important attractions however: beautiful plates of fresh food. Simone, being something of a salad savant, had ordered the day's special creation of baby greens, walnuts, gorgonzola and fresh peaches ($8). My plate was piled high with a layering of wilted greens and a lavish confit of duck leg, all topped with slices of grilled peaches ($17). "Perfect," Simone proclaimed after tasting her fresh peaches. They were. And all the more so thanks to the salty bite of the blue cheese, the crunch of walnuts and the sensuous greens. But a grilled peach is a thing of heightened flavor, as anyone with a Weber to call her own knows very well.

The warm fruit and the rich duck were an obvious and wonderful match. Denevan has surprises to spare, and the dish offered other treats, such as tiny grilled pearl onions, and slices of earthy celery root, also grilled. Some dishes seem to fulfill unwritten destinies, little culinary koans that bear nuggets of wisdom in their textures and flavor patterns. These plates at Gabriella made that sort of complete sense, and we both just sort of grinned with satisfaction. Nothing designer appears on these soft linens. Real food, freshly made, casually arranged plates.

And throwing caution as far away as we could, we opted for a "what the hell" encounter with a lemon tart ($6). Here, we realized with the first forkful of intensely tart custard, was dessert sorcery. A blanket of unsweetened whipped cream, a light dusting of powdered sugar, a single sweet strawberry--these were the incantations that raised the lemon to a higher power.
---
Gabriella Cafe
Address: 910 Cedar St., Santa Cruz
Phone: 831.457.1677
Hours: Lunch and dinner daily; weekend brunch
Ambience: ***. Quintessential intimate boutique bistro
Service: **1/2. Correct, unrushed and helpful
Cuisine: ***1/2. Always inventive, lunch creations excel in embodying local, seasonal and organic archetypes.
Overall: Without this diminutive outpost of fresh harvests and chef Jim Denevan's genius, Santa Cruz would be unthinkable.
---
[ Santa Cruz | Metroactive Central | Archives ]