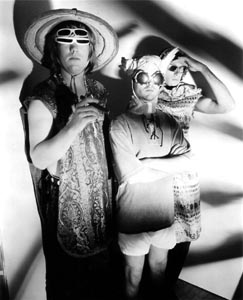 The Violent Femmes at Home: That's Brian Ritchie on the left, shading his four eyes from the light.

Mad Adders

They've been icons of the alternative sound for two decades and still deliver one of the best rock shows you'll ever see. So when the Violent Femmes say dance, you best dance.

By Mike Connor

'Add It Up' is cool, 'Kiss Off' is cool, but 'Blister in the Sun' is kind of a ball and chain--that song is overrated," says Violent Femmes bassist Brian Ritchie.

He's talking a bit of trash about one of the Femmes' most famous and beloved songs. "I can accept it though, it's part of my Bodhisattva Vow--doing three minutes at a concert date of a song that I don't like just to make people happy. I think rock bands should play their hits. It's part of the implied deal between the band and the audience: You love my music, therefore I will play it for you," says Ritchie.

Promising words from a man whose band's most famous and beloved album was recorded back in 1983. They've put out nine more albums since then, but their first is the one that will ensure their immortality. The entire album is totally acoustic, yet punker than most punk rock, riding high on the strength of the band's singular raw sound--Gordon Gano's whiny, anxious voice and lyrics, Victor De Lorenzo's sparse drum kit (featuring brushes and a homemade instrument made from a metal bushel basket on top of a tom tom that they call a "tranceaphone"), and Brian Ritchie's dominating acoustic bass lines.

Ritchie, for one, was amused by the infamous epithet given to the band by my dad when three out of his four kids were playing the shit out of their debut album. "The Kitchen Utensils Band," he called them--and to this day, he stands by what he calls his "on-the-mark" description of them.

The Femmes (Milwaukee slang for "wimps," or ad-libbed BS--the world may never know) developed their sound playing acoustic in the streets, because, according to lead singer Gano, "we couldn't get any place to play inside. Our peers would often cross the street and pretend they didn't know us because they thought it was just embarrassing, what we were doing." But when Chrissie Hynde and James Honeyman-Scott of the Pretenders caught them busking outside of a theater where the Pretenders were about to perform, they were more amused than embarrassed, and decided to invite the Femmes to open the show.

Eventually, the band caught the attention of Slash Records in Los Angeles, who also released landmark albums by Los Lobos, X, the BoDeans and L7 as well as the soundtrack to the 1981 documentary The Decline of Western Civilization. The recently revitalized label was the only one to offer the Femmes a deal, to the tune of a whopping advance of zero dollars. Their self-titled debut eventually went platinum, despite the fact that they never even broke into the top 200 on the Billboard charts. At the time, the Femmes felt like they were out on their own with the music they were making.

"The only other person who had been doing kinda the same thing was Jonathan Richman, but we thought we were much more aggressive and serious than he was," says Ritchie. "Don't get me wrong--I love him, I think he's the most entertaining musician on the planet! But he doesn't rock as hard as we do, that's all."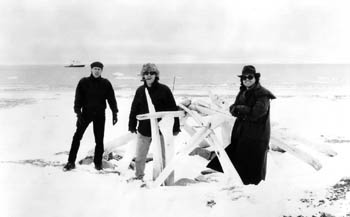 Pole Position: Because of music piracy, this is now the only house the Violent Femmes can afford.
'Ground' Zero
Their follow-up album, 1985's Hallowed Ground, was a whole different story. Because in addition to all the teen-angst material that showed up on their debut record, Gano, a devout Baptist, had also written a good deal of religious songs that would later become their sophomore release. After people realized that it wasn't actually a joke, the album cost the band a huge chunk of their fan base.
Though he doesn't share Gano's religious beliefs, Ritchie remains unapologetic for Hallowed Ground, which he still considers one of the Femmes' best studio albums.
"I'm an atheist and Victor's an atheist," says Ritchie, "so neither one of us can relate to Christianity. But Gordon's beliefs are Christian, and we had written some of those songs together. I thought of it as a practical joke on the audience. I thought it was funny, kinda snotty to do it. You can get up there and sing a song like "Kill Your Parents," but to get up there in a punk venue and sing some gospel music was really weird. I thought it just broadened our musical scope a bit."
The Femmes have maintained a healthy fan base and a stylistically consistent sound over the years, veering somewhat erratically within the folk/punk confines of their invented genre, and even adding a heavy dose of poppy electric guitar on their 2000 release, Freak Magnet. A temporary breakup in the late '80s spawned solo projects from all members, but it wasn't until the 1993 release of the Femmes compilation Add It Up that drummer De Lorenzo called it quits for a solid nine years, citing creative differences for his departure.
De Lorenzo is back with the band, who will be performing on Sept. 19 at the Catalyst. Once again, they'll share the stage with Santa Cruz resident, VF alumnus and sitar/tabla player extraordinaire Ashwin Batish, who Ritchie met at a new-music festival in Germany. They hit it off while playing together in a superstar improv group, and now the Femmes invite him to play with them whenever they come through town.
"The fun part is when Brian Ritchie jumps up and does his Chuck Berry imitation," jokes Batish from his music store on Mission Street. "Brian invited me to a show up in Santa Clara when we first played. We just like to play together. I play a lot of variety on the sitar, so for me, I just do it for fun. Brian's a great bass player; it's natural that we go and just jam together. As long as it's in the right key, I'll play it. I also like to bring my tablas nowadays--the Indian tradition is to basically do your homework and have fun, so that's what I try to do."
Anyone who's followed Ritchie's solo career knows that he's an accomplished multi-instrumentalist, even achieving the rank of Jun Shihan (teaching master) of the Japanese shakuhachi flute, which he once played for a sunrise concert at Machu Picchu.
"We all have big ears," Ritchie says. Which is all fine and dandy and believable, but what's the deal with the Ritchie song they consistently do live, "Dance, Motherfucker, Dance!"?
"I've got a few other songs, but Gordon's just a very paranoid guy, he doesn't want to share the spotlight. We just let him sing most of the stuff to make him feel good," says Ritchie. "I usually use 'Dance, Motherfucker, Dance!' to bail us out, if the audience seems to be losing energy. It gets it going. That song shouldn't be taken seriously. It's like throwing a bucket of water on somebody--I just want to get a reaction."
---
The Violent Femmes perform on Friday, Sept. 19, at 9:30pm at the Catalyst, 1011 Pacific Ave., Santa Cruz.. Tickets are $25-$28. John Bisagna opens. Visit http://www.vfemmes.com/fem_html/believe.html for the coolest Femmes trivia ever.
---
[ Santa Cruz | Metroactive Central | Archives ]