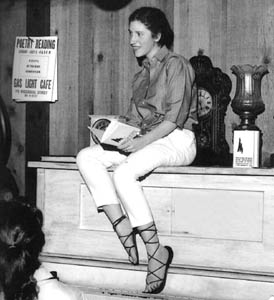 See Liner: Diane di Prima in her early days. Apparently in the Beat years, poetry readings were more clearly labeled.

We Got the Beat

Poetry Santa Cruz drafts one of the first Beat poets into its ongoing crusade

By Jessica Neuman Beck

My favorite way to find a new poetry collection is to go to Logos, pull out a book at random and let it fall open. My eyes wander over whatever poem is on that page and if I like it, I buy the book. What? There's a better way than that?

Santa Cruz has a surprisingly diverse, surprisingly good poetry scene--something most people don't expect to see in a little beach town. Dennis Morton, one of the organizers behind Poetry Santa Cruz and co-host of The Poetry Show on KUSP, can hardly sit still when he talks about it.

"When we started out, about 2 1/2 years ago, we wanted to provide a quality venue for poets from all over the country, and for the many fine local poets we knew," he says. "The reading series is our best shot at creating a climate in which poetry, poets and an appreciative audience can flourish."

Morton says that Santa Cruz is one of the few small cities in which an organized poetry group has taken off.

"It didn't spring forth from a vacuum," he says. "There was an ongoing monthly reading series sponsored by the National Writers Union that had been in existence for 18 years. I booked those readings for two years before I had the idea for Poetry Santa Cruz."

Among the better-known poets doing readings in Santa Cruz is Diane di Prima, one of the first female Beat poets and a legend all on her own. Her autobiography, My Life As a Woman, includes a cover photograph of di Prima giving a reading while perched on top of a piano. Like the book itself, that photo evokes a feeling of what it must have been like to be a woman artist in New York in the heyday of spoken word. She will be appearing on Wednesday, Sept. 17, at 7:30pm with Maria Mazziotti Gillan at the Capitola Book Cafe.

Another event that Poetry Santa Cruz is excited about is Toi Derricotte and Ellen Bass at the Actors' Theater on Tuesday, Sept. 23, at 7:30pm.

"We've had a number of poets who are very well known in the poetry universe participate in our series," says Morton. "Diana Gioia, who now heads the NEA, Sam Hamill, who started Poets Against the War and co-founded Copper Canyon Press, and Adrienne Rich."

Poetry Santa Cruz is also doing its best to bring poetry to the masses, as it were.

"We organize 'Favorite Poem' readings," Morton says. These feature nonpoets reading, as the name suggests, their favorite poems. "They've turned out to be very popular events," Morton says.

If it were ever up to me to read a favorite poem, I've got plenty--all with little Logos receipts tucked inside.
---
Poetry Santa Cruz. Diane di Prima, Wednesday, Sept. 17, at 7:30pm with Maria Mazziotti Gillan at the Capitola Book Cafe, 1475 41st Ave., Capitola; 831.362.4415.
---
[ Santa Cruz | Metroactive Central | Archives ]