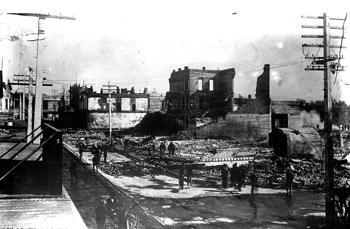 Pacific and Cooper Streets, 1894: This photo was supposed to run last week on Sept. 11 to show just one of the many downtown Santa Cruz disasters we've recovered from. This was a fire that burned all the old wooden structures, so they replaced them with brick and mortar structures. The brick and mortar ones of course went down when we had the next two earthquakes. Cinema 9 would be on your immediate left and Pacific Wave Surf Shop is on that corner where the guys are talking.

Bruce Bratton

ABOUT LOCAL LIVE THEATRE. Pisces Moon Productions figured it out. Put on solid plays like their current The Altruists or their last hit The Laramie Project, get a great cast, rehearse a lot, do good performances, and get unanimously extraordinary reviews and sell out performances. It's the other local groups who choose safe and tired plays, demand very little from whoever shows up for casting, put on small-town-level performances, have small audiences and then blame the critics for killing local theater, tsk, tsk.

CITY COUNCIL RACE. It's possible you don't support SCAN with all your heart and soul. I realize there are a few who may disagree with its goals. However, don't let that stop you from going to http://gate.cruzio.com/~scan/qa.htm and reading all the council candidates' answers to many questions about our most important local issues. Those answers cut through the muck and mire and tell you where these candidates are at. SCAN is to be congratulated. Think of the advertising and campaign money candidates would save if all their positions were in one place like that. No, SCAN will never know you went to their website, I promise. I made a mistake in last week's column about Aldo Giacchino--he's lived here five years, not two. He also last worked in city planning in 1969 in New Jersey. Tim Fitzmaurice got 51 of the 68 SCAN votes; Leavitt got 29; Rotkin, 25; Argue,19; Mathews, 17; and Aldo, 8. In the People's Democratic Club there were 26 voting. Rotkin got 20; Mathews, 17; and Fitzmaurice, 16.

DARK PLEASURES. Robin Williams is great in One Hour Photo and the picture is intelligent, kinky and excellent--don't miss it. The 75-year-old film Metropolis is back almost completely restored, and it deserves all the praises it's received. Fritz Lang (Lah-ng, not Lay-ng) was a filmmaker with a vision, and after studios and distributors cut this masterpiece to shreds, you can finally see what Lang had in mind. Then there's 24 Hour Party People, a British film about British rock from 1976 to 1992. It's supposed to be very hip and funny. I thought it was boring and trite and walked out. I stayed all the way through Satin Rouge, which is about a Tunisian woman who decides to become a belly dancer. It's really bad--don't even consider going.

SECRET CAPITOLA CALENDARS. The Capitola City Museum has produced its first historical calendar. It features Capitola's first 30 years from 1874 through 1904. Here's the deal: they only produced 200 to see if anyone was interested. You can only get them at the Capitola City Museum, which is open noon-4pm Friday through Sunday. The suggested donation is $10 each. I'd hurry there if I were you because they'll make very unique Christmas, Kwanzaa, Chanukah, fall solstice or Halloween presents.

IF YOU'RE INTO TAROT. The Living Tarot performance troupe will be at the Pacific Cultural Center Saturday, Sept 21, at 8pm. I saw them the last time they were here. The concept was a little rough and unfocused at the time, but since they act out and improvise ritual with oraclelike goals, you just have to give them space to create. It's an intriguing idea and you can get tickets at Jeanie Bobeanie, Gateways and Streetlight Records. Look up www.thelivingtarot.com for a better idea of what they're up to.

PERFORMANCE REVIEWS. The current San Francisco Opera production of Richard Strauss' Ariadne auf Naxos is magnificent in every sense of the word. One of the finest opera performances I've seen, and I've seen a few hundred. The plot, the staging and the voices, especially Deborah Voight, Claudia Mahnke and Laura Claycombe as Zerbinetta, are unforgettable. There are three performances left, if they're not sold out. Call 415.864.3330 for tickets. Annapurna Pandey brought dancers and musicians from India's Orissa Dance Academy to perform Odissi Classical Dances last Sunday at the Society of Abidance in Truth on Ocean Street. Once again, the performance was one that went beyond entertainment. The audience was completely captured by the grace, beauty, talent and history of their presentation. Annapurna will be bringing another dance company here next March--don't miss it, whatever it is.

PLAN AHEAD. UCSC Arts & Lectures is hoping to bring the Master Dancers of Bali here Thursday and Friday, Sept. 26 and 27, at the UC Mainstage. At the moment they're having visa or consulate problems, but order your tickets right away anyway. There'll be gamelan musicians and gorgeous costumes, and this is their first performance outside of Indonesia. West Cliff Productions is bringing an Okinawan group of 40 dancers and musicians to the Cabrilho College Theater Sunday, Sept 29, at 3pm. That's 3pm. They'll be dancing classical, modern and karate dance, and even performing a short opera. I saw posters in San Francisco for their performances there and, believe me, we have a bargain opportunity. Call 479.6331.With the visits of both of these dance companies and last week's Indian dance troupe performances you just have to realize how fortunate we are to be living here. And, how important it is to continue supporting the performing arts.

FINALLY. Again Simon Kelly contributes closing thoughts for the week. He notes that in pharmacology drugs have generic and commercial names. Acetaminophen is Tylenol, Naproxen is Aleve, Amoxicillin is Amoxil and Ibuprofen is Advil, etc. The FDA was looking for a generic name for Viagra; they settled on Mycoxafailin. They were considering mycoxafloppin, mydixadrupin, mydixarizin, and of course Ibepokin. But that's only if you want to believe Simon.
---
Bruce critiques films every other Thursday on KUSP-FM (88.9). Reach Bruce at [email protected]
---
[ Santa Cruz | Metroactive Central | Archives ]