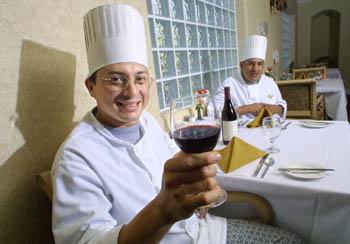 Photograph by George Sakkestad

Toasting the Traveler: Chefs Roberto Avila Flores (left) and Alex Melendez take seriously their prime directive to serve travelers and commuters.

Room at the Inn

A flashy new Hilton at the edge of Scotts Valley provides hotel dining for travelers and residents alike

By Christina Waters

ARMED WITH excellent glasses of locally made red wines, the delicious Di and I settled into the couches at the Scotts Valley Hilton's attractive lounge. It was gratifying to see a wine list almost entirely devoted to Santa Cruz Mountain premiums.

A friendly barkeep urged us to try the barbecued chicken wings, grilled polenta, cheese and fresh fruit generously provided at a happy-hour buffet spread. Wow, what a spread, we gasped, eyeing the attractive layout of finger food, but we were on assignment and managed to summon the restraint to save ourselves for a proper dinner in the spacious hotel's dining room.

My glass of Burrell Schoolhouse Zinfandel 1998 ($6.50) had grown to heroic proportions by the time I got to the third sip, and Di was happy with her excellent 1997 Bargetto Cabernet Sauvignon ($6.50). While we weren't impressed by the house sourdough--too doughy and chewy--we did find lots to like in a shared appetizer of crisp, expertly fried prawns ($9.95), toothsome and succulent the way old-fashioned seafood houses used to do. Lemons, tartar sauce and a very zippy, horseradish-intensive cocktail sauce added flavor interest to the tasty, traditional starter.

Scrutinizing the menu, we quickly understood that the hotel's dining room takes its prime directive seriously. Business travelers, commuters entertaining clients, the jet-lagged and the vacationing come from all over the country and essentially need to find something on the menu that makes them feel safe, happy and comforted.

The Hilton's menu complies by offering everything from breaded calamari, pizza and club sandwiches to pan-seared salmon, chicken Santa Fe and filet mignon.

Filet mignon ($22.95) was sounding mighty tempting, and so Di decided to settle on the beefy entree for her main course. I meanwhile was intrigued by something called Turbot Nautilus ($18.95), described as involving sautéed turbot filled with a salmon mousse laced with shrimp, scallops and lobster.

We both enjoyed our well-made salads of mixed lettuces in a nicely constructed vinaigrette, even though it made us wish, once again, that the dining room had located a more capable source of bread. And those little foil-wrapped pats of butter ... grrr.

But onward to the entrees. Our very friendly, polite young waiter brought our main courses with a smile, and returned a minute later just to make sure the filet was grilled to the desired point of doneness.

The huge slab of beef was grilled to the exact point of rareness requested, so I give the kitchen points for paying attention to customer desires. Fresh from the charcoal grill, the large, tasty, although not very tender mountain of filet mignon was topped with a peppercorn demi-glace and accompanied by a colorful garden of fresh julienned vegetables.

Brilliant red peppers, golden zucchini, carrots--practically an edible sunset in terms of visual dazzle--the vegetables were delicious. And so was the scoop of mashed potatoes saturated with the flavor chutzpah of garlic. The beef and zinfandel were wonderful together, bringing out the richness and nuance in each other, exactly as their partnership is always designed to do.

Di and I both enjoyed the excellent, richly flavored turbot, poised on a thick filling of salmon mousse, like a seafood custard. The flavor of this oil-intensive fish was delightfully forward, and made the perfect foil for the delicate, if mono-dimensional, mousse that accompanied.

While the shellfish wasn't overly abundant, its sweet complexity was present.

More of the fine veggies added that visual pizzazz that Di described as "that Vegas touch." Without a doubt, the entire dining room, surrounded by a multistory mezzanine, huge oil paintings and a soothing indoor fountain, had more than a touch of showbiz about it--the perfect place for those big, special-occasion gigs, parties, anniversaries and reunions.

Over cups of nondesigner coffee, we split a decadent dessert of chocolate layer cake ($5). It was major chocolate layer cake, lush and rich with not-too-sweet dark chocolate. It was like being fuel-injected, so to speak, with the dark, rich food of the gods. Chocolate at the Hilton--never a bad idea.
---
Scotts Valley Hilton
Address: 6001 La Madrona Dr, Scotts Valley
Phone: 831.440.1000
Hours: Breakfast, lunch and dinner daily
Extras: Full bar, happy-hour hors d'oeuvres
---
[ Santa Cruz | Metroactive Central | Archives ]