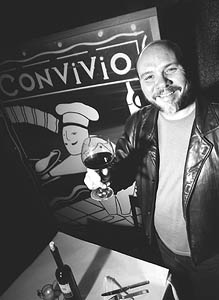 Helping Hand: Convivio Trattoria chef Marco Verduzco is one of many local culinary artists helping out at the Second Harvest Food Bank benefit dinner.

Photograph by George Sakkestad





Davenport Dusk

A coastal paradise is officially lost

By Christina Waters

IT TAKES MORE than just sleek, contemporary décor to make a dining statement. Originally, I was slated to open this week's column by writing about a new business that opened on Pacific Avenue. But after an initial experience sampling the wares--old, stale, unacceptable merchandise--I was so disgusted that I couldn't bring myself to "squint" and look for the upbeat, chirpy side of the enterprise.

Maybe my negative experience was the result of the establishment's opening week jitters, or perhaps simply a staff too new and untrained to make the right call. Finally, maybe it was just that everybody--including me--was so saturated with sadness, numbed by a tsunami of overwhelming emotion, that everything seemed to have been painted black, as Mick Jagger suggested so prophetically in the late '60s, back when the world was young.

Back then, Davenport's Whaler was a rip-roaring saloon that helped the week end painlessly for many a Bonny Doon mountain man--and woman. Now more politely named Whale City Bakery, Bar & Grill, this legendary hangout remains my favorite North Coast pit stop for excellent fries, a glass of something red made by Randall Grahm and a chance to catch the sunset sliding into the waves. Ah, but that was another lifetime, dear reader. As of Sept. 5, my beloved Whale City began closing daily at 5pm. One of the charming lads behind the counter explained that PG&E rate hikes had created staggering utility bills, and so the early closure reflects the need to cut costs. Alas. Turning off the lights, closing early--eerie signs of these millennial times (at the risk of sounding like my colleague whose initials are BB). Whale City is just a few clicks up the road: 423.9803.

Second Harvest Feeds the Hungry

Focus your compassion and help those in trouble right here at home by joining your friends and neighbors at Santa Cruz' Take a Bite Out of Hunger Dinner on Thursday (Sept. 20) at 6:30pm at the Holy Cross Hall, to benefit our local Second Harvest Food Banks. The $150-a-plate banquet will feature the creations of chefs Clyde Griesbach (Azur), Robert Morris (Blacks Beach Cafe), Thomas Vinolus (Bittersweet Bistro), Mimi Snowden (Bleu Spoon), Lee Walters (Cafe Lido), Steve Wilson (Cafe Cruz), Scott Cater (Casablanca), and Marco Verduzco (Convivio). Libations with each of the courses will be provided by Bonny Doon, Burrell School, Hunter Hill and Soquel vineyards, Storrs Winery, Salamandre Wine Cellars, D'Ellissagaray, Equinox and Seabright Brewery.

All of the chefs, as well as donating their time and talents, are soliciting donated ingredients for the menu. This means 90 percent of the ticket price will go to Second Harvest to support Second Harvest Food Banks' mission to end hunger and malnutrition in our communities. The menu kicks off with appetizers, including pepper-seared local albacore in crispy won tons with ginger wasabi paste, white corn blinis with smoked heirloom tomatoes, and a variety of designer crostini.

Drinks with the appetizer course include Equinox Champagne 1994, Soquel Vineyards Chardonnay 1999, Salamandre Cellars Merlot 1997 and Seabright Brewery Amber Ale. Chilled green gazpacho and lobster crème fraîche will be followed by baked wild salmon with fresh fennel and a red wine Kalamata olive reduction sauce. The third course is seared duck breast and braised Napa cabbage, followed by a nectarine and baby arugula salad with glazed walnuts and Cambozola cheese. The final touch will be a seasonal dessert accented by Bonny Doon Vineyard Muscat 1992. Vegetarian courses and nonalcoholic beverages will also be available.

Tickets to the Second Harvest benefit dinner are $150 per person, $250 per couple. This event is close to selling out as you read this--hurry and make reservations by calling Olivia Hankemeier, Second Harvest Food Bank at 722.7110, ext. 210.
---
Email me your hot food tips, new favorite restaurants, discoveries, gripes and sudden culinary insights. You tell me--I'll tell everybody: [email protected]
---
[ Santa Cruz | Metroactive Central | Archives ]