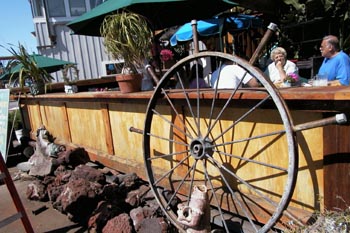 Photograph by George Sakkestad

Wheel Works: Rosa's view of the Yacht Harbor is one of the best in the county.

Through Rosa's Colored Glasses

Thoroughly Latin inside and out, the updated 'zona Rosa' at the Yacht Harbor has thrown caution to the winds

By Christina Waters

THE MAMBO MUSIC was burning into the stratosphere as we mounted the red and yellow stairway to Rosa's Rosticeria heaven past the lineup of tempting tequila bottles, past the candy-colored murals and the mound of matte-textured taco chips basking under a heat lamp. We were bombarded with two dozen handwritten menus, all shouting for our attention. Cuban, Creole and Caribbean dishes seem to have edged out the formerly Mexican-intensive menu at this popular dining spot overlooking the water. Yacht Harbor regulars have made it their home when they're not out sailing or fishing, and for sheer colorful, nonboring visuals, Rosa's owns its turf.

Gone is the roast turkey, along with the former patio furniture replaced with spiffy new wooden tables and upholstered chairs. Stacked to the sky, the Sauza cartons set a bon ton mood. So do several new items, including a sweet and sticky Caribbean roast pork dish, a dark and sultry Cuban BBQ Plate and something irresistible called Colossal Day Boat Scallops.

Well, we stepped up to the plate, ordered the Cuban BBQ ($8.50) and the scallops ($16.95), plus a taco duo of albacore and spit-roasted chicken ($7.95). Then we grabbed an icy St. Pauli Girl N.A. and a tall watermelon agua fresca and found a table.

The staff here is friendly and helpful--offering taste samples if you're curious about something, and patiently answering questions. The view of all those sailboats bobbing slowly at their Yacht Harbor moorings is soothing in the extreme. Well, as soothing as it can be given the head-splitting decibel level of the music.

We picked up our orders--gooey, hot, sexy food garnished with plantains, black beans, limes and side portions of warm, soft masa tortillas. The Cuban Creole dish--mahogany-hued barbequed pork, tasso-scented ham, dirty rice, black beans and myriad peppers--smelled glorious. A few bites provided that haunting Creole flavor that sassafras, bay and cayenne impart. But a few more bites, and my tongue began to OD on the strident salt-and-pepper saturation bombing. Death by overseasoning is a real possibility here.

The plate of huge quivering fresh scallops suffered much the same problem. A fistful of fresh corn and masa pudding was creamy and delicious, but cold. A simmer of peas and okra announced the kitchen's intentions to not be predictable.

But then there was a spongy spinach cake. Accompanying French fries were saltier than Mono Lake. And the scallops themselves had been seared with a blackened-style crust of salt and peppers. Like the barbecue pork dish, it tasted like a blur of neon. It howled with salt--practically a crime given the exquisite ingredients.

All together, the items on the plate provided the flavor equivalent of painting your house turquoise and then gluing sequins all over it. Enough items tasted reheated that it seems Rosa's is less a restaurant than a wharfside cafeteria, filled with more pizzazz than finesse.

The tasty tacos provided welcome relief, at least by contrast. A strip of succulent grilled albacore nestled inside one set of tender tortillas. Shredded lettuce and salsa were joined by guacamole and a light dusting of queso that made each bite taste like Zihuatanejo.

The other taco showcased the house spit-roasted chicken, practically a confit it was so juicy and glistening with oils. A long strip of quesa fresca lay inside a canoe of poblano chile, and black beans added their earthy flavors to the terrific tacos plate--a major dinner portion. Both tacos, freshly prepared rather than precooked, were delicious, mainly because the flavors were so clear and articulate. For my money, Rosa's is a great scene and rewards food lovers who stick to fresh-fish basics.
---
Rosa's Rosticeria
Address:493 B Lake Ave., Santa Cruz
Phone: 429.1223
Hours: Daily 11:30am-9pm
Ambience: ** In-your-face tropical motifs form a joyful riot of sensory bombardment, but the music is way too loud
Cuisine: ** Rotisserie items are fine, fresh fish is delicious, but too much stuff happens on every plate
Overall: A great view, generous portions and easy-eatin' format make Rosa's a Yacht Harbor mecca
---
[ Santa Cruz | MetroActive Central | Archives ]