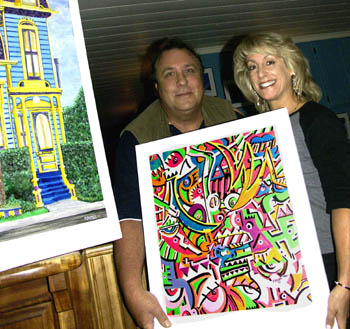 Dream House: Diana Grippo accepts a painting from Neil-Young-approved artist Jim Mazzeo on behalf of SEED for Kerry. The painting in the background is of the Ow house--Mazzeo says he was inspired to paint it by a dream.

Nüz

Hearts of Gold

It's been three weeks since DeCinzo ran a cartoon about rock legend Neil Young in our paper, but one Young fan, who evidently was unhinged by said cartoon, still keeps leaving pro-Young messages, not to mention recordings of "Heart of Gold," on Nüz's message machine. We're used to anonymous and often drunken messages left in the night, but this guy seems to have lost it. Hey, hey, my my, Nüz's love of Neil 's rock & roll will never die--but our phones might, so for chrissakes, give it up, already.

Speaking of Young connections, artist Jim Mazzeo, who starred in Neil Young's Greendale at the 2004 Santa Cruz Film Festival--and who in '75 produced the artwork for Young and Crazy Horse's Zuma album cover, which enjoyed the distinction of being selected by Rolling Stone as one of the "most demented album covers of all time"-- has been busying himself politically. Currently putting the finishing touches on over 140 pen-and-ink illustrations for the Greendale book, which likely will be released in December along with the DVD, Mazzeo was most recently spotted woofing down tacos at Olita's on the Santa Cruz Wharf, shortly before donating one of his fantabulous abstract paintings to the Silicon Valley-based Seed For Kerry campaign.

Diana Grippo, who accepted the painting for SEED (which stands for Support, Educate, Empower and Donate and so far has raised over $48,000 for the Kerry campaign), said, "SEED is so grateful to have a movie star like Maz donate to the cause!"

Mazzeo said he decided to assist SEED's efforts "because I believe living four more years with this president is akin to living with an alcoholic who thinks that God is one of his drinking buddies." As for whether his art can save the world, Mazzeo said, "Oh, but my paintings are so small, and the problems of the world are so large."

That hasn't stopped him from donating another work to the Museum of Art and History for its Dec. 4 Stars La Dolce Notte gala, which benefits exhibitions and educational programs, not to mention two pieces to the Bridge School benefit concert.

As for the painting of the Ow house also pictured in this week's Nüz photo, Mazzeo says he had a vivid dream of painting the Victorian, which he has always much admired.

"I woke up at first light and grabbed a sketchbook and a pencil and drove to a bus bench across the street from the house where I worked for three hours on the preliminary drawings," says Mazzeo.

Mazzeo's painting will be auctioned along with other artworks at Palo Alto Women's Center on Oct. 3 from 4 to 7pm.

By the way, Mazzeo and SEED aren't the only ones working hard to dis-appoint Bush. A bunch of locals went to Arizona on a Green Tortoise bus last weekend to get swing voters to forget about Bush memos and Sleaze Boat Vets commercials, and concentrate on the hard facts, instead.

Republican Threats ...

Nüz isn't the only one getting unwanted calls this week. Kathy Eder, the local teacher who published the deck of Operation Hidden Agenda cards, reports she received a death threat in August because her latest endeavor, a book titled No, George, No! The Re-parenting of George W. Bush, upset a Republican.

Having received numerous death threats and hate mail after the Hidden Agenda pack came out, Eder passed a peaceful summer, only to get a death threat on the first day she returned at her teaching job. "I have created a 'War Against Error' with the deck and the book. It's time for people to be informed," says Eder, who figures the timing of the death threat was related to her recent press release about the Swift Boat Veterans for Truth, in which she claimed that "its attack and lies about one veteran are attacks and lies about all veterans and soldiers." As for the death-threat sender, Eder can't reveal his name, but says he's a New York-based father whose "hobby" is being a Republican, and whose boss found his threat "an inappropriate response even if you were the devil incarnate!"

As for the police, who helped her deal with the threat, Eder says they were great. "The officer who made the report was not judgmental about my political activities," she says, "which was refreshing for Los Gatos."

... Progressive Love

Following last week's kickoff election, City Council challenger Tony Madrigal, who also happens to be a choir boy at Holy Cross Church, and City Council incumbent Scott Kennedy, who also happens to be Mayor of Santa Cruz, contacted Nüz with the Progressive Coalition forum vote results that didn't make it by presstime last week.

Turns out that SEIU, the Central Labor Council and the GLBT Alliance endorsed Madrigal and Kennedy, as well as Emily Reilly and Ed Porter, with the GLBT Alliance also endorsing Ryan Coonerty, all of which looks to make for a very tight race. To find out more about these and other races in the Nov. 2 election, check out the county election website at www.votescount.com or call 831.454.2060.

The Scream: Case Closed

"For a real scream, open the package outside the back door." So said the message left on Nüz's answering machine within hours of our Sept. 8 story about the Blue Lagoon's missing Scream print hitting the streets. Sure enough, there outside the door and leaning against the stairwell that leads to the Santa Cruz AIDS Project was said print, wrapped in white paper, and looking, well, just as angst-filled as ever.

That's why you may have spotted Metro Santa Cruz staffers Ashley Scontriano and Cora Rodler carrying said print along Pacific Avenue last week, back to its rightful home, where Blue manager Fred Friedman invites you to visit it--and let out a collective, pre-election angst-filled scream--once he's got it anchored to the wall.

Thirst

Felton's Friends of Locally Owned Water offer a free screening of Thirst, which examines community water conflicts on three continents including the U.S. example of Stockton, Calif., on Thursday, Sept. 23, at 7pm, at the Rio Theatre, 1205 Soquel Ave., Santa Cruz.
---
Nüz just loves juicy tips: Drop a line to 115 Cooper St, Santa Cruz, 95060, email us at , or call our hotline at 457.9000, ext 214.
---
[ Santa Cruz | Metroactive Central | Archives ]