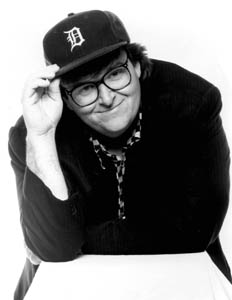 Hat Trick: Michael Moore sold out the Civic in two days to start the Arts & Lectures season.

Now Moore Than Ever

UCSC Arts & Lectures kicks off its season with Santa Cruz favorite Michael Moore

By Rebecca Patt

Lying politicians, fat cats and gun nuts beware. Capped comic crusader Michael Moore is coming to town to tell the awful truth about what is going on in this country.

Flint, Michigan's most famous activist kicks off the UCSC Arts & Lectures season with a special appearance at the Santa Cruz Civic Auditorium on Oct. 19. The show sold out within two days, in keeping with the immense popularity and acclaim Moore has garnered during the past year since his film Bowling for Columbine, his book Stupid White Men and his unforgettable Oscar acceptance speech blasting Bush's "fictitious" presidency and war in Iraq.

In case you've been living in a cave and don't know about Bowling for Columbine, the film about gun violence and fear in the United States is by far the most successful documentary of all time. In May 2002, it became the first documentary in 46 years to be selected for the Cannes Film Festival, going on to win the Special Jury Prize. In mid-October it opened to a country living under the aim of the Washington D.C. sniper. Shortly after, the film earned Moore the Oscar for Best Documentary; by March 2003, the film had exceeded the previous box office record for a documentary by nearly 300 percent.

While a fair amount of fuss is made anytime a celebrity dares to speak out about the attack on Iraq and the lameness of Bush, as if they don't (gasp!) "support the troops," Moore's Oscar commentary only sent his success skyrocketing. Immediately afterward, attendance to Bowling for Columbine doubled; his website, michaelmoore.com, began receiving more hits than the White House's website; and his book Stupid White Men landed back at the top of the New York Times bestseller list. (Incidentally, librarians were also a powerful force in Stupid White Men's success. The book, which delves into juicy topics like the 2000 presidential election and the state of racism in America today, was initially almost scrapped by its publisher HarperCollins due to its controversial content, but a protest among the country's librarians saved it from becoming censored pulp.)

As the dust settled from the Oscars, Moore also obtained funding for his next movie and was offered a new slot on television to do an updated version of his previous TV shows, TV Nation and The Awful Truth.

Much to chagrin of stupid white men everywhere, Moore shows no signs of stopping in his mission to save the country from the reign of Bush. His next movie, Fahrenheit 9/11, is set for release a couple of months before the November 2004 election. The film explores why the United States has become a target for hatred and terrorism; the connection between two oil families, the Bushes and bin Ladens; and the tragic events in New York in 2001. Moore certainly has many questions he'd like to ask President Bush, such as why the Bush administration permitted a private Saudi jet to fly 24 members of the bin Laden family out of the country after 9/11, before they could be questioned in detail by the FBI.

Moore also has a new book coming out on Oct. 7, Dude, Where's My Country?, chock full of more witty accounts about what's wrong with corporate America, the "commander-in-thief," and how "The Left" can be fixed. In the meantime, Moore has been leading the movement to encourage Gen. Wesley Clark to run for presidency.

While Moore rails about the fictitious times we live in and boldly exposes unsettling injustices, he's also repeatedly come up against controversy himself, and once again with Bowling for Columbine some have accused him of blurring the truth in segments such as the one that suggests a Lockheed-Martin facility near Columbine produces missiles--it was later revealed that the site produces rockets for launching satellites. (Moore posted a response to this charge on his website, www.michaelmoore.com. He turned down a request to be interviewed for this story.)

The only thing to do, really, is see Columbine for yourself. In order to get Moore's message out to as many people as possible and to raise money for the Resource Center for Nonviolence, East Cliff Video and Video 9 are renting the DVD out on a donation basis up until Moore's Santa Cruz appearance.

Laurie Time: Anderson closes the Arts & Lectures season on May 3.
From Anderson to Zanes
A quick overview of the Arts & Lectures season
The rest of the performers in the UCSC Arts & Lectures series may not be as famous or as controversial as Michael Moore, but the talent is just as exceptional. The seven-month A&L season beginning in October includes jazz performances by Turtle Island String Quartet (Oct. 24) and Mark O'Connor's Hot Swing Trio (March 14); world music by Ghazal Ensemble (Nov. 7), New Dimensions in Classical Guitar (March 5-6), and Shoghaken Ensemble (April 10); and classical music by the Aulos Ensemble (Nov. 23), Maya Beiser (Jan. 11), Sharon Isbin (Feb. 6), the Artis Quartet (March 24) and the Arden Trio (May 1). The latter performance is especially geared toward families.
Also family-friendly are Tandy Beal's modern spin on The Nutcracker, The New Nut (Nov. 28-30), and a performance by singer/songwriter Dan Zanes (Dec. 2). Rounding out the bill are legendary contemporary musicians Bobby McFerrin (April 19) and Laurie Anderson (May 3), theater performances by Second City (Feb. 20) and Spalding Gray (March 20), and dance from the Joe Goode Performance Group (April 17-18).
For details, see www.events.ucsc.edu/artslecs.
[ Santa Cruz | Metroactive Central | Archives ]