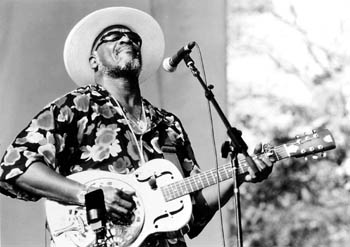 Giving It Mahal: Taj rocks the blues, floral-print style.

Royal Taj

The shaman of the blues, Taj Mahal, returns to Santa Cruz

By Adam Cotton

Taj Mahal ain't your typical old perma-frown bluesman, and he ain't playin' traditional blues. That's the fun of it, really.

Full of worldly flavors, Taj brews us up a blues cocktail with some serious kick. It's like you got this juicer, all right, and you throw in some hash browns from the South, an African giraffe or two, a few Hawaiian mangos and a couple of dreadlocks, well aged. Ultimately you end up with a very entertaining amorphous mush that's bound to get your bodies movin' and give you a memorable evening. Such are the shows of Mr. Mahal.

Born Henry Saint Clair Fredericks in New York and raised in Springfield, Mass., Taj started playing music at an early age. Shaken up by his father's death when he was 11, Taj says he was rescued by the blues, and from that point on devoted himself to playing the music that had saturated his upbringing. A self-taught musician who mainly plays guitar and sings, he now plays over 20 instruments, including dulcimer, harmonica, banjo, mandolin and several different flutes. In a BBC interview, Taj explained, "I played music basically because I became aware of how many people were assimilating themselves into Western civilization and leaving behind so many of the great gifts that you get as a human being when you come into this form on Planet Earth." Taj lives these gifts which many of us have forgotten.

The man has been actively performing music for over 50 years. He released his debut album in 1968 and has gone on to record over 40 more. In the process, he's been nominated for six Grammys, and won one. And he sometimes jokes about the way people often come to his shows expecting to see an old guy hobble onto the stage and perform some down-tempo renditions of old songs--instead, there he is, yelling in a deep gravelly voice, "How ya feelin'?" The audience screams in delight, and he howls back, coaxing them on. Then the band dives into a song as he dances around the stage and back to the mic, holding off on the first verse to dedicate the song to all the ladies in the house. His concerts are giant celebrations; everyone's invited.

Taj has devoted his life to keeping the blues alive, but on his own terms. On and off through his career, he has had critics coming at him like the bloodthirsty mosquitoes in the tropical forests on his home island of Kauai. They say he isn't playing the real blues. The man's too fucking happy and upbeat, how can he be a true bluesman?

But in truth, Taj Mahal is a shaman of the blues. Where others seek a personal cathartic experience through their performance, Taj plays for the people. While performing, in his own words, Taj Mahal is "a full-grown man totally in abandonment and enjoying himself." His engaging and charismatic mirth is truly contagious. Taj inhales the blues and exhales dancing blue smoke rings.

At home, Taj Mahal enjoys a modest, simple and quiet existence. He says that on his street, there are probably only four people who know what he does.

"They never bother me, and the rest of my neighborhood has no idea," he says. "So I'm walkin' to the market, I'm just the next guy in line, in the cue, and I like it that way, 'cause you know it's real."

Taj will arrive at his Santa Cruz date fresh from a trip to the Zanzibar archipelago off the east African coast of Tanzania, where he has been collaborating with various artists. At the Catalyst, Taj will perform with longtime friends and trio mates Kester Smith and Bill Rich on drums and bass, respectively. According to an inside source, the show is likely to be "peppered with some of this Tanzanian stuff." So as Taj says, "Enjoy yourself while the music's happening, get in there, let yourself loose." And don't forget to tip your waitress.
---
Taj Mahal will perform at 8pm on Sunday, Sept. 28, at the Catalyst, 1011 Pacific Ave., Santa Cruz. Tickets are $25 advance, $30 at the door; 831.423.1336.
---
[ Santa Cruz | Metroactive Central | Archives ]