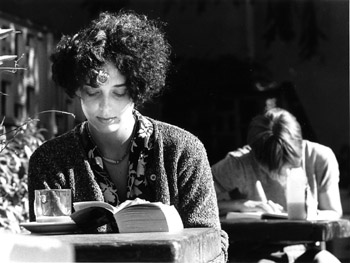 School Bites
It's not that you're cheap, it's just that you just don't have a humongous dining budget. Relax--we can help.
By Christina Waters
IN THE bad old days, we got through college on coffee and cigarettes. Now coffee and bagels--the saviors of starving student budgets--have formed the local collegiate culinary mantra.
For actual nutrition, go ahead and add tuna to that bagel--it's a mighty source of protein, energy and flavor. And the bagel, of course, is one of the most user-friendly dough constructions on the planet. Ergo, when somebody asks me about inexpensive lunch or dinner items, I immediately think of the Bagelry on Cedar Street, just around the corner from the Catalyst. For around $4 you can get very full on fresh albacore piled onto your choice of chewy bagel. The Bagelry also stocks wonderful freshly made soups--very affordable--if you're looking for a multicourse dining experience.
The mighty Beckmann's Bakery on the West Side not only offers a substantial tuna sandwich along with its scones and espressos, but a meal-sized ham-and-cheese version as well as a giant hummus-and-roasted-veggie model--each for under $5.
Incidentally, if you're looking for the Ferrari of fresh sandwiches, you'll find them at the Buttery Bakery on Soquel Avenue (across from Shoppers Corner). In the $5 ballpark, they're huge and they rule. While on the east side of Santa Cruz, wrap your mouth around the spicy calories of any taco at Tacos Moreno or Tacos Vallarta. Both of these taco parlors have figured out how to make high-protein, filling, quick meals for almost no money.
[ Santa Cruz | Metroactive Central | Archives ]