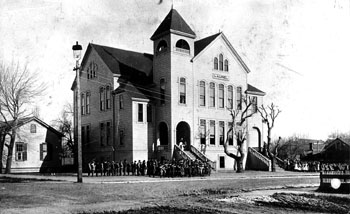 Laurel School, 1895: This magnificent structure replaced the Beach Street School which was built in 1868. It was at the corner of Laurel and Center streets where the London Nelson Community Center is today. It's called London Nelson because his name was London. London's brothers and sisters were all named after world-famous cities. Some sillies still call it Louden for some reason.

Bruce Bratton

SOQUEL'S BIG DAY. Soquel used to be the center of everything in this county when Old San Jose Road was the main connection. This Sunday, Sept. 29, it will be again when the town celebrates its 150th birthday from noon to 5pm. The Watsonville Band will be there; fried calamari, talks, displays and things like that will happen. The big deal is that you'll get to go through the Daubenbiss house and learn what a guy he was. He worked for Vallejo, was in Sutter's army and fought with Fremont. He knew Captain Davenport, Martina Castro, Paul Sweet and that never-to-be-forgotten Charlie Parkhurst. Remember, we don't know for sure that Charlie Parkhurst was the first woman to vote in California, we only know she registered to vote. Call 462.2597 for Soquel Celebration info.

DARK PLEASURES. Das Experiment is not for the lighthearted. It's from a book called Black Box and a real-life experiment at Stanford in the '70s that went very wrong. It's an intelligent, penetrating and excellently made film. It'll stay with you days after you leave the theater. On the other hand, you'll forget The Banger Sisters by the time you leave the theater. Geoffrey Rush should be ashamed for being in it, and Susan Sarandon is capable of better things.

THE DEL MAR AND MOVIE BUSINESS. Many folks have asked me lately how the Del Mar Theatre is doing, I asked Jim Schwenterley who co-owns the place about business. His answer surprised me. He said business is OK, but Santa Cruz movie audiences' tastes are changing. No longer do Santa Cruzans want challenging, demanding films; now their big foreign film hit favorite isn't The Last Kiss but My Big Fat Greek Wedding, both similar wedding films but worlds away in content. Heavy, serious art/foreign films just aren't as popular in Santa Cruz as they used to be, Jim says, and of course that's what so much of the Del Mar and Nick fare is, or used to be. I had to agree after realizing that so many filmgoers I know tell me over and over that they just go to be entertained, or escape, or have a good time. Go figure or whatever turns you on or something like that.

FIRST NIGHT. First I think it was money and funding problems, then Marc Murai, First Night's executive director, resigned two weeks ago. Then the board met last week and decided to cancel this year's First Night. They are still having the parade/procession down or maybe up Pacific, however. It happens in other First Night cities that too many people figure it's all about free street events and don't buy enough buttons to support the enormous costs of paying performers and producing such an extravaganza, and that happens here, too. They're also planning to come back big in 2004 for the 10th anniversary.

THE FEDS' MARIJUANA BUST. Valerie Corral, founder of Wo/Men's Alliance of Medical Marijuana (WAMM), gave a talk at County Supervisor Mardi Wormhoudt's campaign kickoff a week ago Friday. In that talk, she mentioned one little item that seems to have gone unnoticed since the federal DEA agents stormed Valerie's and Michael's medical marijuana crop. Reminding us how the church, especially the Roman Catholic Church, has been throughout history a place of sanctuary, Valerie told us about how the DEA agents used the parking lot of the Roman Catholic Church in Davenport to assemble trucks, chain saws and the 20 agents just before making the raid. There used to be something not just about sanctuary but about separation of church and state, wasn't there? Two weeks ago our Nu-z quoted Congressman Sam Farr as saying this action by the DEA was "truly outrageous." Boy, that means something. You know how Sam gets when he gets "outraged," wow.

KUTA BEACH GRILL. We had a fine dinner there last week and Santa Cruz's nearly favorite son Bob Hall will be having his 80th birthday there this weekend. That's because Bob's daughter Robin owns the place. She admitted that, yes, decades ago she was the one who drew and published the most clever cartoon books I'd ever seen of Santa Cruz (I still have it). Anyways, the Kuta Beach Grill is something like India Joze way back when it first opened. Excellent, imaginative and affordable food and very casual atmosphere, which is the only way Robin could run a place. Brandon the chef is a casual guy, too. They have breakfasts, lunches, brunches and dinners and outdoor seating. The Kuta is where the Sash Mill theater restaurant used to be. Remember the Sash Mill theater, where people used to go to see classic films? Call 469.4745 for Kuta information.

EARL'S PEARLS. Once again Earl Jackson Jr. has created two film series up at UCSC that should amaze, interest and be full of surprises. The first meets Monday nights at 7pm in Thimann 3 and is called "Critical Fantasies." Films by noted directors such as Fritz Lang (Lah-ng not Lay-ng), Bunuel, Godard, Raoul Walsh and Abel Ferrara but also films by Shin'ya, Si-myung and L'Herbier. On Wednesday nights, Earl has created a series titled "Swansong Cinema," which is in 105 Oakes at 7pm. This series consists of both classics like Phantom of The Opera and Murnau's Faust, along with directors such as Karun, Im Kwon-taek, Hark and Jodorowsky. Jackson has wild and subtle themes running through all the films he screens. I've been going for two years now, and haven't regretted a single evening. Go to www.anotherscene.com and you'll get an idea of Earl's inventiveness and the schedules. Yes, the screenings are free and open to the public.
---
Bruce critiques films every other Thursday on KUSP-FM (88.9). Reach Bruce at [email protected]
---
[ Santa Cruz | Metroactive Central | Archives ]