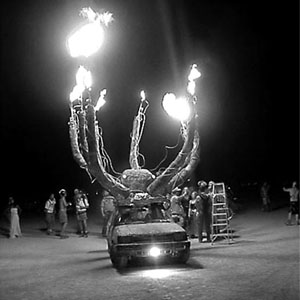 Not Fully Contained
The return of the Burning Man Film Festival can ease the post-playa blues
By Rebecca Patt
THERE'S NO LETDOWN quite like the letdown of returning to the real world after experiencing the annual event in the Nevada desert known as Burning Man, where 30,000 fun-loving freaks commune to transform the playa into a giant artistic playground and bring their wildest, wackiest, and most free-spirited creative visions to life. And if you've never been a Burning Man participant, there's really no explaining the multidimensional mind-blowingness of it all.
So whether you're curious about why so many people brave the harsh desert conditions each year to participate, or just trying to shake off remnants of dust and the condition known as "post-playa depression," a dose of the fiery life is in store at the Rio Theatre this Saturday at the Burning Man Film Festival.
Sponsored by Burning Beach, the local Burning Man headquarters based in the living room of Santa Cruz residents Jim and Roxanne Graham, this will be the first Burning Man Film Festival in five years and will include several documentaries, a talk by Burning Man founder Larry Harvey and a dance performance with simulated fire spinning.
Besides being the Santa Cruz regional coordinator and a seven-year Burning Man veteran who glided around the playa this year on a fish made of welded metal and glow lights attached to an all-terrain vehicle, Graham has an important role during the event. He is in charge of the Burning Man's required checkpoint for all journalists, the "Media Mecca," which has put him in a unique position to organize the Film Festival.
"As head of all media operations, I talk to all the documentary filmmakers that come through. I've seen so many cool things," he says. "There's so many that get done, and so few that get seen."
Entries to Burn
Along with a few video shorts, some never-before-seen and exclusive movies will offer several different perspectives on the event, including Nosolomusica's Burning Man 2001, the first-ever Burning Man documentary done in Spanish. Graham says he's advertising the film fest in Spanish-speaking newspapers and radio stations in an effort to pique the interest of Latinos and bring more ethnic diversity to the event.
There's also Burning Man 1994 by Chuck Cirino, which gives a glimpse of the early days of the festival. Graham says he picked 1994 in particular because it was a time when the event was in transition.
"It was about 2,000 people then. You could drive your car. There were still a few things for sale, and you could have guns. A funny thing to see is the drive-by shooting gallery. But you still get a sense of the same energy," he says.
San Francisco filmmaker Renea Roberts' Gifting It--A Burning Man Embrace of the Gift Economy will make its official premiere. The film focuses on several examples of the gift economy in action and the effects it has in a place where commercial activity is prohibited.
---
The Burning Man Film Festival is at the Rio Theatre. Doors open at 1pm and the first film airs at 2pm. Tickets are $15 at the door, $12 if you're in playa garb. Children under 12 are free. For more info, call 335.9643, email [email protected], or visit www.burningbeach.com.
---
[ Santa Cruz | Metroactive Central | Archives ]