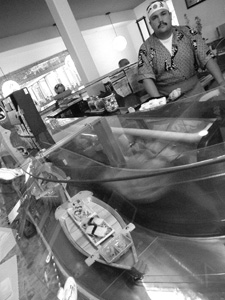 Photograph by Stephen Laufer

Slow Boat To Tokyo

Sushi boats loaded with maguro and hamachi sail into a prime Santa Cruz location

By Christina Waters

By Christina Waters

THE HIGH PROFILE corner of Ocean and Soquel should be one of the hottest restaurant locations in town. But for mysterious reasons (think "impossible parking") this prime bit of real estate never seems to score.

Hoping to rewrite history is Little Tokyo, the latest dining venture to take over the L-shaped, glass-lined site. And the hook is--sushi boats. If you haven't done sushi this way you'll be enticed by the whole idea of walking into a sushi arena and watching your dinner float by on little boats. It has to be the ultimate in fast food. You walk in, sit down and reach out. Seconds later you're well into your second maguro nigiri liberally doused with high-wattage wasabi diluted with soy sauce.

The concept is fun, and judging by a few young faces around our neck of the bar, families with kids will find the little circling boats a source of hypnotic calm, much as a TV commercial might be after you've hit the "mute" button.

So Jack and I were happily inhaling some outstandingly fresh ahi tuna that we'd liberated from the deck of a miniature pine wooden boat, when our waitress came to take our drink orders. I like the crunch of gobo, the bright orange burdock root that dots the Japanese culinary landscape, so I ordered one of the special gobo rolls, as well as something sexy called a Hot Toad roll. A little hit of hot sake worked its way into the overall flavor party taking over my mouth after my second piece of wasabi-spiked maguro.

We settled in and checked out the new sushi place. Here's the setup: Mixed metaphors happily abound at Little Tokyo. The carpeting is a New Year's party and the sky-and-clouds ceiling is right out of a surrealist Magritte painting. Viennese waltzes swirled nonironically through the aural atmosphere (I'm not kidding). Hanging lanterns failed to shed much light over the sushi boat docking areas.

The Island of Dr. Maguro

Little Tokyo boasts not one, but two sushi islands, each surrounded by a circular waterway and each filled with little wooden boats on which the sushi chefs place their latest creations. There always seem to be a few standards available at any time. A few pretty rolls also float by, and the chef will whip up whatever you ask for. Our neighbor offered us a sample from a very beautiful little roll he'd plucked from a boat (the poor boats tended to get stuck at one particular corner and each of us seated around the bar took turns pushing it along). It was filled with maguro, tobiko and crunchy cucumber--terrific.

All of the sushi creations were priced from $3 to $5, and at the end of your meal the waitress tabulates your check based on how many empty plates are piled up in front of you. We loved a small salad of chilled, transparent seaweed tossed with sesame seeds, but rejected an order of rubbery, tasteless tempura squid. A vegetarian roll packed with shiitake in a spicy mayo was one of my companion's favorites, but the gobo roll--however colorful--was disappointingly bland. Still, it's hard not to be amused by the sight of those little boats, miniature Kon Tikis, circling and circling yet going, literally, nowhere. While some were filled with sushi gems, others remained empty and waiting (often in vain) for new cargo. The pace seemed a bit slow and the variety of offerings a bit narrow on our visit last week. But Little Tokyo will doubtless tune its output to the demands of its youthful clientele. Sensational ahi was the big hit of the evening, and second was the Hot Toad, packed with spicy tuna and scallions and given a crisp tempura spin. "The hot and the raw--the best of both worlds," said Jack. I couldn't argue.
---
Little Tokyo
Address: 361 Soquel Ave., Santa Cruz
Phone: 831.458.4140
Hours: Tue-Sun 12-3; 5-10. Closed Mon.
Ambience: ** Comfortable, with a few bizarre flourishes
Service: ** Friendly and helpful
Cuisine: ** Good sushi standards; quality ingredients
Overall: Quick sushi is a great concept, and with fine-tuning Little Tokyo will find its natural following.
---
[ Santa Cruz | Metroactive Central | Archives ]