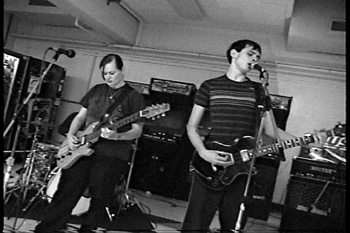 Mandatory Slug Testing
Out come the freaks and freshfolk at this year's Slugfest
By Mike Connor
EVER GET that "not-so-frosh" feeling? If so, you're probably not a freshperson but a returning student well versed in all things Santa Cruz, such as the lax bathing policy round here.
However, if you're feeling frosher than a summer's eve and are looking for ways to get acquainted with the local music scene, then make your way down to the Big Top downtown, a.k.a. Slugfest. I'll tell you what it's all about in a bit, but just trust me for now, because I'm your father, and I would never lead you astray:
Ladies and gentlemen, in one sentence, Slugfest: South Pacific Avenue will be closed off between Maple and Laurel streets to make room for a music stage, a performance stage, food booths and a bunch of freaky people like you and your newfound friends hee-hawing in the streets like wild hens. Expect, as the producers put it, a day of "freaks, eats and musical beats."
That being said, I'm about to big up every single one of the bands on this bill, but keep in mind that it's not because they're all my friends as long as I say nice things about their pretty little ditties. I am profoundly introverted and would be happiest in a cave with a stereo and some Marianne's ice cream. I owe nothing to these people, but they all happen to make excellent music. Let's check out the lineup, shall we?
Sin in Space is headlining Slugfest's Maple Street Stage. Frontman Cassidy Meijer is surely a moonchild with stars in his eyes, but the band's sound is more like a mysterious, spacey emo version of the Pixies.
Rock's All-Time Low
It's easier to let Los Dryheavers speak for themselves, as they believe they're "setting an all-time low standard in rock & roll ... and failing to meet it." Somewhere between the oi boys of yore and the Voodoo Glow Skulls, Los Dryheavers spew drunk and belligerent Spanglish punk rock like it won't ever go out of style.
Count on Run Return to confuse and delight you with its experimental, Mac-intensive atmospheric music. And please, please, do not miss the Catastrophes. With a lovely girl-next-door voice that sounds like Lisa Loeb's punk-rock sister, Marisa Riddle (bassist/singer of the Automatones) is an indie-rock star in the making. There is simply no reason why the Catastrophes will not enjoy success and piña coladas poolside one day, unless Santa Cruz simply bands together as one and kidnaps this rockin' little gem.
Meanwhile, on the Birch Street Stage, witness the blindfolded fashion show mishap known as I Was a Crossroads Pageant Victim, featuring improvisational fashion hijinks that in all likelihood will yield better results than most of the weirdness passing for fashion on the runways of Milan. And if you came for the music, stay for the jiggling tummy flesh of the Heavy Hips Tribal Belly Dancers.
Lastly, but certainly not leastly, there is the raffle. I plan to win it all, because nobody ever enters these things anyway. Soon, I'll be flossing with my new hookah and water pipes, my new dream tent, my signed and framed poster of the Flaming Lips and a Warner/Elektra/Atlantic Records CD collection, my funky wigs, my free Internet access, my Grateful Dead box set, my four reissued Ramones CDs, my 12 new Interscope Records releases and a whole buttload of gift certificates, T-shirts and other stuff that you might want to win but won't. You can try if you want. Don't be afraid; remember: I'm your father. Trust me when I tell you to give in to the call and surrender to the charms of our local wonders--or die!
[ Santa Cruz | Metroactive Central | Archives ]