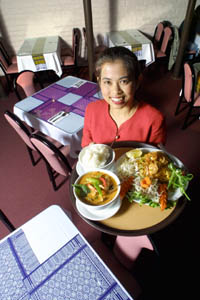 Spicy Specialties: Jitlada's Jeerawan Srisathorn displays two of the restaurant's treats: Pad Thai noodles and panang curry.

Photograph by George Sakkestad





To Thai For

A sudden windfall of tasty Thai cuisine descends upon downtown Santa Cruz with delicious results

By Christina Waters

ONLY THE FLAVORS of Thai cooking would do that evening, so on the recommendation of several enthusiastic friends, Elena and I visited the newly opened Jitlada. Lovely to look at, the restaurant offers the full spectrum of curries, noodles and spicy specialties we love so much.

Soft plum-colored décor and attractive plants made us feel pampered, though the small restaurant is refreshingly free of frills. At this early point in its career, Jitlada was also free of wine and beer--I made a mental note to stock a bottle of Sauvignon Blanc in the trunk at all times.

An evening special of fresh salmon and panang peanut curry looked tempting for a very welcoming price of $9.95. I always want to order way too much at Thai restaurants--all those seductive combinations of lemon grass and galanga, of ginger and basil, of spicy garlic and chiles--essentially I want them all.

Armed with Elena's considerable appetite, I figured I could work my way through a substantial portion of the Jitlada menu, starting with Mun Tod--sweet potatoes dipped in creamy coconut batter and deep fried to crispy perfection ($4.95)--and, of course, chicken satays ($6.50), which arrived on long skewers along with peanut sauce and that wonderfully sweet-tangy cucumber salad.

"Mmmmm, Thai comfort food," Elena murmured, quickly devouring three of the pretty golden puffs of sweet potato. A fabulous new appetizer discovery, they literally melted in the mouth. And the satays were moist and nicely grilled.

A visual feast soon arrived: three entrees plus fragrant white rice spooned onto our dinner plates from a huge embossed silver tureen. Jitlada is modest in its tableware, but it goes the distance in terms of the traditional serving pieces.

Elena's evening special of salmon arrived in a cloud of spice perfume. The pale crimson sauce surrounding the tender chunks of salmon filet was filled with a moderately fiery blend of chiles, red curry, bell peppers and shredded kaffir leaves, whose lemony essence blended beautifully with the rich coconut milk. It was the star of the evening, and we both loved it--especially me, for whom Thai foods really must produce a light sweat on the forehead.

The roasted duck ($7.95) was served on a bed of fresh spinach, wok'd with cabbage and pickled chiles in a black soy sauce. Intense and mysterious, it was tasty, though the duck retained too much fatty skin.

Another order of succulent transparent "silver" noodles arrived, its tangle of golden colors strewn with ground peanuts ($8.95). The noodles were heavy with tofu, cabbage, shrimp, chicken and egg, plus elegantly carved carrots that looked like miniature palm fronds. This dish made a soft, cushiony foil for the brighter flavors of the duck and salmon entrees; altogether the three choices worked harmoniously. All that was lacking was a glass of white wine or chilled sparkling water.

Happy to have much of our feast packed to come home (tomorrow and tomorrow, if you get my drift), we considered dessert possibilities. Actually, that's not entirely true. In late summer, I always order the same seasonal Thai specialty: fresh ripe mango with sticky, coconut cream rice ($3.50).

Elena likes to make a little performance of protesting that she absolutely couldn't eat a bite of dessert, and then she launches her fork into the closest velvety slice of mango. As is the custom with this dish, the rice is served warm and slightly salty in its sweet coconut cream. The curiously compelling contrast of sweet and salt, cream and ripe is astounding.

"I could make a meal simply out of this single dish," Elena finally confessed. And so could I.
---
Jitlada
Address: 107 Leonard St, Santa Cruz
Phone: 420.1688
Hours: Mon-Fri 11am-3pm; Sat 11:30am-3pm; dinner nightly from 5pm
BYOB: Call ahead to see whether beer and wine license is in place
Ambience: ** Clean, well-lighted and appointed with colorful traditional Thai prints, textiles, plants and carvings
Service: ** Very pleasant and swift
Cuisine: ** Nicely made classics of this sensuous cuisine
Overall: Jitlada is a very welcome addition to this neighborhood; the staff is extremely pleasant and accommodating.
---
[ Santa Cruz | Metroactive Central | Archives ]