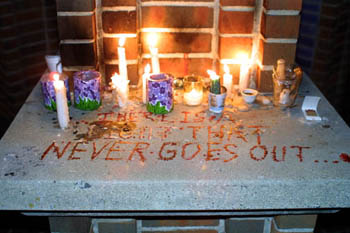 Photograph by George Sakkestad

Fiat Lux: Candles flickered but remained lit during a recent vigil at the Clock Tower.

Lend a hand

Reaching out after 9-11

Attend a Gathering

Caring and Sharing. Blank greeting cards, writing and art supplies will be provided to send messages of compassion to New York. 10am-2pm, Saturday (Sept. 29), Vets Hall, 846 Front St., Santa Cruz. For more information call 831.420.1765.

Peace Vigils are held every Wednesday at Mission Park Plaza (just up the hill from the Clock Tower) from 7:10pm to 7:40pm.

Give Blood

The next blood drive scheduled for Santa Cruz will be held at the First Presbyterian Church, 350 Mission St., Santa Cruz, on Sept. 27, 12:30-5:30pm. No appointment is necessary.

Make Donations

Mail donations to Community Foundation of Santa Cruz County, September 11th Fund, 2425 Porter St., Suite 16, Soquel 95073. Credit card contributions can be made by calling 831.477.0800.

Santa Cruz County Chapter of the American Red Cross, 2960 Soquel Ave., Santa Cruz 95062. Specify "disaster relief fund" on check. Call 831.462.2881 or visit www.sccredcross.org.

The Central Fire Protection District has established a fund to assist FDNY firefighters and their families on the East Coast. Send checks (no cash) made out to "Firefighter Assistance Fund" to Central Fire District, 930 17th Ave., Santa Cruz 95062; 831.479.6842.

All Bay Federal Credit Union branches are accepting donations of cash and checks that will be earmarked for Santa Cruz County Red Cross. Children and adults with loose change to donate are encouraged to bring it to the Clares Street branch in Capitola.

The UCSC Firefighters Association is collecting donations for the families of FDNY firefighters. Donations may be brought to the campus fire station. For more information, call 831.459.3473.

Stay Connected

Many local online communities have posted news, articles and information about events, gatherings and letter-writing campaigns. At UCSC's site, www.ucsc.edu/currents/terrorist_crisis.html, participants can post reactions to the Sept. 11 attacks on an online forum and read articles and letters. Cabrillo College has helpful information about coping with post-traumatic stress: www.cabrillo.cc.ca.us/INFORMATION/crisis/crisisresponse.html. Read a collection of articles about the attack and the aftermath on Metroactive.

Seeking Peace, www.seekingpeace.org, has updates about peace vigils and local actions. The Resource Center for Nonviolence, www.rcnv.org, has comprehensive information on peace and justice issues concerning the attack.

Only in Santa Cruz: A modest celebration of municipal self-love.
South Pacific Rim: SlugFest returns after a decade's hiatus.
Find the Right Roommate: Home is where housemates are.
Make Your Head Glow: Sage advice for neon locks.
Make Your Trash Bloom: Worms can make the most out of compost.
Cheap Eats: A food critic's guide to budget meals for students and people with student budgets.
Stop the Viagra Ads, Please! Putting the Kibosh on spam.

[ Santa Cruz | Metroactive Central | Archives ]