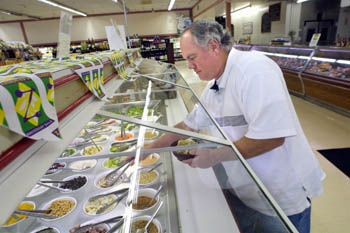 Photograph by George Sakkestad

DYI Market-Style: The remodeled Zanotto's features a new salad bar.

Market Makeover

Zanotto's, Santa Cruz' family-owned store, has a new look--and hot panini

By Christina Waters

TALK ABOUT your beacons in times of crisis. Remember when Zanotto's--along with the late Mellis Market--opened up immediately after the 1989 earthquake, making sure people could shop for necessary groceries, bottled water, household items, even though the Zanotto family had their own losses to deal with? I've always admired that spirit, and lately I've been admiring all the action at the downtown Front Street store--new refrigerator cases, an expanded and more prominently displayed wine selection, sleek wooden shelves and in general a spacious, opened-up feel about the entire store.

Always my preferred venue for Italian sausage, Zanotto's has sprouted a whole new world of carry-out possibilities in its deli section these days, with fresh sushi made each morning on the premises. Manager Troy Tibbils told me that the remodeling effort began during the summer, with new freezers and dairy boxes, "and now it's close to finished." Zanotto's boasts a gourmet cheese section with lots of ripe imports (stop thinking what you're thinking), as well as an expanded variety of products overall. And the Saturday outdoor Farmers Market (in front of the store in the parking area 9am-3pm) continues to showcase locally grown produce, unique breads and lots of demos.

But the biggest new item, explained Tibbils, a 17-year Zanotto's employee, is the panini machine. Anyone who's been to Italy returns a big fan of these gorgeous sandwiches. "It's like a waffle machine," the manager explained. "It grills the sandwich on both sides, and melts everything, like cheeses, meats, herbs, inside."

"Our goal is to succeed in these changing times," Fred Zanotto told me from his family's downtown San Jose store. The Santa Cruz update is "a complete makeover--it's more open, extremely modern and clean, with lots of new products." One product that had Zanotto rhapsodizing is their exclusive offering of Piemontese Montana Range beef. "It's 20 percent lower in fat and cholesterol, much more tender and just as delicious as Angus beef," he said. "And it's 100 percent natural." Even though beef isn't for dinner very often at my house, the next time I get the urge for a juicy steak, I'll run over to the full-service butcher section at Zanotto's and pick up some of the house specialty. Go visit Zanotto's Family Market at 700 Front St. soon--you'll be impressed with what you find.

Last Hurrah for Tomatoes

We had the most authentic, tender and flavorful veal scaloppini last week at Bella Napoli--seriously wonderful. To say that it tasted exactly like dishes we'd had in Florence would be no exaggeration. Topped with porcinis, reduced with a splash of Marsala and served with roast potatoes and Roma beans slathered in marinara; no wonder the passion for Mediterranean cookery will never end.

Meanwhile, at the enlightened markets, the late-harvest tomatoes are at their absolute peak. Don't miss them--pick out the heaviest ones you can find. Then chop them up, and mash a few with oil and vinegar so that their rich juices will perfume the entire dressing. We like to add Dijon mustard, peach jam and garlic to juiced tomatoes and toss with some vibrant head of organic lettuce. You can do the same thing. But not for long. It's officially autumn now and that means that tomatoes won't be with us much longer. Real tomatoes, I mean, not those pale, listless hothouse things you get at Denny's. Real tomatoes, along with local Monterey Bay salmon, are worth waiting for. We pretty much do without them during the winter months--except for those wonderful, ripe little Baja cherry tomatoes--and then pig out during August and September.

Don't forget--eat out and eat out often. Our restaurants, and their employees, need your culinary support.
---
Email me your hot food tips, new favorite restaurants, discoveries, gripes and sudden culinary insights. You tell me--I'll tell everybody: [email protected]
---
[ Santa Cruz | Metroactive Central | Archives ]