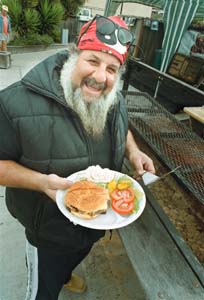 The Grill is Never Gone: Aptos Club regular Dino DeFendis enjoys a barbequed hamburger.





Pigskin Nirvana

All the games are on at the Aptos Club, and the grill is do it yourself

By Janet Blaser

BY NOW, anyone with half a brain knows that football season has started. Menfolk for miles around disappear on Monday nights into bars, communalized living rooms and any other place that can accommodate a big-screen TV, easy-to-ingest food, mucho cerveza and a good group of like-minded friends.

The Aptos Club is one of those places. Nine TV screens, including a 100-inch and a 50-inch, project all the games available, courtesy of the NFL TV package. Big, comfy bar stools swivel easily, so you can watch almost all of them at once (Is this heaven or what?), rotating as necessary to catch a replay here, a touchdown there. And owner John Hartson has added a few other incentives to change your football-viewing routine as well.

On Sundays, when football frenzy really takes hold, you can jump right on the do-it-yourself BBQ bandwagon. The big patio outside is home to a double-burner grill that's fired up and ready to cook burgers, steak, hot dogs or Polish sausages. Chef Greg Warden provides spicy bean chili, crisp green salad and garlic bread to round out the meal. Cost for the dinner is under $10--cause you're doing the cookin', fellas. During Monday night football, there's a special prime rib dinner--at $9.99, another deal of a meal. Both of these will continue till the Superbowl, when the club celebrates the end of another season with a tri-tip extravaganza.

With its classic wooden ambience, cheery groups of regulars and arms-wide welcoming style, the club has remained popular during its 15 years of operation. Recent additions of music and dancing on Saturday nights with DJ Taylor (beginning at 9:30pm), periodic live shows (including local fave Wyrm) and innovative meal deals on the big patio have only added to its winning lineup. Find the Aptos Club at 7941 Soquel Dr., Aptos. For more info, call 688.9888.

Play Dough

What is it about the Pillsbury Doughboy that is so endearing? No matter, he just is. And finally the Pillsbury Company has jumped on the pop-culture bandwagon catering to sentimental Baby Boomers like myself and created a mostly irresistible line of Doughboy merchandise. I found a brochure at a local Burger King and drooled over the Doughboy puzzle in a collectible tin (Christmas is coming!), a Doughboy candy dispenser and--sigh--a Doughboy pocket watch.

Of course, I'd also like the Doughboy duffel bag, monogrammed on top with my little friend, or even the Doughboy Christmas stocking, complete with 3-D appliqué of you-know-who. (I'd avoid the vinyl doll, though; having owned one in the past, I remember how incredibly disappointed I was that he wasn't soft and squishy like he is in "real" life.) Of course, you can't just buy these items--you have to eat a ton of Pillsbury products, save Doughboy Points from each package and then order by mail. You do have until April 2001 to eat enough biscuits, brownies and breadsticks to gather the required number of points. For more info and to see the loot with your very own eyes, check out www.doughboy.com.
---
Got information about a food event or a tip about a restaurant? Email Janet at [email protected].
---
[ Santa Cruz | MetroActive Central | Archives ]