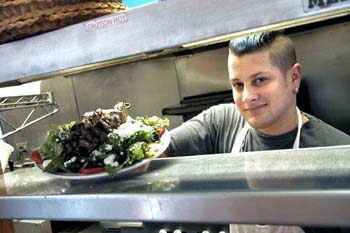 Front Street and Center: Chef Paul Van Horn cooks up a house specialty at the Front Street Pub.

Way Up Front

The mighty Front Street Pub keeps pouring on the handcrafted brew and pub food with attitude

By Christina Waters

VINTAGE NAUTICAL PHOTOS, exceptional French fries and Lighthouse Lager--what's wrong with this picture? Absolutely nothing, and it happens at downtown's resident port in any storm, Santa Cruz Brewing Co. and Front Street Pub.

The first brewery-wrapped-around-a-restaurant in the area, Front Street Pub opened its doors a decade and a half ago and still feels as fresh as a pack of sailors on shore leave. Run by exuberant staffers who keep things lively, the Pub specializes in inexpensive, freshly made burgers and entree plates that are surprisingly cliché-free and delicious. Like the Pepper Burger that Jack tore into last week after we tried to go see Nurse Betty (except the soundtrack went kaput).

In addition to myriad excellent burgers, the Pub's Pepper Burger lives up to its name in two ways--the outstanding ground-beef patty is topped with peppery Jack cheese and then smothered again with sliced jalapeño peppers. Yeowie, it's one zippy burger ($7.25). But I'm getting ahead of myself.

We sampled one of those easy-sippin' beer samplers that lets you wrap your tastebuds around a lager, an amber and a murky-brown porter for $4. Like all lagers, the brewpub's is light and clean-tasting, i.e., pretty damn mild. The amber is a likeable pour of faintly bitter brew with a pleasing dry finish. The porter is best left to those who love it. To us it remained a strange brew, part fermented roots, part flavors of molasses and coffee.

Essentially, I was there to reacquaint myself with a lovely glass of Trout Gulch Pinot Noir, locally made and beautifully structured ($5). The pinot went well with my favorite pub dinner--the house Spiedies ($8.95). Lavish enough for two to share, this plate overflows with a California brewpub spin on the Aegean.

Two skewers glistening with huge herb-marinated cubes of Diestal Ranch free-range turkey sit atop an emerald forest of fresh spinach. On the side is a pool of garlicky--way garlicky--hummus and an acropolis of not-too-salty feta cheese. There are even nicely sauteed fresh veggies accompanying everything.

Oh, and then there was that basket of fresh, warm, wheat-berry-studded soft bread. The kind you (well, me at least) cannot stop eating. The breads at this cavernous, big-hearted establishment come from Aldo's and Beckmann's--two local landmarks.

Back to Jack. Before the burger came a nice salad, the kind that offers fresh romaine and carrot slices but gets excited and sort of falls off its plate. A tasty vinaigrette gave the romaine a reason to behave. While Jack tore into one of my skewers--juicy, nicely grilled and loaded with flavor--I glommed onto his peppery burger. He had to admit it was the best one he'd tasted in his five years in California, and I had to agree that it completely satisfied that burger craving.

The bun deserves special mention. Texturally seductive and chewy, it was lavishly studded with wheat berries. The entire package of burger, bun and generous supplies of coarse-ground mustard, mayo and ketchup made up for the waxed paper-on-paper plate presentation.

With the burger came an avalanche of fries, hot, crisp, practically Parisian in finesse. Put the Pub at the top of your list when that next french fry craving hits.

Our waitress Valerie also gets top marks for can-do attitude, for making sure we had what we wanted, for stopping by to check up on us, and for obviously enjoying her work.

It's hard not to like this place--whether you're lucky enough to work at the Pub, or just come in for fresh flavors that give "pub food" a good name.
---
SC Brewing Co. & Front St. Pub
Address: 516 Front St., Santa Cruz
Phone: 831.429-8838
Hours: Daily 11:30am-midnight
Ambience: ** 1/2 Open rafters, cozy booths and a friendly beer bar make the pub a mecca for youth of all ages
Service: ** 1/2 It can take its time, or it can bounce right along--but it's always got an upbeat attitude
Cuisine: ** 1/2 Way better than it has to be, the Pub respects its patrons with some tasty flavors to go with the homebrew
Overall: Plays its thirst-quenching role in holding down the Santa Cruz attitude
---
[ Santa Cruz | MetroActive Central | Archives ]