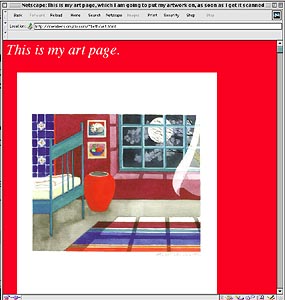 World Wide Weave
By Bruce Willey
members.cruzio.com
WHEN HOWARD FINSTER, the now-legendary folk artist from Georgia, started collecting whimsical things and putting them together on his property, his neighbors called it Finster's Junkyard. But a few Talking Heads and R.E.M. album covers later, Finster became collectible. Art dealers from New York and beyond tried to buy everything that would detach from the property, including Finster's soul. Only a few years later, Finster's instinct went digital as people started making websites by themselves and for their personal vision. The weird thing about a website is that it supposedly goes out to a worldwide audience, or at least has the potential to do so. Most don't, of course. Most personal websites remain unnoticed--like their preweb counterparts, the finely crafted quilt in the attic or the watercolor rose painted over a family tree inside the cover of a Bible.
Santa Cruz Internet service provider Cruzio provides a colossal set of examples of this new American folk-artform. Any website that has something to sell, including the person with a résumé, is automatically nixed from this search for the spirit of Finster, as is any site that takes too long to load a group of family photographs.
Peter Norton (members.cruzio.com/~petehn) takes visitors fishing in Lompico and is kind enough to provide the up-to-date weather in Felton.
Rockstar (members.cruzio.com/~rockstar) takes visitors on a personal journey with rock stars--but, ironically, it is Rockstar who is shaking hands with Ice-T, Johnny Cash and Stephen Sills, among others.
One of the more sophisticated and helpful sites (members.cruzio.com/~spollard) lets visitors scroll through web-compatible colors just for (I think) the hell of it. I'm not sure why I loved doing this, other than it was like instant finger-painting with all the colors at once.
Finally, there is Beth (members.cruzio.com/~beth), who simply says on her home page, "This is my new website. I am going to have quotes and things I think are interesting on it. Oh, and my artwork, too!"
Sounds like a real Finster.
---
Know of a website that deserves exposure? Email us at .
---
[ Santa Cruz | MetroActive Central | Archives ]