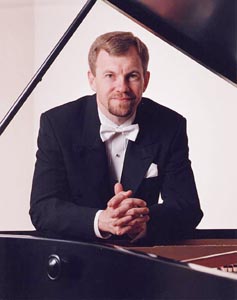 Anton Nel: 'I know, let's photograph Anton framed by the piano! Who cares if it's never been done before, it's so crazy that it just might work!'

In Fine Fettle

Santa Cruz County Symphony serves up motorized minimalism and Mozartian moods

By Scott MacClelland

Bela Bartok's Concerto for Orchestra, one of the glitziest orchestral showpieces in the entire repertoire, got a sensational reading Sunday afternoon at Watsonville's Mello Center. It came at the end of Larry Granger's opening program of the new Santa Cruz County Symphony season. And the more attention one paid to it, the greater the rewards. For one thing, the composer lavished on it an extraordinary range of sound effects, none actually exceptional by themselves, but manipulated with such deft imagination as to make them sound wholly original. Throw in those surprising syncopations, sections in 5/4 meter and an emphasis on the interval of the fourth in both melody and harmony, and no one went home hungry.

The work runs a gamut of moods and emotions, from its mysterious then bursting Introduction to its riotous Game of Pairs, tragic Elegy, jocular and sarcastic Intermezzo Interroto and heroic, fugal Finale. Granger's orchestra, now in its 48th season, sounded in fine fettle, polished and true, betraying only a very few brass glitches near the end. The same orchestra started the day with another rigorous workout, John Adams' Short Ride in a Fast Machine, five minutes of motorized minimalism highlighted by the composer's distinctive textures and surprising interjections.

Naumburg International Piano Competition winner Anton Nel returned to play again with the symphony, this time in Beethoven's Emperor Concerto in E-flat, the key the composer reserved for his most heroic music. In contrast to a muscular Brahmsian approach favored by some pianists and many concertgoers, Nel showed the work's Mozartian roots, treating many of its ideas like cameos to be paid discrete attention. This indeed shed new and different light, as tempi and dynamics were given generous elasticity and the moment was often lingered over. Not that Nel couldn't come up with powerful outbursts and stentorian utterances, which in fact he did. Equally memorable in his playing was the range of colors and contrasts he liberated from the Steinway, from steely articulations to warm, intimate sonorities softly caressed.

Obviously, Nel and Granger had come to consensus on this interpretation, the latter deferring to the former, and with keen attention along the journey. The orchestra often actually sounded on a Mozartian scale, but those Beethovenian symphonic thrusts and climaxes remained unmistakable, as did that ever-expanding development section of the first movement. The biggest tip of the hat to Mozart, however, is the singing slow movement, a bit of seductive piano intimacy laid over a hymnlike reverence on the opening strings.
---
Santa Cruz County Symphony. The audience response evoked a solo encore, the rather overwrought Romance in D-flat by Sibelius. The concert was recorded for broadcast by KUSP-FM (88.9) on Oct. 23 at 11am.
---
[ Santa Cruz | Metroactive Central | Archives ]