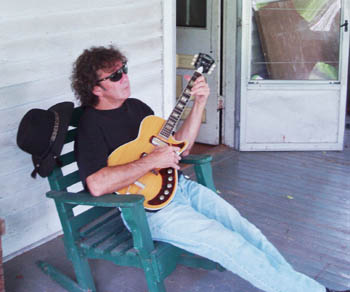 Y'all Ain't From Around Here, Are Ya?: Tony Joe White was touring with just guitar and drums back when the White Stripes were just color-coordinated sperm.

Reigning All Over the World

Swampmeister Tony Joe White on 'Rainy Night in Memphis,' German techno and his high-profile heroines

By Bill Forman

Tony Joe White's "Rainy Night in Georgia" is arguably among the most evocative popular songs of the last half century. Recorded by everyone from Ray Charles to Shelby Lynne, the Louisiana-born swamp-rock legend's achingly beautiful ode to surviving solitude never fails to transport you to that lonely place where the sound of traffic on rain-slick streets is your only companion.

"I was working for the city of Marietta, Ga., just driving a dump truck for the highway department," recalls White, his voice every bit as deep and resonant as it is on record. "And when we would have them old slow rains, you know, I wouldn't have to go to work the next day. I'd stay home and play my guitar. Man, it felt so good just to sleep late and then get up and play guitar."

Yet, to the best of White's recollection, it wasn't actually raining when he got around to "Rainy Night in Georgia." Nor, for that matter, was he still in Georgia.

"No, I had already moved out," says White, who does remember getting some of the guitar part worked out before leaving. "I went on down to Texas, to Corpus Christi, which is where I actually wrote it. In fact, 'Rainy' [which was a hit for soul singer Brook Benton] and 'Poke' [White's own hit single, 'Poke Salad Annie'] all happened in the same week."

If he had done nothing further, White's place in pop music history would be assured. Instead, he sessioned with everyone from Lighnin' Hopkins to Joe Cocker, penned four songs for Tina Turner at the height of her comeback and went on to record more than two dozen albums whose quality proves that week in Corpus Christi was no fluke.

These days, White lives in Franklin, Tenn., where he records at home ("It's an old antebellum house with high ceilings and wood floors, and it's just a good sound in there") using an old 16-track reel-to-reel Tascam that he's had for nearly 20 years now. White did let his son Jody set him up with ProTools for post-production recently, but only after he was assured that the digital software wouldn't "lose the soul and the warmth" of the original analog recordings. Plus, he figures, it saves some wear and tear on the Tascam.

When it comes to writing, White's approach is anything but modern: "When I write, I usually build a campfire out by the river by my house. I'll get a few cold beers and an acoustic guitar and just sit there and dig the night, you know. Whenever I get an idea for a song, if something starts to really staying with me, I'll go build a fire and stay with it."

In fact, that's where Shelby Lynne and White wrote the duet that graces his latest album, The Heroines. "I had one goin' when she drove up. She had just come to say hi and visit, and all of a sudden we was into this 'Can't Go Back Home' thing. And she came back the next night and we built it up again and finished it. There's something about it. I don't know. I'd say probably 99 percent of the songs that I've written have been around the fire. Maybe it's, you know, the Indian blood in me." (White's grandmother was Cherokee Indian.)

White and his wife, Leann--who co-wrote three songs on Heroines--moved from Memphis to Franklin 20 years ago, and have since been followed by Michael McDonald, Sheryl Crow and he's not sure which member of Kiss.

Fortunately, White already has his own cast of colorful collaborators. He went down to Nashville not long ago to work with Dan Penn on the Country Soul Revue's Testifying album. It was the first time the old friends had worked together in 12 years, White says, and now they're considering doing an album together. Meanwhile, closer to home, there's White's longtime keyboardist Carson Whitsett, otherwise know as Doctor Gloom.

"Yeah, Dr. Gloom comes over, he's real tall and kinda bent over and his skin is kinda gray. He looks just like a mortician. And he hops over to them old keyboards, with them old long pale fingers and everything. I ask him, I says, 'Doc, man, you look like you just about stepped off the other side tonight.' He says, 'Yeah I forgot to bring my formaldehyde pills with me.'"

Gloom's Hammond haunts many a track on The Heroines, which in addition to Lynne features duets with Jessi Colter, Emmylou Harris, Lucinda Williams and White's daughter Michelle. White, who recalls recording "Poke Salad Annie" in a single take, went for that same level of spontaneity with this new record. "All of them girls did it one take," he says. "Even though they resang it four or five times, the first pass at it was usually the one."

And then there's Boozoo Bajou. "They're some boys from Germany who sent me their version of 'Rainy Night' a couple years ago," says White with a laugh. White liked the remix enough to record a vocal for "Keep Going," the lead track on the duo's newest album. "They sent Jody this track on the [Pro]Tools, and they wanted to know if there was any way I could come up with some words and do a little rap or just grunt or say anything. It's like, you know, they really wanted me on this thing. Anyway it's really high-tech dance stuff with a swampy voice on it."

"Ya'll ain't from around here, are ya," intones White as the track opens, before launching into absurdly detailed directions to a swamp. "It's really true," he says. "Back home in Louisiana and down south, you stop at a little grocery store and ask somebody directions, and they'll go, 'Well, you take that road out there about four miles down and you'll come to a trailer house. Don't turn there, keep goin'. And it's right past that trailer house there'll be a little ice cream truck at the crossroads, but don't stop there either, keep goin'. And then you come up on this old bridge and you come down on the other side of the bridge and there'll be a dirt road leading off to the left. Don't take it.' You go through all these things, when all you had to do is just stay on the road.

"I don't know, I guess it's just kind of a description thing of the South. It goes all the way back to Faulkner. People from down there, they have to describe something, you know. It's a story."

But there'll be no heroines, morticians or German DJs accompanying White on this tour--just his guitar and drummer Jeff Hale (a.k.a. Swamp Man Loose). "We've had people come up at the end of a set and ask us do we have horns and [Hammond] B3 taped backstage," he laughs. "They go, 'God, it sounded like you had a seven-piece band up there and you had horns.' I said, hey, that's a good imagination."

White says he started out playing with just guitar and drums back in Louisiana and Texas, and was surprised to find a number of young artists doing the same in recent years. "I first saw a couple of groups doing it over in Australia when I was playing there six or seven years ago. They all come backstage, and even the White Stripes was in one of the shows, just the guy and his sister on drums. And I said, hey, get it on."
---
Tony Joe White, Wednesday, Oct. 5, at 8:30pm at Moe's Alley, 1535 Commercial Way, Santa Cruz; 831.479.1854.
---
[ Santa Cruz | Metroactive Central | Archives ]