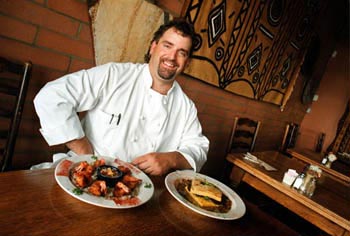 White Plate Specials: Jeff Kampagna's creations include coconut tempura prawns and a polenta Napoleon.

North Coast Comfort

New Davenport Cash Store continues to hold down its coastal fort with earthy finesse and invitingly down-home flavors

By Christina Waters

FOR YEARS we've found sanctuary at this historic corner. We've come for that snug welcome after walking the beach, inhaling sea mist and fog, watching the sun dissolve into evening. Every day, visitors come to peruse the handmade jewelry, ethnic artifacts and wine list of local vintages. The tours buses, the mountain bikes, the first-time visitors, the locals. It's impossible not to feel instantly at home at the New Davenport Cash Store, where the tone set long ago by artist/entrepreneurs Marcia and Bruce McDougal has grown graceful and seasoned over the years.

Famed for breakfasts of cinnamon buns and French roast, the restaurant here has similarly expanded in expertise and range. Breakfasts bring out the best that eggs and homemade breads can offer, while lunches showcase off-the-beaten-track pastas, imaginative salads and those aromatic steamed clams.

A few weeks ago, we enjoyed a terrific meal at the Cash Store. Moist, rich Hawaiian reef fish was grilled to perfection and served with freshly harvested potatoes. Crab cakes with fire-roasted pepper coulis were better than many we'd tasted, and a salad of tender greens arrived interlaced with sliced pears and sweet-tart goat cheese all in a memorable tomato vinaigrette. We were impressed, with both the meal and the skilled service.

So, last week, after a stroll around the village of Davenport to admire the opalescent effect of sun and fog on the surrounding canyons, we took our favorite round oak table in the corner and looked forward to another interesting meal.

The Cash Store doesn't disappoint. A basket of that signature molasses-flavored whole-wheat bread arrived, along with our glasses of wine. Soft and chewy, it went nicely with my glass of excellent Mazzocco Cabernet Sauvignon 1996 ($6.50) and Jack's crisp Sumarocca sparkling wine (a great bargain at $5). Always known for fine homemade soups, the Cash Store delivered a beauty last week, filled with lentils in hearty stock accented with onions, carrots and fresh herbs ($2.95). My order of succulent red romaine ($5.95) was tossed a bit too lavishly with another brilliant vinaigrette. Still, the views, shifting toward that twilight silver color, never fail to enchant us. And at exactly the right moment, big white platters steaming with beautiful entrees arrived.

My evening special pasta ($16.95) was a surprising creation of linguine with prawns, topped with "turbans" of plump sea scallop carefully wrapped with fresh basil and prosciutto. It looked and tasted as complex as it sounds. But absolutely wonderful. The linguine was all scarlet with an intense red bell pepper puree, and arrived at our table piping hot and al dente. "This is the kind of meal to have after mending fences all day," Jack observed. If my dinner was of wild west proportions, his was a tribute to wide open ranchlands. A generous half roasted chicken arrived with an enormous mound of mashed potatoes--serious comfort food, you bet--along with a dice of yellow squash and a light, herb-driven gravy ($14.95). No frills, no tricks--just straight-ahead good gravy and everything dusted with the sensuous perfume of minced rosemary. Large enough to satisfy two hungry truck drivers or three surfers, the dish was a feast. Food this well-made deserves an upgrade in the serving ware department, i.e., heavier cutlery.

We finished ourselves off with a monumental slab of bread pudding ($4.25)--warm, thick, delicious--created from the Cash Store's two-fisted cinnamon rolls. A destination dessert for a reliable destination.

Service could be fine-tuned to good effect, especially the tendency toward untrained manners and casual attitudes about removal of dishes. Still, the flavors pouring from the Cash Store's kitchen have never been better and convinced us to bring out-of-town visitors here when they ask to experience some of the authentic sights and flavors of the north coast.
---
New Davenport Cash Store and Restaurant
Address: Highway One, Davenport (10 miles north of Santa Cruz)
Phone: 831/426-4122
Hours: Open 9am to 9pm (from 8am on weekends)
Entrees: Moderate
Ambiance: *** Rustic and appealing, the high ceilings, vintage ethnic decor and oodles of oak frame fine views of the coastline.
Service: ** Inconsistent, ranging from smart and informative, to warmly inept.
Cuisine: **1/2 Fine regional ingredients and sensitivity to flavor combinations mark this capable kitchen.
Overall: Much more than a landmark port in a storm, the Cash Store earns its enduring reputation.
---
[ Santa Cruz | MetroActive Central | Archives ]