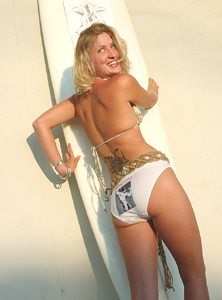 Photograph by Stephen Laufer

I'll Be Backside: Tiffany Wells has designed clothes like this as part of her Apathetics for Arnie movement.

Nüz

It Doesn't Get Weirder Than This

Anyone who thought the recall election couldn't get any more absurd should check out the latest shenanigans of one of this town's most uppity--but almost always undercover--activists. The leftist now calling himself Arnie Schwartz has turned the whole debate on its head with the completely bizarre Lefties For Arnie, and even Nüz can't tell whether he's serious or just executing another complicated act of political theater.

"Here in the United States, we no longer have two different political parties, but one party with two heads, being fed by and serving the same corporate masters," says Schwartz by way of explaining why he believes lefties should throw themselves into Arnie's beefed-up arms.

"Campaign dollars are the cancer of our political system, but those are the cards we've been dealt. We no longer have Republicans and Democrats. We have Republocrats. We have corporate interests vs. citizens' interests. With Arnie, we at least have a chance of rising above that."

Um, wait, is he being serious? God, we sure as hell hope not. Either way, though, he's managed to get some funny stuff into this political circus, like his requirement that everyone on his coordinating committee will wear inflatable arm muscles, which he calls Arnie Arm Warmers.

"If a woman can buy boobs, why can't a man buy biceps?" says Schwartz.

Schwartz admits the idea of voting for a Republican is like having a sex change operation," but he says it's necessary because of what he calls "the old cow, new cow theory."

"It's well known that once a bull has had sex with a cow, he loses interest. The left is the old cow of the Democratic party. Up until now, their attitude has been, 'So what are you gonna do, vote Republican?' If the answer is suddenly 'Yes!' or even 'Maybe,' I guarantee that the next day both parties will actively court/solicit the left." says Schwartz, pointing to Davis' belated left turns.

By becoming part of "Arnie's winning team," Schwartz believes California's lefties can go from being "marginalized" to having "enormous influence." OK, now we know he's not serious. Don't we?

As for arguments that the recall is a Republican plot, Schwartz warns that "media-driven conspiracy theories make us forget the big picture, which is that Gray Davis is the biggest corporate whore that California has ever had."

And then there's the fact that Schwartz believes Arnie is gonna win.

"Resistance is futile, so we may as well become a potential constituency. This is a seminal time," says Schwartz, who even has a pro-Arnie argument suited for hardcore lefty consumption--namely that a vote for Arnie is a vote against Bush.

"People are not necessarily gonna be better off economically by next fall, when the presidential election occurs. Not even the Governator can pull that off! So then a Republican will get blamed for the mess inherited from Davis," explains Schwartz.

OK, wow, Nüz can almost follow that, even if it seems totally twisted.

Faced with reminders that Arnie hired Pete Wilson's campaign team, Schwartz trots out the Kennedys.

"Who do you think has more influence on Arnie? Pete Wilson or his wife and the whole Kennedy clan?" he asks.

As for those who doubt that Arnie has what it takes intellectually, Schwartz says they are hung up on Arnie's "muscles and day job."

"If you saw a beautiful fit blonde woman walking down Pacific Avenue would you assume she was stupid because of her looks? As Arnie himself has noted, he suffers from the same superficial prejudices. And as a macho actor, who started out as a bricklayer and had the business savvy to become a semibillionaire, he also had the balls to play the first pregnant man."

OK, we get it. He's not serious ... right? All Nüz can say is thank God this election isn't going till March. What the hell would we have by then, Lefties For McClintock? Nah, it probably doesn't get any weirder than this.

And Then It Gets Weirder

Meanwhile, Lefties for Arnie has spawned Apathetics for Arnie, a loosely knit band of otherwise apathetic voters for which local tattoo artist and apathetic Tiffany Wells has designed several Arnie designs--including a skullface Arnie, a Rosie the Riveter makeover, and a lucky charm Arnie--all of which she's willing to ink for free.

"I've always been extremely negative towards politics, until Arnie came onto the scene. Ever since I was a child, I've been an Arnie fan, as have all my friends. They say, 'If you're down for Arnie, then so am I," says Wells, who recently modeled Arnie underwear on the steps of his Santa Cruz hunting ground, Gold's Gym.

Fellow tattoo artist Duane Smith thinks Tats for Arnie will catch on.

"When Terminator came out, everyone got these exoskeleton tattoos. After Conan, it was all these images of a barbarian with an ax. And I think he'll be as good at being governor as he is at acting. He's the poor boy with muscles and a strong accent who came from Austria, and made Terminator into a box office hit. And he only said 15 lines."

Butt Turns

It may sound like the next Arnie movie, but Butt-Naked in Tinseltown is Ralph Peduto's one-man look at showbiz from the inside out.

"This is about the journeyman in the trenches," says Peduto, who worked alongside Fran Drescher, Francis Ford Coppola and Keanu Reeves, to name-drop a few.

"They are extras in the play, which is about my life, not their movies," Peduto quips. At Actors' Theatre, Oct. 2-18. Call 831.420.5260 for details.

Pacific Turns

With the 14th annual Pacific Rim Film Fest only a week away, Nüz suggests you secure tickets now for Heart of the Sea. As usual, there will be FREE admission to all screenings--except this benefit show about Rell SuNn, an amazingly graceful, beautiful and courageous female surfing champion, who developed breast cancer at age 32 but keeps rocking the waves even after death.

'What I really do well is snorkeling," says the infamously understated Sunn, whose athleticism, grace and beauty will give you Hawaiian chicken skin, we promise. Tickets for this WomenCARE's Healing Circle benefit are available at Bookshop Santa Cruz and Logos.
---
Nüz just loves juicy tips: Drop a line to 115 Cooper St, Santa Cruz, 95060, email us at , or call our hotline at 457.9000, ext 214.
---
[ Santa Cruz | Metroactive Central | Archives ]