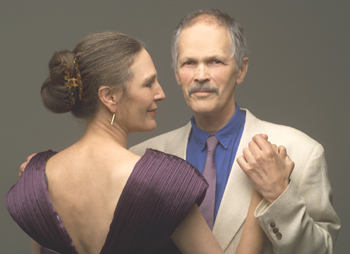 Lessons in Love: Tandy Beal saved Jon Scoville from going to Nashville and voting Republican. It's worked out great for all of us.

Songs for the Dance

On the eve of a two-day celebration of circus, dance and music, Jon Scoville and Tandy Beal share three lessons in composition, life and love

By Mike Connor

If I hadn't met Tandy, I'd be playing guitar in a country & western band in Nashville, voting Republican and playing golf on Sundays," says local composer Jon Scoville.

Instead, for over 30 years, Scoville and internationally acclaimed director/choreographer Tandy Beal have been contributing to the rich cultural atmosphere of Santa Cruz.

Now, in celebration of his 60th birthday, the 40th anniversary of their meeting, their 30th year of collaboration, and the release of three new Scoville CDs, the duo is throwing a party of psychedelic proportions, Friday and Saturday, at the Mello Center in Watsonville.

Nearly 40 circus artists, dancers and musicians are coming together to present and accompany a celebratory retrospective of Scoville's music. Musicians include Santa Cruz saxophonist William Trimble, pianist/composer Ivan Rosenblum, Brazilian producer/bassist Paulo Brandão and vocals from Paula Bliss. Also performing are Cirque du Soleil trapeze artist Aloysia Gavre, West African dancer Mandjou Kone and tango dancers John and Nancy Lingemann, plus local dancers Sara Wilbourne, Saki, Micha Scott and Ken Williams.

In honor of their blow-out celebration, and of the duo's artistic and personal successes, and of the fact that they are so damn adorable, here are three lessons we picked up from these two local favorites.

Lesson 1

"Music and dance are the oldest of friends," says Scoville. "In some cultures, there aren't separate words for the two, because you never even think of separating them. I make my work to honor those old friends, joined at the hip for thousands of years."

They're endearing words from a composer who married his dancing muse. "My partnership with Tandy and her wondrous imagination has taught me most of what I know about making music that moves people," he says.

Scoville's play on the word "moves" is certainly intended--he's composed scores for more than 25 choreographers on four continents. But he's been most prolific for his wife, composing more than 70 scores for Beal alone.

Scoville is excited about the wildly creative and international character of the upcoming show, insisting that Santa Cruz has for many years been a gentle haven of artistic appreciation.

"There's a color palette here to the imagination that's broader [than in competitive metropolitan environments]," says Scoville. "The spirit of the town cultivates in the artists the realization that you can try anything."

Beal says it's the central esprit, the gestalt of the concert to embrace many different art forms and the colors of the community. And indeed, the scope of the show is wide, which brings us to ...

A Dance Cycle Built for Two: Beal and Scoville celebrate their partnership Friday and Saturday at the Mello Center.
Lesson 2
"Life is short, but it's wide," says Scoville, quoting a Spanish proverb. "When you're 30, life stretches out in an infinite curve. But when you get to be 60, life suddenly becomes shorter, and you see the rapidly descending slide down the slope of age."
He smiles as his hand slides down an imaginary slope like Alice sliding down the rabbit hole. Then he pulls himself upright and stretches his arms wide.
"But at the same time as it becomes wider; there's a breadth to one's experiences, and one's appreciation becomes more vivid."
While both Beal and Scoville are known for their transportive performances, Scoville in particular has a fascination with the psychedelic theme of the poetic journey. It helps that he's traveled all over the world and studied all kinds of music, from bluegrass to northern Indian traditions to African drumming.
Of the trifecta of albums he's released this year, Wide Life delves deepest into the possibilities of synthesized music and arrangement, fusing elements of electronica drum 'n' bass and a distinct Balkan flavor with organic improvisation. His work on Palmistry showcases Scoville's fascination with European classical composers like Beethoven and Chopin, as well as jazz greats like Thelonius Monk and Art Lande. Albert's Bicycle was not yet released as of presstime, but the overt psychedelic reference of the title probably means it's going to be out there.
"People ask me what type of music I write," says Scoville. " And I hope they come up with a label for it, because it would be so much easier to market."
He chuckles at his musical slipperiness, but--how convenient!--Scoville's quip about marketing himself brings us to ...
Lesson 3
"Women are attracted to men who can dance well, cook well, and who can make them laugh," jokes Scoville. "Early on I realized that I couldn't dance or cook worth a damn. My father was an incredible comic, so I learned the technique. But in the last five or 10 years I've learned to cook, because I realized my jokes are going stale."
Perhaps to compensate, he says he's always wanted to collaborate with local cartoonist Tim Eagan, author of Deep Cover and Subconcious Comics. And while lesson No. 3 is about winning a woman's heart, it could just as easily have been that it's sometimes foolhardy to share secrets with a reporter.
"Tim doesn't know it," says Scoville unsuspectingly, "but one of my secret dreams is to do something with him, to score an animation that he does or create some kind of musical theater. I think he's a master of wit."
With or without Eagan's wit, Scoville's and Beal's creative collaborations remain fresh and lively, which they say comes from continually raising the bar for
each other.
"Raising the bar line on each other is another way of saying inspiring each other, and pushing your own vision," says Beal, "which is one of the reasons the collaboration has been so fruitful."
Scoville, in his way, agrees: "We keep going down unexpected roads and dragging the other along, sometimes kicking and screaming."
---
Wide Life: An Evening of Circus, Dance And Music will be performed Friday, Oct. 3, and Saturday, Oct. 4, at 7:30pm at the Mello Center for Performing Arts, 231 Union St., Watsonville. $14; for tickets and info call 831.763.4047.
---
[ Santa Cruz | Metroactive Central | Archives ]