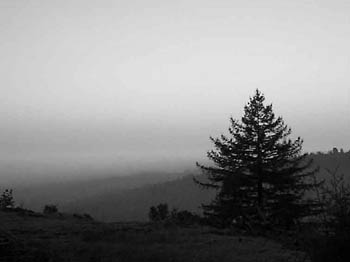 Up a Tree: The tree-sitters of Ramsey Gulch won't stand for any more logging in the area.

Nüz

Sitting Die-hards

As the Croy Fire blackened 3,127 acres west of Morgan Hill, forcing hundreds of residents to evacuate during Santa Clara County's biggest wildfire in 17 years, tree-sitters at Ramsey Gulch endured the smoke--though at one point they were breathing through gas masks, and an activist named Echo nearly passed out as the fire raged two miles away.

The smoke was just the latest in a series of threats (chain saws and rifles being the others) that have challenged sitters in the seven weeks they've occupied their perches high in the forest canopy.

Undeterred, the activists have kept their bodies where their beliefs are--with, in and up the trees--to protest the logging operations of industrial timber corporation Redwood Empire. But in similar die-hard fashion, foresters have kept on logging.

"Even if we can't stop all the logging, we are there to bear witness and nonviolently defend the trees one at a time with our own lives," said forest activist Dragonfly, adding that the group is practicing civil obedience "to draw attention to an unjust situation."

Since Aug. 15, some 15-20 activists have rotated the occupation of three platforms attached to trees they have dubbed Esperanza, Free, Critter and Fresco.

Their efforts have not gone unchallenged. On Aug. 24, loggers cut down a few acres of trees immediately surrounding the tree-sitters' platforms. And two weeks ago, two unidentified men claiming to own the land threatened a tree-sitter with a rifle, reportedly claiming they would shoot if the tree-sitter did not vacate by the time they returned--which the men so far haven't.

Although conservation groups and government agencies, including the Department of Fish and Game, the county Board of Supes and the Watsonville Regional Water Quality Control Board, have opposed Redwood Empire's latest harvest, the plan received the California Department of Forestry's rubber-stamp approval.

"We don't believe that the California Department of Forestry does an adequate job of protecting ecosystems in California. This timber harvest is particularly disastrous because the slopes are so steep [and] the soil so erosive, and there's fish in the stream," says Earth First! activist Dennis Davies.

For those who haven't been following the Redwood Empire saga, the Mendocino-based corporation is the largest private landowner in Santa Cruz County and first left its mark on the Ramsey area in 1998 when it logged bordering Gamecock Canyon, receiving in the process more than 30 citations from the California Department of Forestry for violating state Forest Practice Rules.

The 60-acre stretch of towering second-growth redwoods and Douglas fir that Redwood Empire is currently logging lies across Ramsey Creek from the 155 acres it harvested in 2000--an affair that inspired Santa Cruz County's first tree-sit, in which activists succeeded in preserving two acres.

Says Dragonfly of the current tree-sit, "Hopefully, the same way that civil disobedience has moved people to assert their rights, our efforts will empower citizens of Santa Cruz to fight corporate exploitation of the precious forests and watersheds that families depend on for clean water just as other birds and fish and wildlife depend on it for their survival."

Control Burn. Not.

With smoke darkening the sky over Morgan Hill, UCSC's Assistant Fire Chief Mike Hill told Nüz he's sad that UCSC's Marshall Field is no longer a training opportunity for local firefighters.

In the past, the field, which sits atop the UCSC campus, was the site of a controlled burn each summer, an activity that reduced thatch and fast-growing invasive plant species--a move that presumably helped the Ohlone tiger beetle, which needs open trails to sun, mate and hunt.

Ironically, the beetle's newly declared endangered status (October 2001) appears to have endangered the very process that helped it flourish, since this year UCSC has chosen to mow the field instead.

UCSC administrator Dean Raven also cited the endangered San Francisco popcorn flower, as well as native American burial grounds, as reasons for not burning, not to mention the California Department of Forestry's lack of availability to help administer a burn on a day approved by the Monterey Regional Air Quality Control Board.

Last First Night?

Lest you're worrying that First Night isn't happening this year, Assistant City Manager Martin Bernal assures us the event has been "scaled back, not axed."

Says Bernal, "The First Night folks will do the parade portion, and we are looking to do something around midnight, but nothing has been decided formatwise."

Last year, an estimated 20,000 revelers showed up for the event--a statistic that has officials worried lest a similar number of party-goers show up this year and, finding nothing to do, get shitfaced and then go on a window-smashing riot instead--exactly the kind of behavior that occurred in 1993, triggering First Night's foundation.

Since its inception in 1994, First Night has become widely popular, at least on the street level, with more people coming each year, but with fewer of them buying buttons, as lines for First Night's organized events grew longer and longer.

Recognizing that First Night organizers did a great job of paying everyone fairly and bringing great acts to town, but that people aren't spending like they used to and that we need one really strong event that everyone wants to do because it's really spectacular, and which won't create a huge lineup, may we suggests the following:

Last Night "Almost Free Speech" Chalking Marathon: Participants write New Year's resolutions, political messages and other inanities on downtown sidewalks. Chalk provided. A chance to express yourself freely. (Well almost, since a small fee applies.)

After Midnight Hose Down Almost Free Speech Extravaganza: Participants wash away the above-mentioned messages once midnight strikes. Buckets and hoses provided. A chance to get down and wash away the "almost free speech!" (But this ain't no free event either.)

Send other Last Night/First Night event ideas to or call our Nüz hot line at 457.9000, ext. 214.
---
Nüz just loves juicy tips: Drop a line to 115 Cooper St, Santa Cruz, 95060, email us at , or call our hotline at 457.9000, ext 214.
---
[ Santa Cruz | Metroactive Central | Archives ]