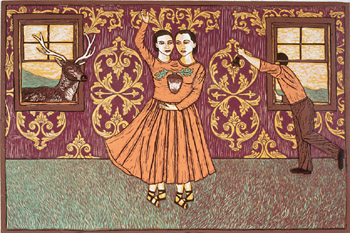 Hearts of the Arts: Bridget Mary Henry's works are on display in October's orgy of local art.

Salon de Refuse

Not all artists have studios to open, so Salon de Refuse offers even more exhibition space

By Sarah Phelan

WHEN OCTOBER'S weakening sun warms the blackberry brambles that have taken over the neighbors' fence, some of Santa Cruz County's finest artists throw open their studio doors in what amounts to a prewinter artistic cleansing process, a.k.a. Open Studios.

The event not only offers participating artists the chance to show and sell their work directly, but also gives visitors the chance to see how artists among us work and live. And along the way, maybe we'll even buy a masterpiece, or two.

But awesome as Open Studios is, it's also a finite event able to feature only 250 artists, which is but a mere drop in the proverbial ocean of artistic talent lurking in our burg. And as Chip, the mysterious one-name-only chair of the Santa Cruz City Arts Commission explains, there are many reasons why artists don't get involved in Open Studios, including lack of studio space and fear of inviting strangers into their home.

In recognition of these problems, Chip has organized the Salon de Refuse, which is named after a salon in turn-of-the-century Paris that involved the as-yet-undiscovered Picasso and Matisse, who had been rejected by their contemporary salon of the day, and features several artists who are not participating in Open Studios. The Salon, located in the old Cat and Canary building, will be open through October.

"The Salon de Refuse is not intended as a criticism of Open Studios, which can't include everybody," says Chip, adding that he's always been concerned that the arts community looks to the Santa Cruz County Cultural Council to do everything, which he says is not a realistic attitude.

"Doing the Salon de Refuse isn't us saying 'Look, they don't know good art!' but us saying 'Look, there's more than they can serve.' Open Studios is an awesome and amazing event, but it's not the only event, nor should it be."

As Chip notes, it's typical that many artists' works won't get shown in their lifetime.

"And we aren't necessarily showing the next Picasso, but Open Studios can't fit everybody in under one roof. We're trying to expand that roof.

"There are many people who don't have studio space. And a lot of women have said they don't feel comfortable inviting total strangers into their homes. Another big challenge is that Open Studios competes with galleries."

Admitting that it's "hard to document this," Chip says many locals don't buy art from galleries because of Open Studios.

"If you're going to buy a pot, you'll buy it direct from a friend who makes pots or an artist you know from a former Open Studios" he explains. "If it didn't happen, art sales would be way down, but do we want a monopoly of 250 artists selling art for three weeks of the year and little else?" Chip asks.

"I love Open Studios, but a lot of artists don't have studios, and it's hard to sell art without one, since we have almost no art galleries, outside of the coffeehouses."

Currently, Santa Cruz has about nine art venues, including the wonderful Felix Kulpa, along with some less-traditional venues.

"But we lost the one-room gallery in the back of ID, which was open for only six months, and Many Hands Gallery, which sold the majority of art downtown, closed this summer."

That leaves a handful of what Chip calls specialty stores, including the Vault's upstairs, the Atelier and Artisans.

All of which raises the question, Why don't galleries make it in Santa Cruz?

"A lot of reasons, starting with, People don't buy art here, because, unlike Carmel, Monterey and San Francisco, we don't have a gallery district. People tend to go to a neighborhood where galleries are clustered rather than a single gallery," Chip explains.

Recognizing that Santa Cruz hasn't been able to successfully create such a district, Chip has also put together the Art Walk, which tries to connect the dots between the otherwise isolated art venues in town, thus helping people to show, view and sell art in the process."

The Art Walk is a self-guided tour, with fliers and maps at each of previously 10 (but now nine with ID gone) stations. "Basically, it's an opportunity on the first Thursday of every month, during which galleries will stay open until 7pm and sometimes have special events with music and an artists' reception, with a party afterward at the 418 project."

And thanks to Chip, nonmainstream art will continue to be seen even when November rains roll into town, thanks to the Putty Project, a revolving monthly installation of which Salon de Refuse is October's part.

The Putty Project began, according to the indomitable Chip, when he and his partner Bridget Mary Henry walked by the old Cat and Canary building about three years ago and got talking about the struggle art galleries have here, which is related in part to their high overheads.

"We talked about how if they do make it, they have a specific mandate of showing art that will sell," says Chip, recalling that at the time there were "all these empty buildings downtown, and we said, Wouldn't it be great to show art in them?"

Chip and Henry's original plan was to use a building just on the weekend.

"We wanted to get in, put art on the walls, then get out, a hit-and-run approach, hence the name, the Putty Project," says Chip. "But then Julie Hendee of the Redevelopment Agency called to say they were trying to think of ways to make these deserted buildings look better, and from there came the idea for a more long-term show."

"The cool thing is that we can show art without having to worry whether it would sell, since our expenses are really minimal--just time and a materials fee. That's opened the door for showing really exciting work. With the Putty Project, we're not necessarily selling art, but we are taking nonmainstream art and putting it on Main Street. And feedback during installations has been wonderful, varying from 'I don't understand' and 'I guess its just art' to 'Oh, my God, this is amazing.' It's been an amazing experience."
---
Open Studios runs Oct. 5-6, 12-13 and 19-20. Call 688.5399 for info. Salon De Refuse runs through Octobber at the Old Cat and Canay building in Santa Cruz..
---
[ Santa Cruz | Metroactive Central | Archives ]