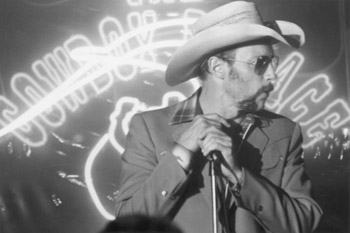 On the Road Again: Wannabe country star Sunny Holiday (Jon Gries) can't stay out of the limelight, no matter how low the wattage.

Country Dreams

A devoted manager and a bottom- feeding country singer search for the 'Jackpot'

By Jim Aquino

THOUGH ECONOMICAL and easy to shoot with, digital video just looks putrid on the big screen. Its resemblance to those faded kinescopes of '50s live TV broadcasts makes me skeptical about this DV revolution that's been touted by filmmakers ranging from Spike Lee to George Lucas, who shot the upcoming Star Wars installment, Attack of the Clones, on DV. (By the way, that recently announced title is yet another sign that Lucas' head is in a galaxy far, far away.) Another reason for my skepticism is that most of the digital films I've seen either have shown very little filmmaking craft--I keep thinking of Chris Rock's bit in which he compared Blair Witch to a home movie of a wedding--or are spotty at best.

The repetitive, rambling cross-country comedy Jackpot, the Michael and Mark Polish follow-up to their 1999 debut feature, Twin Falls Idaho, is just another digital movie that doesn't quite come together. But the surprisingly garish and textured cinematography by the Polishes' regular collaborator M. David Mullen is a plus (Jackpot is the first digital film shot with Sony's 24P HDTV camcorder, which rectifies many of digital filmmaking's major flaws), and so is Garrett Morris' funny performance as Les, the overzealous, prayer-reliant manager of Sunny Holiday (Jon Gries), an inept, deluded and skirt-chasing country singer at the bottom of the showbiz food chain.

Sunny has left his wife (Daryl Hannah) and baby to pursue his dream of stardom (the fact that's he dumped someone who looks like Hannah is proof enough that he's nutso), but he doesn't head to Nashville. No, Les, whose belief in Sunny's talents is as misguided as his business sense, has Sunny go from seedy dive to seedy dive to compete in karaoke contests.

Morris was one of the lesser original cast members of Saturday Night Live; after his departure, the very mention of his name became a punch line on the show. He's never been this good or been given a character this wonderful or complex to play--not even Chico Escuela (his only breakout SNL character) counts. Perhaps Les is aware he's an idiot when it comes to managing money, so he pours whatever intelligence he has left into sizing up either the bar crowd or the décor to help Sunny get a feel for whatever stage he performs on. The way he points out to Sunny the placement of karaoke lyric monitors with all the seriousness of an NFL coach instructing his quarterback about the layout of the field is amusing, and so is another scene in which Les has Sunny choose Billy Idol's "Eyes Without a Face" after he mathematically determines the age of the crowd (mostly twentysomething, so they are young enough to have heard the song).

The film's signature moments aren't found only in the karaoke bars; they're also found in the improvisational exchanges between Morris and Gries (they worked together on the sitcom Martin) in Les' pink 1983 Chrysler. When compared to Morris' we've-been-cooped-up-here-with-each-other-for-far-too-long car chats with Gries, all that talk about the chemistry between Jackie Chan and Chris Tucker in the Rush Hour movies is bull.
---
Jackpot (R; 100 min.), directed by Michael Polish, written by Mark Polish, photographed by M. David Mullen and starring Garrett Morris and Jon Gries, opens Friday at the Nickelodeon in Santa Cruz.
---
[ Santa Cruz | Metroactive Central | Archives ]