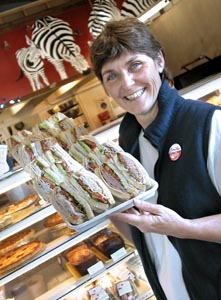 Moveable Feast: If the people can't come to the food, then the food should come to the people is Emily Reilly's motto.





High on Lunch

Pacific Collegiate High School students get a whole new experience in lunch

By Janet Blaser

THE BENEFITS of living in a small town are many; in my book, they far outweigh the negatives. And when bakery owner Emily Reilly announced her candidacy for Santa Cruz City Council, it seemed like a natural progression of her interests in the community. So when her name and products popped up in another place--as the "lunch lady" for the year-old charter high school Pacific Collegiate--I wasn't really surprised.

It was fellow food writer Sharon Cadwallader (also an English teacher at the school) who thought to ask Emily to take on the job. Now, many years of parenting and writing about food have taught me that school lunches, by nature, are not popular with kids of any age. But these lunches from Emily's--veg or nonveg, handmade every morning on fresh sourdough bread, stacked with local produce, good quality meats and packaged with chips, a juice and (yum) one of the bakery's homemade cookies--have changed the face of school lunches forever, at least for the kids at PCS. Plus they allow moms too harried to do more than throw a few snacks into a bag with a lick and a promise to get it together tomorrow morning to know that we have an alternative--and a really good one, at that.

Turns out, this kind of "out-of-bakery" business is the Emily's of the future. With the onset of the Mission Street construction, Emily has been really looking at how to get her products to the people--even if they can't get to her. Lunches for PCS, a stone's throw away on High Street, are just a beginning; ready-made sandwiches have also been added to the bakery's morning repertoire (and are snatched up every morning by commuters on their way over the hill). In fact, Emily tells me that's the bakery's busiest time--weekdays between 5:30 and 10am. Emily is unusual in that although she's known as a baker, interacting with customers is her real love. And one thing she's learned is that what her customers need most is more time. More than ever, her goal, and that of Emily's Good Things to Eat, is to provide a more complete menu of convenient, high-quality, homemade foods to make meals easy, delicious and satisfying. Whether it's a sour cream poppy seed muffin for breakfast, turkey and Swiss on sourdough for lunch, classic quiche for dinner or mocha mousse for dessert, Emily's got you covered. The bakery is located at 1129 Mission St., Santa Cruz, at the corner of Laurel and Mission. For information about your own lunch program, call 429.9866 or log on to www.emilysbakery.com.

Pacific Bounty

You can experience a little bit of our south coast flavor by heading that way this weekend for the seventh annual Monterey Seafood and Music Festival, Oct. 7-8. Celebrating the harvest of the Pacific, the event features live music from a plethora of bands and a host of delectable seafoods to sample, cooked and served by some of the area's top restaurants. Calamari and shrimp prepared every which way, barbecued oysters and grilled swordfish are just a few of the featured foods. Alvarado Street and the Custom House Plaza will be blocked off for the free festival, with arts and crafts booths, children's activities, two stages and, of course, a smorgasbord of food and drink. Festivities run 10am to 5pm each day; for details or directions to downtown Monterey, call 655.8070.
---
Got some restaurant news or a tasty food tip? Email Janet at [email protected].
---
[ Santa Cruz | MetroActive Central | Archives ]