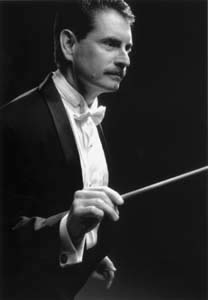 Color Theory: For his 10th anniversary season with the Santa Cruz County Symphony, conductor John Larry Granger programs concerts of vivid musical colors.





Paint Your Wagon

For conductor John Larry Granger, color and light are vehicles of musical expression

By Bruce Willey

TO UNDERSTAND CONDUCTOR John Larry Granger's programming for the Santa Cruz County Symphony's new season, which opens Saturday, it is helpful to admire a few principles of physics, beginning with light, since it precedes thunder. Light travels in various wavelengths, and our eyes, sensitive to these waves, interpret them as colors. Sound, too, travels in wavelengths. Our ears are sensitive to different wavelengths. Long waves produce low-frequency sounds and short waves high frequency ones.

And so, this season, Granger takes on light and sound waves. It's an obvious and playful thematic concoction that might seem as trite as the science lesson above. But Granger is serious. He hasn't traded his podium and baton for palette and paintbrush just yet.

Calling his season Colors of the Classics, Granger intends to define each piece the orchestra performs as a thematic color, an elaboration on light and shadow--even presenting one concert called Earth Tones (featuring the works of Alberto Ginastera, Stephen Prutsman and Camille Saint-Saëns.

Though a lot of the works planned for the season only evoke a vague and interpretive sense of color--say, for example, Beethoven's Symphony no. 7, which is dark brown and beautiful, especially the sepia-colored allegretto movement)--other pieces are more explicit. Paul Hindemith's Mathis der Maler (which Granger chose for this season's first program) directly responds to German reformation painter Matthias Gruenewald's painting of the same name. Granger has also chosen pieces for their sweeping metaphorical color qualities.

"There are a lot of different kinds of ideas in looking at music through colors," Granger points out. "A lot of people feel like they see color in music, and they are probably right in doing so. Each instrument in the orchestra has a different color, as do the notes each instrument can play."

Fact is, Granger's idea is a solid one that goes back to Pythagoras, who assigned the following colors to musical notes: red (C), orange (D), yellow (E), green (F), blue (G), indigo (A) and purple (B), all based on what he thought were ratios that could be calculated in vibrating strings.

THE SYMPHONY'S OPENING night will be a colorful elucidation for what is to come and a musical palette of color theory. Starting out with the bright sparkling neon lights of Times Square --Leonard Bernstein's jazzy musical On the Town--makes a dramatic contrast to May's season-closer, Mahler's heavy Symphony no. 2. The snappy little selection from Bernstein's score, Granger says, is like music bouncing off the lights in a night-lit New York.

Quite the opposite is Granger's next selection--Rachmaninov's Piano Concerto no. 2. This popular piece is an esoteric inner expression of light and darkness. After hitting a long, depressing composing block, Rachmaninov started sessions with a therapist named Dr. Dahl who told him to hang positive handwritten notes of affirmation all over his room. He did, and wrote the challenging Piano Concerto no. 2, which he dedicated to his therapist.

Diane Hidy, 41, the piano soloist for concerts Saturday and Sunday, speaks of the piece as an old friend. "It's taken me 20 years until I've finally gotten it right," she says by phone from San Francisco, "I love it dearly, as do audiences. ... It's a surefire piece." In the background, Hidy's 1-year-old daughter can be heard thumping on her tray. "I think she is trying to play the piano," Hidy says.

Hidy started playing when she was two. Since then, she has had an amazing career--attending two of the best music schools in the country, Juilliard and Peabody, playing Carnegie Hall, perhaps earning her greatest popular recognition for frequently appearing on National Public Radio's West Coast Live, among other noteworthy achievements. "When Granger asked me if I would be willing to do this piece [Concerto no. 2], I didn't need a lot of coaxing," she says.

It's appropriate that Granger would choose Hindemith's 1934 Mathis der Maler to conclude the opening concert season. Based on a triptych painting by Gruenewald depicting a bloody peasant uprising, the three-movement piece was banned by the Nazi government after it was performed by the Berlin Philharmonic.

It is a work, Granger says, that "conveys the colors of war, of rage and futility, and certainly the anger of tyranny. ... But there is also a message of staying true to yourself and using your gifts to conquer darkness. Hindemith believed that an artist was best suited to make a political statement. I think in some cases that is true, especially artists who live outside of freedom."

Since this is Granger's 10th year with the symphony, will he raise a lighted baton like organist Virgil Fox and don a tux of many colors? "Certainly not the baton, but we will be experimenting with visual effects on a few pieces. Santa Cruz is, after all, closely tied to the ocean and the waves," Granger says. "After the success of Mahler's Resurrection last season, the orchestra and I are really excited to get back to work. And I'm not saying what color my coat will be."
---
The Santa Cruz County Symphony presents its season-opening concert Saturday (Oct. 7) at 8pm at the Santa Cruz Civic Auditorium, 307 Church St., Santa Cruz, and Sunday (Oct. 8) at 2pm at the Henry J. Mello Center for the Performing Arts, 250 E. Beach St., Watsonville. Tickets are $17-$34. (420.5260)
---
[ Santa Cruz | MetroActive Central | Archives ]