Dai Sugano

Need for Speed: Sports bikers hit S-curves on Highway 9 near Vista Point during a ride on Sept. 11.

The Wild Ones

Sports bikers come to the Santa Cruz Mountains every weekend to cruise Highway 9--some would say too recklessly

By Steven Enders

UNDER THE tall redwoods and pines that line Highway 9, the air is fresh and the posted speed limit is 25 mph. Uh-huh--well, maybe if you're driving a Caddy and have sampled a couple too many ounces of wine in the area's many tasting rooms.

The speed limit is about 30 mph too slow, even through hairpin turns, for a small group of drivers who use the road religiously.

Every weekend, sport motorcycle riders flock to the Santa Cruz Mountains to lay down some fast turns and take on one of the best-known rides around--Highway 9.

On the line between Santa Cruz and Santa Clara counties, a faceless rider in bright, protective leathers and airbrushed helmet leans his big, black, stealthy crotch rocket into a turn and ricochets out like he's been launched from a cannon. He throws his front wheel up overhead, accelerating into an impressive wheelie for about 100 feet in first gear before coming close to an instant halt and turning into the parking lot where highways 9 and 35 intersect.

As he slowly approaches, a few other motorcycle enthusiasts boast about the rider, Brian LeFevre. He's one of the fastest riders on the hill, they say--and a regular top finisher on the state's amateur racing circuit.

"Nobody's faster than him," says a rider named Randy.

Many of the riders interviewed for this story were reluctant to give their full names because of the way they ride--usually fast and, some would say, recklessly.

LeFevre's protective leather suits--not a black jacket with frills--come in a rainbow of colors and are adorned with patches of peace signs and his daughter's name, Brianna. On his back in big, bright-orange letters is the motto "Guided by the Light." Stickers on his motorcycle give praise to Jesus.

"This is my true love," LeFevre says about his bike. "It's a talent the Lord gave me, and He's put me on this earth to shout His name from the seat of a motorcycle. That's what I do."

But not all the guys, and few gals, on the road are religious. In fact, most just don't think about the afterlife. In this sport, which they claim is a true "extreme sport," death is all too much a reality and can come at any moment.

One rider, who goes by the name "Wheelie Dave," says that skydivers and bungee jumpers have nothing on sports-bike riding.

"My daughter could jump out of a plane," says Wheelie Dave.

Every rider says that they know someone who's died or has at least come close at one point or another, if it wasn't them.

They're an impressive-looking bunch. Most are clad in expensive leathers with plastic kneepads and toe guards that are scraped from weeks of low-to-the-ground, body-dragging turns. The leathers cost about $2,000 apiece. The bikes--usually close to $12,000 new.

"Riding a motorcycle and crashing is part of the experience," LeFevre says. "But you wear the proper clothing and use the right equipment and you do what you can do to lessen the risk. A lot of guys who come up here aren't typical. Bikers get a bad rap. We ride hard, but we're family people and church people. We don't want to get hurt as much as anyone else."

LeFevre says his bike was the fastest off the assembly line for two years straight in 1996 and 1997. It'll go 183 mph, he says. He's only taken it up to 175, although not on Highway 9. There, the speeds usually top out around 100, give or take a few.

All this speeding doesn't make residents very happy. Some of the motorcyclists tell horror stories of oil and antifreeze inconspicuously placed on the road surface near a few homes on the hill. They allege that a few residents do it in hopes a rider will ride through the slick stuff and wipe out.

"You can't prove it," Dave says, "but you can just tell it's poured out of a bucket."

And when it's poured in one of the many shadows on the road it's almost invisible, especially to a fast-traveling rider, and could spell disaster for any motorcyclist or even a bicyclist touring the hills.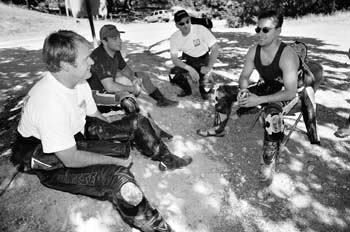 Dai Sugano
Bike Break: Wheelie Dave (left) takes a break after a long ride and talks with friends at Vista Point on Highway 9.
Lot of Fun
ON SATURDAYS and Sundays, the parking lot, in the midst of some of the most beautiful scenery in the Santa Cruz Mountains, turns into one of the biggest pit stops for motorcycle riders to talk shop.
They mix with mountain bikers--the pedal-power type--joggers, hikers, car drivers and other outdoors enthusiasts. Their loud bikes and gear, brash chatter and sheer numbers really take over the lot. Sometimes, if organized motorcycle tours come through the area, they completely dominate the place.
Highway 9 is one of the best rides, they say, in all of Northern California. It's part of a scenic loop of tricky backcountry rides that wind through Saratoga, up to Los Altos and through La Honda to Highway 1. Then they come back up through Bonny Doon and return to the lot at Skyline Boulevard, where they swap stories, share a laugh and have a bite to eat. It's all about camaraderie.
Fifteen miles up the road toward Los Altos on Highway 35 is another hangout, near Alice's Restaurant, but that's where most of the Harley-Davidson riders go.
The two cliques aren't really competitive, and most are downright friendly with each other. One rider, however, tells a story of a knife-wielding Hells Angel who nearly slashed him as the two passed on the road one day. The incident, he said, was rare.
The riders park their bikes next to one another and socialize near the Mr. Mustard hot-dog stand, where cold Cokes and tasty bites offer welcome respite after hours of hard riding in suffocating leathers under a hot sun.
The stand is manned by Shane Langdon, an impressionable 17-year-old who says he's saving up to get a bike. He can't wait much longer to ride himself, what with watching all these hardcore riders coming in and out and gushing about how much fun they're having.
"These guys bring in half of my business. Without these guys, I don't know," Langdon says. "They're a big influence on me. I could really get into the adrenaline rush, I think."
On any Sunday, it's not uncommon to find nearly 100 riders parked in the lot. They laugh about the hairball turns, wipe their brows over near crashes and somberly describe the wrecks from which some have miraculously walked away.
LeFevre says, "The Lord's saved me [from wrecks], straight up."
Langdon knows a rider who hit a car at a mere 10 mph. The collision crushed the front end of the bike through its gas tank and threw the rider into the car's windshield. He pulled himself out and, thanks to the leathers, wasn't hurt, save for a sore crotch.
Crash Course
OTHERS HAVEN'T BEEN so lucky. About a month and a half ago, a crash involving a car and a motorcycle left the rider dead after he was thrown from his motorcycle. Capt. Jim Young of the Saratoga Fire Department got the call.
"We probably run about eight to 15 motorcycle accidents a year," Young says. "Of those, about 80 percent are sport bikes. Rarely do we go out on calls involving the Harley guys. They just go a lot slower.
"Speed is a factor, blind curves are a factor, other cars are a factor. We see everything from fractures to fatalities. Sometimes we get a call, go up there and don't find anyone. They just crash, brush themselves off, get back on and ride away."
Young speculates that there is about one wreck per 100 riders who take on the hill, but that most of the crashes aren't serious. Most riders are careful to wear the proper protective gear, and they walk away from the majority of crashes.
Some have scraped up their helmets and others, like Wheelie Dave, have dinged gas tanks and mismatched fenders and body work--signs of multiple crashes.
As Dave finishes a Coke and readies himself for another loop on the highway, he pulls up his leathers, which are nearly torn to shreds in the back.
His friend, who goes only by "Gary," brags that the scrapes are the result of a crash at over 100 mph, where Dave scooted flat on his back off the road, hit a tree, stood up and walked away.
The hardcore guys call riders who don't wear the right gear "squids." They're the dangerous ones on the hill, they say, who usually wear nothing but shorts and T-shirts. They also ride irresponsibly, by passing cars on double yellow lines and speeding through heavily residential areas.
LeFevre hangs a small rubber squid from his license plate because he doesn't claim to be one of the best on the road. The riders in the parking lot all call each other "squids," anyway, even if they don't really know each other. Used in that fashion, it's a term of endearment.
The California Highway Patrol monitors highways 9 and 35, but they're far outnumbered by the motorcyclists. The regular bikers say they know most of the officers who cruise the mountain and are leery of their presence. However, it doesn't stop them from pushing the envelope. Occasionally they get busted.
Before he pulled into the lot at the junction, Wheelie Dave flew past a rare sheriff's patrol car and was waiting for him to circle back and give him a ticket. The deputy never came.
Another rider, Steve Rokitiansky, who is wearing jeans and a thick leather jacket, has been slapped with multiple speeding tickets and lost his license five years ago. He's got it back now, along with a new motorcycle.
The riders say they're not maniacs or freaks, they just enjoy the rush of having all that power underneath. And usually, they say, they're in control of the situation. But it's that "usually" that troubles residents and passing motorists, who have to share the road with them.
[ Santa Cruz | MetroActive Central | Archives ]