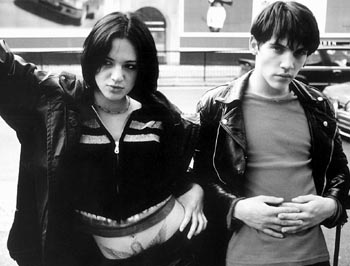 Soft Story: After Beatrice (Asia Argento) shacks up with teacher Alan (Jared Harris) in a country cottage, her dark and dangerous past comes back to haunt her.

Bad Monkey

A cozy country life can't live up to a dark and dangerous past in 'B. Monkey'

By Rob Pratt

AT TIMES, director Michael Radford's love-story-cum-thriller B. Monkey develops with the glacial pace of an English novel--say, W. Somerset Maugham's The Razor's Edge. Like Sophie in Maugham's classic, the troubled young woman Beatrice (a.k.a. street punk/jewel thief B. Monkey) falls in love with a gentle soul and tries to set up homemaking to escape her life of violence and crime. But Beatrice (Asia Argento) doesn't have the benefit of an emotionally stable lover to give her strength--and, after all, it's not really strength that she needs. Still, after locking eyes with grade-school teacher Alan (Jared Harris), Beatrice sees a way out. She comes on hard to Alan, who, between teaching 6-year-olds, spending his evenings spinning jazz records on the late shift for a London hospital and living aboard a houseboat, seems barely moored to reality. Alan, however, can't ... er, come on hard until they track down the spot in Paris where Django Reinhardt and Stephane Grappelli jammed at the Hot Club of France. But things get cozy once they shack up on Alan's dowdy boat.

The funny thing is, when Beatrice's former life comes calling--in the form of her jewel-heist pal Bruno (Jonathan Rhys Meyers), who wants to enlist B. Monkey for one final job--it feels more like she's being rescued from a dullard's life than cruelly tempted by a dark past. However drug-addled and twisted the relationships among Beatrice, Bruno and upper-crust lowlife Paul (Rupert Everett), they're much deeper and more immediate and enduring than the timid romantic fantasy she shares with Alan.

That truth ultimately undermines the climax of the film. Harris' Alan is so bland and lifeless that his retreat with Beatrice to a country cottage seems entirely untenable. There's no way that a woman as vivid and savvy as Argento's Beatrice could stand even a week herding cows off the road and ruthlessly color coordinating home sweet home. Argento, Rhys Meyers and Everett are great together as an underworld ménage à trois. Beatrice and Bruno's electrifying raids on high-class jewelers and their sly, stylish recklessness add jolts of life to a movie that literally and figuratively tends toward impotence. And it's Bruno's jilted love for Paul--not Alan and Beatrice's love for each other--that gives the plot momentum. Too bad director Radford didn't just cut loose Alan. B. Monkey might have made a much more interesting film if it were a past of knit sweaters and wifey gossip that Beatrice tries to escape.
---
B. Monkey (R; 90 min.), directed by Michael Radford, written by Chloe King and Michael Thomas, based on a novel by Andrew Davies and starring Asia Argento, Jared Harris, Rupert Everett and Jonathan Rhys Meyers, opens Thursday in Santa Cruz at Nickelodeon.
---
[ Santa Cruz | MetroActive Central | Archives ]