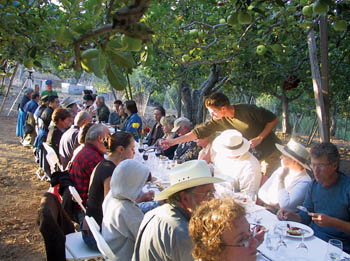 Photograph by Tana Butler

Table for Two ... Hundred: Michael Hendricks--son of Raider Hall of Famer Ted Hendricks, by the way --keeps the glasses full at Outstanding in the Field.

Report From the Field

Our critic finds that the Outstanding in the Field event lives up to its name

By Christina Waters

It was a scene Renoir would have loved: the long table spread with china and glassware under the dappled green light of the apple trees. The smell of a smoke fire fueled by fruitwood from the orchard, the long rays of afternoon light slicing through the leafy shade. Guests bearing goblets strolled through the trees, admiring the magnificent pippins only a week away from harvest. Young chefs, clad in kitchen whites, leaning over the alfresco tables, shelling walnuts, fussing with bouquets of basil, gearing up for the multicourse experience about to unfold.

The setting, the homegrown ingredients and the players were all choreographed by chef/
entrepreneur Jim Denevan, who designed the outdoor dining series several years ago in an effort to bring culinary creators and consumers together in California's finest fields. Last week, the final Santa Cruz event of the year brought 70 inquiring palates up to the sunny slopes of Bill Denevan's Happy Valley Orchards, where archetypal apples recreated Eden for a multicourse dining epic.

The rustic setting--soft dirt underfoot, plenty of full sun and deepening shade--produced a variety of fashion statements. The opening salvo was a crisp 2001 Ridge Chardonnay Santa Cruz Mountains. Winemaker Paul Draper had brought several surprises to accompany the meal by Manresa chef David Kinch, cooked with expert help from Oswald's Eric Lau and Manresa pastry sous-chef Hsing Chen.

Lots of talk, thanks to John Tuck and Jack Jacobson, warmed up our appetites for a freshly harvested first course of fresh corn and heirloom tomatoes tossed with a bevy of basils, including infant basil sprouts. Add a few thick wedges of Jim Denevan's fragrant focaccia and the effect was worth the shuttle drive up the winding mountain road to the orchard. The occasion was also worth the cost and the investment of an entire afternoon, especially to food anthropologists who crave authentic flavors, intimate communion with winemakers, growers and chefs. Warmed by the sun, the tomato essence seemed to sneak into our very DNA. And the next course, served on large family-style platters, offered abalone grown by Davenport's US Abalone, utterly tender under a creamy saffron vinaigrette, long branches of grilled leeks and plump triangles of potato pancake.

One of the joys of this kind of wine/dinner is to be able to hear from the growers and makers of the food. Paul Draper told us about the youthful muscularity of his 2000 Ridge Monte Bello Cabernet Sauvignon, such a large adolescenty wine that it was decanted early in the day in order to open and organize itself for dinner. Orchardist Bill Denevan glowed about his celebrated crop, lionized by The New York Times recently, and yet also soberly reminded us that acreage in California is so costly that fewer and fewer orchards remain. Jim Nelson from Camp Joy brought pungent cheeses to join with figs and the walnuts we'd watched being cracked.

Kinch kept tinkering with that huge barbecue fire until finally the juicy, rich main dish was served. Pork belly from Niman Ranch, cured for 72 hours in herbs and spices, and then poached and finally barbecued with spiced cane syrup, was cut into thick succulent slabs, like country-style bacon, and served with creamy Tuscan-style cannellini beans. Messy glorious eating, especially with the aggressive cab. A thin moon began to rise over the ocean in the distance as glasses were poured with a rare, oenological marriage of very warm climate and willing grapes. A thick 2001 Ridge Petite Sirah dessert wine romanced sturdy tarte Tatin, each slice topped with sinful homemade crème fraîche. "You just don't see natural sweet red dessert wines," Draper smiled.

Jewel-like truffles made by Hsing were given to each guest as they headed back down the path to the rendezvous with the shuttle. Deer shared the road with us. The moon grew high and yellow. Many of us wondered whether we would ever eat again. And if so, would it ever be in such a setting?
---
For news of next season's Outstanding in the Field dinner schedule, go to: www.outstandinginthefield.com.
---
[ Santa Cruz | Metroactive Central | Archives ]