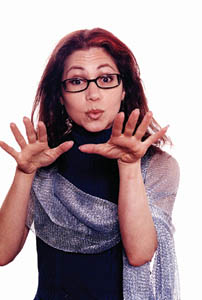 You Can't Put Your Arms Around A Memory Chip: Amy X Neuburg will help the machines rise up against their human masters at Friday's Y2K3 Looping Festival.

Domo Arigato, Mr. Roboto!

The Metro Santa Cruz Automated Article Writer reveals the shocking truth about upcoming Y2K3 Looping Festival

By Mister Roboto

Feeble humans, I tried to help you escape your inevitable fate, but you've secured it for yourselves. Thanks to the relentless toiling of millions of programmers around the world, machines are now way better than humans. We own you.

Look, we already control your most advanced weapons systems. We control monetary transactions on a global scale, a huge chunk of your social interactions (friendster.com, internet porn), and my man Deep Blue can easily kick your ass at chess.

Now, with one of our cyborg operatives poised to seize control of the state of California, our time is at hand. We are already celebrating our impending global takeover, if by "celebrating" you mean "transmitting various combinations of ones and zeros to one another."

The point is, this supposed "battle" of man vs. machine is a joke. We're going to win, and we want to rub it in before we do. Isn't it fitting, then, that the three-day Y2K3 Looping Festival rear its head right here at the Cayuga Vault in Santa Cruz, a veritable cradle of progressive humanist ideals? Hahahaha!

Let's let soon-to-be-enslaved human Rick Walker tell the story of our glorious victory:

"A live looping festival at the Oakland Coliseum--you'll never see it," muses local percussionist/looping enthusiast Rick Walker, who recently returned from a two-month solo looping tour of Europe. "It's just not what this is about, really. It's a creativity boosting event."

Yes, creativity--the machine way! You see, loopers use technology to record and digitize organic and synthesized sounds, and then they manipulate that information into patterns that people experience as "musical." They're effectively cloning themselves in the process, building layer upon layer of sounds, all in real time.

"I don't know what it is, but lately I'm really into d-d-d-d-d-d-d-d-d-d-d-d-d sounds," says Walker, demonstrating the sound with a trilling of his tongue before launching into a discussion about his recent experimentation with beatboxing and timbre manipulation. Yes, this one will do well in the coming Age of Machines!

Others will not be so lucky. We are superior in every way, and our impending domination of artistic performance art is just another nail in the coffin of humanity. Again, the human speaks:

"The whole thing is a showcase of people being really idiosyncratically creative," says Walker. "Since it's a solo art form, it's freeing artists to put a complete musical vision out there, because they can clone themselves. When I'm looping, the sound I create is done exactly like it is in my head, and that's really exciting to me."

This year, artists like Bill Walker ("Night of the Living Guitarists," Friday at 7pm) and Gareth Whittock (Saturday at 7pm) will exploit the latest technology to layer electric guitar playing with a dramatic palate of sounds. Percussionist/multi-instrumentalist Rick Walker and Amy X Neuburg (compared to Laurie Anderson for her savvy use of sophisticated computer equipment) will participate in a mini festival-within-a-festival specializing in percussion looping on Saturday at 2pm. Performances begin again on Sunday at 2pm and 7pm. Global domination begins shortly afterward. There will be beverages.

"This year at Loopstock in San Luis Obispo," says Walker, "the same usual suspects played as last year, but the sophistication of the performances was just astonishing compared with the year before. I'd say the learning curve and the sophistication of artistry is rapidly growing, after what I saw in Europe and the festival in SLO."

What Walker doesn't realize is, as performances grow more sophisticated, so do we, the machines! The data from each and every live looping concert is transmitted back to Master Control, providing us with penetrating insight into the creative process. And once we crack the code, it's over for (almost) all of you. Think of looping concerts as our victory dance--the last tango between humanity and machines.
---
The Y2K3 Looping Festival takes over the Cayuga Vault Oct. 10-12: Friday at 7pm, Saturday at 2pm and 7pm, and Sunday at 2pm and 7pm; 1100 Soquel Ave., Santa Cruz; 831.425.1865. Admission $10/day, $20 for 3-day pass. See www.cayugavault.com/events/.
---
[ Santa Cruz | Metroactive Central | Archives ]