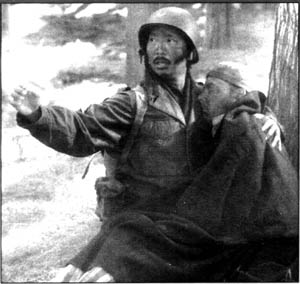 Changing Lane: Lane Nishikawa (left) starred in and directed 'When We Were Warriors,' part of the enduring attempt to tell the story of Nisei soldiers in World War II.

Pride and Prejudice

'When We Were Warriors' and 'Forgotten Valor' set the record straight on a shocking chapter of U.S. military history

By Steve Palopoli

Lane Nishikawa made his name with his one-man show I'm on a Mission From Buddha, but it turns out that's more than just a clever title. Buddha or no, Nishikawa really is a man on a mission--and after years of hard work, he may be set to complete it.

First there were monologues. Then there was the play The Gate of Heaven. Then came the short films When We Were Warriors and Forgotten Valor, both of which will be screened as part of this year's Pacific Rim Film Festival.

All of these were Nishikawa's attempt to bring some recognition to the history of the 100th Battalion/442nd Regimental Combat Team of World War II, an all-Japanese American unit that was the most decorated of its size--and among the most decimated. While 120,000 Americans of Japanese ancestry were being rounded up and sent to "relocation centers" at home, these soldiers (all "Nisei," second-generation Japanese immigrants who unlike their "Issei" parents were not barred from full citizenship) were suffering nearly 10,000 casualties in seven major campaigns in defense of the United States. Besides the thousands of Purple Hearts, the unit was decorated with one Congressional Medal of Honor, 560 Silver Stars and 4,000 Bronze Stars.

Or as Nishikawa's veteran character Sam dryly puts it in When We Were Warriors: "We got a lot of medals."

Finally, after pouring himself into years of research, theater work and scrappy, accomplished filmmaking on this untold story, Nishikawa is working on a feature-length film about the 100th/442nd. Each phase of his works has focused on a different aspect of the unit's history (except for Warriors, which was an adaptation of The Gate of Heaven), and for the upcoming film, he's focusing on one of the most incredible: the 442nd's rescue of a battalion of Texans trapped along the German border in October of 1944.

"After four days of fighting, they saved 211 out of the 275 Texans. They took about 800 casulties to get them," says Nishikawa. "It just shows you that they were on the one hand one of the most courageous units. On the other hand, they were expendable."

When We Were Warriors and Forgotten Valor offer similarly eye-opening glimpses into the history of the unit. In Warriors, a 442nd vet is reunited in 1955 with a German Jew he helped to liberate at Dachau, and the two form a lifelong bond, struggling with the differences between their cultures and finding refuge in the similarities. In Forgotten Valor, a 442nd vet discovers that, 50 years after the end of the war, the U.S. government plans to upgrade the medals of 20 surviving Nisei soldiers--but can't shake feeling that he must join the ghosts of his fellow soldiers who didn't return home.

Nishikawa's fascination with the 442nd began at a very young age, and was probably somewhat inevitable considering that four of his uncles served in the 100th/442nd.

"I thought of it when I lost one of my first uncles," says Nishikawa. "That was way back. After he passed away, I was in Hawaii, and my aunt and I were talking about it and she gave me one of his pins from his uniforms. That always affected me."

Eventually, he developed some monologues based on his uncle's experiences. That led to veterans from the 100th/442nd going to see his shows, and passing on even more about the history of the unit. Finally, he started using the history that had been passed on to him as the basis for fictional stories.

Even in mining such a specific niche of history, Nishikawa says he finds that audiences from all backgrounds can relate.

"I think what you're doing is first starting with a little bit of history. The more specific you are, the more universal it becomes--the more similarities you're going to find," says Nishikawa. "Everybody has an uncle like that. Everybody has a veteran in the family. It's just because we're all human."
---
Lane Nishikawa will be on hand for after-film discussions at the Pacific Rim Film Festival screenings of When We Were Warriors and Forgotten Valor, Saturday, Oct. 11, at 3:30pm at the Del Mar.
---
[ Santa Cruz | Metroactive Central | Archives ]