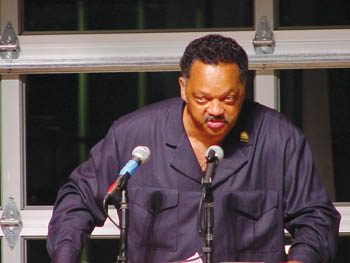 What's Wrong With This Picture? That's right, this man has no slug tie! Luckily, John Laird righted this wrong at UCSC last week.

Nüz

Calculated Attack

With the FBI revealing few clues about SUV attacks at four car dealerships in Southern California, Nüz was intrigued by media reports that an Earth Liberation Front member who recently contacted the L.A. Times to claim involvement used a pseudonym that may include the name of a UCSC professor.

Using the alias "Tony Marsden," this alleged activist emailed the Times to ensure that charges would not be pressed against Josh Connole, who was held for four days before being released, having reportedly been found guilty of nothing other than protesting the Iraq war. (He was carrying a sign that said "Bush is a Nazi Fascist Corporate Pig," but apparently that's not a crime ... yet.)

In trying to clear Connole's name, "Tony Marsden" let slip a passion for math, which led to the discovery that Jerrold E. Marsden, a professor at Caltech (the college from which Tony Marsden sent the email), had co-authored a math textbook called Vector Calculus with none other than UCSC professor Anthony J. Tromba.

Reached by phone, professor Tromba told Nüz, "Vector Calculus is a math book that has nothing to do with politics. In fact, it's probably one of the most popular books on the topic. Its been translated into six languages and been used around the world. Math is neutral."

Sounds good to us. Still, things took a turn for the weirder when, on Oct. 5, the L.A. Times revealed that in trying to prove insider knowledge of the SUV attacks, "Tony Marsden" identified a math formula that had been painted on one of the SUVs--a fact reportedly only known to police at the time.

All of which got Nüz wondering if this coy emailer was trying to call attention to some bit of mathematical cleverness that "Tony Marsden" picked up in math class and sprayed onto an SUV.

Could it be that this tag was based on an equation from Vector Calculus and if so, what message did the formula contain?

Nüz ventured onto UCSC campus on a tome-seeking expedition only to find that the campus bookstore now closes Sundays. (We don't care what Outside magazine says, UCSC still gets our prize as No. 1 party school.)

Luckily, however, Slug Books was open and we managed to locate a copy (though the revised copy, which happens to contain way more quotes and some different formulas, was sold out--guess it is pretty popular!).

Further research led nowhere conclusive, which is hardly surprisingly given that the link to Vector Calculus is tenuous at best.

Still, hearsay suggests that "Tony Marsden" used Leonard Euler's formula for regular polyhedra, and though Nüz was told there would be no math, discovering that Euler once said, "Fluids are a lot easier to drink than they are to understand"--in a math book, no less--was pretty cool.

Meanwhile, Tromba, who has not been contacted by the FBI so far, is keeping things in perspective by comparing this recent appearance of his name in national newspapers to what happened 33 years ago when he was about to give a talk at a high school, and found the San Jose Mercury News had posted messages all over his door.

"I thought, gee, it's really that urgent to reach me over a high school lecture? But then The New York Times came knocking," recalls Tromba, who then discovered that he'd just been accused in the then Soviet Union of running a spy ring.

"I was never cleared, but at least I was sitting in my office in Santa Cruz and not in Siberia. If I had been, I'd probably never have survived a year. In retrospect, this latest incident seems minor."

Neck Stop, Santa Cruz

A banana slug tie isn't the kind of accessory you'd expect the Rev. Jesse Jackson to be wearing, but expect to see it around the neck of the famed civil rights leader some time soon, given that Assemblymember John Laird presented the Rev with this hot fashion item while he was visiting UCSC campus last week

Jackson, who was already looking chill in a blue oversized shirt, urged students to flex their voting muscle now--and forever.

"You ought to get 10,000 votes out of 15,000, because what's at stake is your tuition," said the Rev of the recall, which he believes is an attempt to "torpedo democracy."

"You should say no as a matter of principle. You can't go to Sacramento as a Terminator. You go there as a negotiator ... Even frustrated chickens shouldn't vote for Col. Sanders."

Noting that there are more black men in prison than in college and that women still don't have pay equity, Jackson told students that Martin Luther King Jr.'s famous speech was not about the dream.

"The speech was about the broken promise. Where is the promise of an even playing field? ... We can't just dream, so vote your hopes, not your fears."

Signature Event

Determined to overthrow the council's decision to repeal the mobile home rent control law, seniors from De Anza Mobile Estates are gathering signatures--a move the city says could trigger catastrophe.

Mayor Emily Reilly said that if seniors collect enough signatures, the new ordinance won't go into effect Oct. 23, and there will be an initiative on the March ballot to see if citizens want to restore rent control, instead.

"Either way, I'd recommend putting something on the ballot to help pay for the costs of keeping rent control," said Reilly.

Councilmember Mark Primack was quoted in the Senile as saying, "If people sign this petition, I want their names memorialized on every building that has to close because of it."

If he gets his wish, those names are already guaranteed some prestigious company, as county Supe Mardi Wormhoudt, Assemblymember John Laird, Andy Schiffrin and Denise Holbert are among those who have contributed to what residents say total 3,000 signatures to date on the referendum.

Primack's comments angered De Anza residents, who dismissed them as "scare tactics," but Assistant City Attorney George Kovacevich says MHC, which owns De Anza, has warned that it could cost the city $12 million if the referendum takes the city back to court.

Kovacevich explains that MHC is fighting rent control by challenging how the city applied it, backdated to April 1999.

"They are claiming we made some negligent mistakes and did things that our ordinance requires, and in so doing deprived them of their right to charge fair market rent," says Kovacevich, who hopes things won't end up being as bleak as residents fear.

"Value is determined by location. This place is unique, people are gonna want to live here, and no one has $5,000 a month (which is what MHC will be asking if rent control is repealed). Go along West Cliff Drive, where there are gorgeous homes and no one's paying that much, so why would you for a little mobile home?"

Residents fear MHC plans to repossess their mobile homes and build luxury condos instead, but MHC president Thomas Heneghan, insisting that the settlement agreement is a "compromise" compared to the alternatives for continued litigation, says, "We've operated communities across the US since 1983 and to date we've never closed a park."
---
Nüz just loves juicy tips: Drop a line to 115 Cooper St, Santa Cruz, 95060, email us at , or call our hotline at 457.9000, ext 214.
---
[ Santa Cruz | Metroactive Central | Archives ]