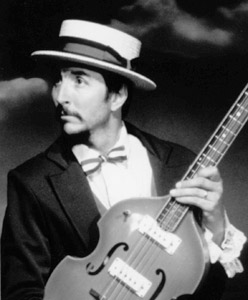 Who Wants a Mustache Ride: Les Claypool is lookin' sharp and ready to rock at the Civic Friday.

Photograph by Jay B;alesberg





More for Les

Trying and failing to keep up with Les Claypool in the Primus aftermath

By Greg Cahill

LES CLAYPOOL doesn't give a rat's ass about publicizing his career. Then again, maybe he does. The bass virtuoso and irreverent songwriter did hire Shorefire Media--one of the best and biggest PR firms in the music biz and the guys who represent Bruce Springsteen, among others--to pay a publicist to bug me to bug Claypool (actually, it was a low-pressure kinda deal).

But if he does, then why is Claypool so tight-lipped about his affairs? Maybe because he can afford to be. Speaking over the phone from his sprawling Sonoma County ranch, Claypool offers little insight into his new solo album with the Frog Brigade (which he brings to the Civic Auditorium Friday) or the fate of Primus, the groundbreaking punk-funk band he formed in the mid-'80s and put on hiatus three years ago.

Today, Claypool is talking about the first two Primus albums--1989's Suck on This, recorded live at the Berkeley Square punk emporium, and 1990's Frizzle Fry, which includes studio versions of several tracks from Suck on This.

Both albums, out of print for a couple of years after a licensing deal with Caroline Records lapsed, were digitally remastered (Suck on This was originally pretty lo-fi) and reissued earlier this year on Claypool's own Prawn Song label. For hardcore Primus fans looking for a reason to buy the CDs a second time, Frizzle Fry contains a live medley of avant-popsters the Residents' "Hello Skinny/Constantinople."

"We decided to make 'em sound a little better," explains Claypool. "When they first were released, we were young guys and didn't have a lot of money, so they didn't sound quite as full-spectrum as they could. Now, I've turned [remastering expert] Stephen Marcussen on them, and he's made them sound huge and fat and full and punchy. It's all good."

Good, indeed. Together, Suck on This and Frizzle Fry have sold 750,000 copies--major sales figures for a couple of indie records.

Primus Force

Claypool (age 37, born in Richmond and a boyhood friend of Metallica's Kirk Hammett) is the driving force behind Primus and a seemingly endless string of spinoff projects that have blazed a path for a thousand copycat punk-funk bands. In 1991, Primus made its major-label debut with the eccentric Sailing the Seas of Cheese (Interscope), which went gold a year after its release.

The trio--Claypool, guitarist Larry LaLonde and drummer Tim "Herb" Alexander--went on that year to open for such varied acts as Public Enemy, Anthrax, U2, Fishbone and Rush. Two years later, Primus scored a surprise Top 10 hit with "Pork Soda" and landed the coveted headlining spot on that year's Lollapalooza festival tour, a move that made the band once and for all what the All Music Guide called "quirk rock's undisputed kings."

Several strong releases followed, culminating in 1999's Antipop, which featured such guests as Tom Waits, Stewart Copeland of the Police, Fred Durst of Limp Bizkit and Tom Morello of Rage Against the Machine, to name a few.

But Claypool shelved Primus after the album's release, choosing to stretch out in projects that ranged from the jam band Oysterhead (with Copeland and Phish guitarist Trey Anastasio) to Les Claypool and the Holy Mackerel, and from Sausage (a reunion with the original Primus band members) to penning the theme song to TV's South Park.

For the time being, Claypool says he has "zero plans for any Primus activity." Meanwhile, he's been mixing the new album, his first solo work since 1996's Highball With the Devil. The new album features "a lot of different musicians, a lot of different types of musicians," including Jay Layne of Sausage, Warren Haynes of Gov't Mule and Perry Farrell collaborator Lonnie Marshall. In addition, the instrumentation ranges from his patented funk-infused bass to tablas to vibes.

"It's a pretty eclectic record," he says. "I'm having fun."
---
Les Claypool and the Frog Brigade play an all-ages show at the Santa Cruz Civic Auditorium Friday, Oct. 11, at 8pm. For tickets, call 408.998.8497.
---
[ Santa Cruz | Metroactive Central | Archives ]