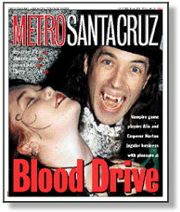 For the Week of
October 10-16
Cover: Blood Drive
In the game of Vampire, you can be anyone you want to be and, with luck and cunning, work your way up from a lowly bodyguard to the Prince of Santa Cruz.



Irreverent Paths: From protesting a racist trial in the 40s to the Nicaraguan war of the '80s, a new documentary traces the life of activist Alice McGrath.
Talking Pictures: Dream therapist Robert Moss finds charm and chuckles and a lot of Freudian symbolism in 'The Umbrellas of Cherbourg.'



Notes From the Underground: Latest revival of '50s Jamaican-born music hits home.



Late Show and Tell: Dramatic readings give even the sandman pause.
Like a Letter at 3am: Michael Ventura is proof that there's life after alternative journalism.



Cherry Condition: For the Olson family cherry orchards--since 1899 a vibrant player in the history of local harvests--the sun is about to set.