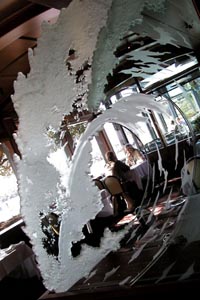 Wave Rave: The interior design of the Crow's Nest reflects its million-dollar view of the ocean.

Photograph by George Sakkestad





Decades of Fun

For 30 years the Crow's Nest has been the place to celebrate

By Janet Blaser

HAVE SOMETHING TO CELEBRATE--birthday, anniversary, life in general? Well, the Crow's Nest is the place to do it on Monday nights in October, when longtimers Jack and Bob Munsey, Blaine Neagley, Doug Mayfield, executive chef Jeff Westbrook and the rest of the staff celebrate 30 years of fun with special discounted prices. Beginning Oct. 16, all dinner entrees downstairs will be discounted 30 percent. That means you can order exactly what you really want--filet mignon, prime rib, fresh seafood or a pasta dish--and not worry about the cost.

Remember, that million-dollar view comes with every meal, 24/7, and there's also entertainment--live music, dancing and comedy shows--almost every night of the week, except Mondays, when the upstairs lounge hosts a pigskin party, complete with prizes, that starts with a Happy Hour from 4 to 6pm. Long as we're doing a day-by-day rundown, let's not forget Tuesday night's Lobster for Locals, beginning Oct. 17, featuring a complete Caribbean lobster tail dinner that includes the Crow's Nest's famous salad bar, for $12.95. I'd recommend reservations for the Monday night "30 Years of Fun" dinners--I can't imagine they won't be packed. The number to call is 476.4560. Anybody not know where the Crow's Nest is? On the beach at the Santa Cruz Harbor, off East Cliff Drive, next to the jetty.

Apples of Their Eyes

Just in case you were wondering, the 23rd annual Apple Pie Baking Contest yielded a winner for Best of Show that was simple, direct and delicious. Congrats to Bernie Lerman, whose recipe had nothing unusual, nothing surprising--just apples (he prefers Pippins or Granny Smiths), sugar, cinnamon and nutmeg, a bit of cornstarch for thickening, flour and a little butter. The crust--that crucial covering--was equally basic: flour, salt, chilled unsalted butter and vegetable shortening and ice water. Voilà! Winners in other categories included Lindsay Pavlovich, first place in Juniors, and Delores Harbison, first place in Seniors.

You gotta appreciate the way our chefs and restaurants around here support their community. Shadowbrook Restaurant will host a special evening Nov. 7, where a full third of the proceeds go to support the Harbor High Booster Club, an arm of the athletic and academic programs at the school. All you have to do is tell the restaurant you're with Harbor High when you make your dinner reservations (choose a time between 5:30 and 8:30pm), and then get ready to sit back and enjoy an elegant, delicious dinner, knowing that you're helping a good cause as well. Wine and bar sales count too, so another option is to just meet some friends for a glass of wine in the beautiful, cozy lounge (I'd head for the chairs in front of the big fireplace). Make your reservations soon--there are only 100 available for this event. Shadowbrook's number is 475.1511.

Thumbing through the Continental Airlines magazine on a plane coming back from Florida last week, I was rather surprised to see a photo of Roy Yamaguchi. Seems that the airline employs more than a dozen elite chefs to "review and consult" its in-flight dining menu with its executive chef, Siegfried Lang. Also profiled in this issue were Houston's award-winning chefs Michael Cordua and Tim Keating; Paul Minnillo of Cleveland's Baricelli Inn; Don Pintabona, executive chef of the famed Tribeca Grill in the Big Apple; and the aforementioned Yamaguchi, renowned chef, author, TV show host and founder of almost a dozen restaurants worldwide that feature his signature Hawaiian regional cuisine. Hard to believe these guys had anything to do with the horrid lunch I had on the way out, but I could see someone's deft hand in the tasty bean burrito on a whole-wheat tortilla I got as part of my vegetarian plate on the way home. Sigh.
---
Got restaurant news or a food tip? Email Janet at [email protected].
---
[ Santa Cruz | MetroActive Central | Archives ]