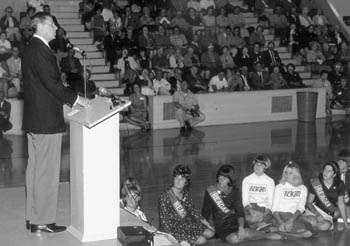 Covello & Covello Historical Photo Collection

Ronald Reagan at the Civic Auditorium, Oct. 8, 1966: Ronald was here campaigning to be governor of our fair state. He must have been speaking against gun control, for the death penalty, against abortions and in favor of district elections.

Bruce Bratton

DO DISTRICT ELECTIONS WORK? The local organization in favor of district elections mentions San Francisco, Berkeley and Watsonville as cities with district elections. What they don't tell you is that the S.F. Weekly just three weeks ago ran several pages about San Francisco's sad results and numerous problems with its switch to district elections. They don't tell you that some Berkeley city officials I have spoken to are saying that district elections in Berkeley have been a disaster and have created more problems in cost and voting participation than anyone imagined when they started them back in 1986. There's no mention of how $23,000 was spent in just one precinct in Watsonville elections for 400 votes. The stories behind these cities' problems with district elections are too complex to detail here, but according to some, district elections didn't result in better representation, didn't lower election costs and didn't change interest groups. In Berkeley, they have had to hold expensive runoff elections in every year but one since they began district elections in 1986. Now Berkeley has tried lowering the majority vote percentage to avoid runoff elections, because the voter turnout is so poor. Why anybody thinks district elections would work any differently here is beyond me. Look into those cities' district election histories, you'll see what I mean.

WATCHING THE WATSONVILLE WETLANDS. Every so often, a local book is produced that is a knockout in every way. Watching the Watsonville Wetlands by Jerry Busch is such a book. Not only is it filled with beautiful woodcuts by Andrea Rich and magnificent photos organized by Gypsy Ray, but it is also a beautifully written guide to and explanation of the natural wonders of the mostly unknown Watsonville wetlands. The book was put together by a committee, and it's still great! Get a copy and take your holiday visitors on a tour to see the flora and fauna the book describes. Remember, we're not talking about the Elkhorn Slough but about Harkins, Struve, Hanson, West Struve and the Watsonville sloughs. Proceeds go to the Watsonville Wetlands Watch, and you can send a check to them for $15.99 at P.O. Box 1239, Freedom CA 95019-1239.

THE DOWNTOWN PLAZA. The Chamber of Commerce (in its questionnaire to City Council candidates) and Scott Kennedy in at least one recent council candidate forum just don't get it about funding or creating a downtown plaza. All that the Downtown Plaza Committee is asking for is to get the city to officially study the possibility of a plaza at the corner of Pacific and Church streets--just a study involving experts, seeing if that corner will work, searching for ways to fund it (including possibilities of new urban grants), ways to manage it, ways to assist Parks and Recreation in maintaining it. For Kennedy to tell a recent forum audience how his buddy Louis Rittenhouse is just waiting to take the city to court if the voters decide a plaza would benefit our community shows that same Kennedy disrespect for the voters I've mentioned before. We certainly did goof in not working hard to get a plaza where the new Cooper House sits, and we have one chance left, and those 3,000 people who signed the petition believe the Pacific and Church corner will work. So do many planners and experts we've talked to. We just need a real study and a group of City Council members who have the foresight to carry the creation of a plaza, or just the study for one, at that specific corner through to completion.

DARK PLEASURES. Too bad Urbania left the Nick so soon. It was a dark, mystifying film about revenge and murder--rent it if you ever see it in the stores (I'll bet Blockbuster won't carry it). Psycho Beach Party is a takeoff on those Annette Funicello and Frankie Avalon films. The problem is that those original beach films were such bizarre creations it's difficult to parody them. It's like making fun of a clown--you can't do it. I can't completely trash Sylvester Stallone's Get Carter. It does have some style or something--maybe it is just the editing or the opening credits or Michael Caine. However, I still wouldn't recommend it unless you need to see Stallone for some reason. Meet the Parents with Robert De Niro and Ben Stiller is better than average. There were a few laughs from the audience, but not enough to justify the waste of talent--wait and rent it during the holidays; it'll be just fine on TV. Robert Altman's Dr. T & the Women is a very funny film. The Cinema 9 is playing the previews, but the Nick opens it Thursday (Oct. 12). Richard Gere, Helen Hunt, Shelley Long, Laura Dern and everybody in it are perfectly funny. Altman hasn't done as popular a film as this in years, and it shows how capable a director he is. Don't miss it.

OTHER MATTERS. Don't miss the Ailey II Dance Company Saturday and Sunday nights (Oct. 14-15) at 8pm at UCSC's Mainstage; call 459.2159 to see if there are any tickets left. ... If you're interested in protesting the possible construction of a Home Depot in Soquel, show up at the Home Depot open house Wednesday (Oct. 11) at 6pm at the Mid-County Senior Center 829 Bay Ave., Capitola. The ever-growing No Home for Depot community organization will be there in force to show Home Depot that they don't want their 131,000-square-foot megastore in our county. ... The Santa Cruz Indian Council presents Native American John Trudell speaking at the Veterans Memorial Building Oct. 22; call 454.0478 for tickets and info. ... The Santa Cruz Chamber Players are playing Bach Family Music Saturday (Oct. 14) at 8pm at the First Methodist Church, 250 California St., Santa Cruz. Carol Panofsky, Jonathan Salzedo, Marion Rubenstein, Katherine Button and Joel Shaefer are all playing such things as the Italian Concerto and The Hoboe Solo. Call 425.3149.

LARGEST GROUP OF SANTA CRUZ MAYORS. The largest collection (12) of Santa Cruz mayors in history will gather at Katherine Beiers house this Friday (Oct. 13) for a party at 5pm. In alphabetical order, they are Katherine Beiers, Neal Coonerty, Scott Kennedy, John Laird, Don Lane, Bert Muhly, Celia Scott, Keith Sugar, Bruce Van Allen, Jane Weed, Mardi Wormhoudt and Jane Yokoyama. It's a benefit for the campaign against district elections. When you stop and think about the 25 years of Santa Cruz mayors and the experience that this group covers, and that they all are united in their opposition to district elections, there must be very sold reasons why. Yes, it's an historic occasion, and yes, there'll be a photo opportunity around 5:45pm. No, I don't know why I haven't heard Cynthia Mathews and Mike Rotkin take a position on this very important issue. P.S.: Of the current 15 City Council candidates, only Michael Hernandez and Mark Primack are in favor of district elections. Hernandez thinks splitting Beach Flats by having two City Council representatives, as the proposed district elections would do, is a good idea. Again, the historic party takes place Friday at 5pm at 135 Gharkey St., Santa Cruz, and you can call 429.1688 for information on how to help defeat district elections.

BORE AND GUSH. It was probably a Freudian slip last week when Hillary Bratton (oldest daughter) actually called the candidates Bore and Gush during a parental phone call. Her next thought was to get bumper stickers made. Then we laughed about the possibility of Sore and Tush or More and Lush or Core and Mush. I think maybe you had to have been there. More Washington Post contest entries for better word meanings courtesy of Greg Tarsy: Flabbergasted = appalled over how much weight you have gained. Balderdash = a rapidly receding hairline. Lastly and sadly, because I love these definitions, Frisbatarianism = the belief that when you die, your soul goes up on the roof and gets stuck there.
---
Bruce critiques films every other Thursday on KUSP-FM (88.9) at 12:50pm. Reach Bruce at [email protected] or call 457.5814, ext. 400.
---
[ Santa Cruz | MetroActive Central | Archives ]