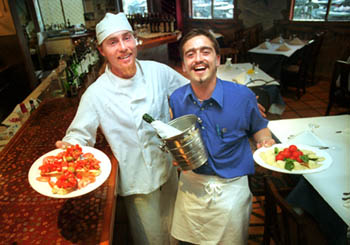 Photograph by George Sakkestad

Plate and Barrel: Chef Simone Romiti and manager Lenny Barsanti (with wine bucket) of Il Pirata.

Hidden Treasure

Sexy flavors not to be missed fill this Capitola treasure--Il Pirata offers authentic Italian cuisine with charm to spare

By Christina Waters

ONE OF THE great pleasures of dining out for a living is being able to stumble on some little jewel that cries out for attention. What a treat it was to check out Il Pirata, a cozy nondescript dining room with a view of the beach on Capitola's Esplanade. Several readers had told me about their wonderful meals at this all-but-invisible neighbor of high profile establishments. How right they were!

Di and I had one of the most enjoyable meals we'd ever shared in 20 years of dining out in Capitola. Decor is not the strong suit of this former burger shop. Nautical murals crawl the walls in what might be a pretty little trattoria, especially given its open kitchen. And the name is the brainstorm of Il Pirata's gifted Italian chef, who sports an earring (as do half the males in California). Forget the name, ignore the decor. Be prepared to be dazzled by food and service that all speak with a clear, delicious Italian accent.

One look at the menu and we decided to splurge on a serious bottle of Chianti Classico, a "Riserva" 1996 Poggio Rosso, Tuscany ($50). Unbelieveable depth and richness emerged from the very first sip. We smiled. The waiter smiled. Our brilliant chef--Attilio Siena--did the rest.

From the lavish list of nightly specials, we decided on fillet mignon smothered in fresh tomatoes ($22.95) and veal piccata ($16.50), a deceptively simple dish that I adore. Our appetizer salads arrived--mine of peppery arugula and fresh marinated calamari ($7.50), Di's a classic insalata Cesare ($4.50)--along with a basket of soft, nut-studded whole wheat house-made bread. Not the usual francese, its hint of sweetness was wonderful, topped with pungent tapenade freshly whipped up by the chef.

The first bite of tender calamari invoked visions of Venice--and memories of just these flavors, tasted on a terrace overlooking the water, years ago. The marinade of lemon, parsley, green olives and tiny gratings of carrots was hauntingly beautiful and unexpected. Di's crisp Caesar salad hit all the right spots, from garlic to giant, impeccable croutons. We nodded happily when asked how everything was.

A true professional, our server removed the remainder of the calamari. It waited in the kitchen, packed up to go, until we were ready to leave. What a relief not to have plastic containers staring us in the face during the rest of our dinner.

After much flaming of sauté pans--molto dramatico--entrees arrived, confident and aromatic. My veal picatta was perfection, tart with wine, lemon and capers. Three tender scalloppine were joined by lemon and rosemary roast potatoes, a thicket of fresh, al dente asparagus and sautéed broccolini.

It was all excellent in every single aspect, especially the celestial potatoes. Di's generous expanse of filet--joined by the same outstanding vegetables--was topped with fresh tomatoes sautéed with a splash of wine and cream. Use your imagination. It tasted that good.

We succumbed happily when our waiter insisted on fixing a "special dessert" just for us. The result was a sampler of three specialties, including sinful dark chocolate gelato--drizzled Italian-style with chocolate syrup, a wedge of Grand Marnier-spiked lemon crostata good enough to marry, and a creamy slab of house-made tiramisu to make Sophia Loren moan ($5.50).

By the time we rolled out of Il Pirata after 9:30pm, it looked like a scene from Big Night. The chef, his assistant and the waiter were all seated at the bar eating their dinners. They looked up from their plates to smile and wish us "buona sera." Make that buonissima!
---
Il Pirata
Address: 201 Esplanade, Capitola
Phone: 831.462.1800
Entrees: $9.95-$22.95
Hours: Dinner Mon-Fri 5-10pm; lunch and dinner Sat-Sun 11am-10pm
Service: *** Skilled, joyful and inventive
Ambience: ** Silly wall frescoes, but the culinary action visible from the tables lends excitement to the experience
Cuisine: *** Absolutely confident and delicious, the food tastes like Italy, is prepared before your very eyes and generously presented
Overall: If this place had a different name and Tuscan yellow walls, it would be booked solid every night--wonderful Italian classics. Not to be missed.
---
[ Santa Cruz | MetroActive Central | Archives ]