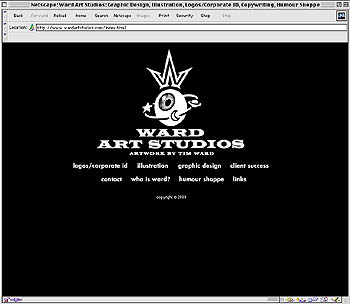 Artful Eye
By Dan Young
www.wardartstudios.com
Santa Cruz's surfing community--the real surfing community of fiberglass, neoprene and bare feet tracking sand everywhere--has been set upon in recent years by hip-seeker society that wants to co-opt the surfer lifestyle. But while many native Santa Cruz surfers have pulled up stakes and carved out niches along the desert cliffs of Baja and Australia, several local rippers have stayed in the groove, using to their advantage this digital Deliverance onslaught.
Take expert surfer/artist Tim Ward. One of Santa Cruz's top wave-riders from the time of his youth, Ward was a student who decorated his books and papers with penciled renderings of waves and surfers. His talent was easily recognized, and Ward was soon sketching logos for underground surfboard and skateboard makers. Today, Ward's distinctive surf artwork has come to define the local surf scene--and Santa Cruz style in general. His corporate logos are Santa Cruz: O'Neill Wetsuits, Santa Cruz Surf Shop, Pacific Wave, Paradise Surf Shop, Coffeetopia, Vernor Surfboards. His art graces other local business logos, from organic food stores to tanning salons to jewelry and clothing companies.
But Santa Cruz is but a drop in the silicon ocean, and Ward has seized the Internet as an opportunity not only to display his talent for graphic artwork but also to showcase his depth as a fine artist. At his site, a visitor can browse oils of clowns surfing an orange sea, charcoal sketches of sci-fi dreams and watercolors of perfect oceanscapes. Thank goodness this dotcom hell hasn't driven off all our talented native sons.
[ Santa Cruz | MetroActive Central | Archives ]