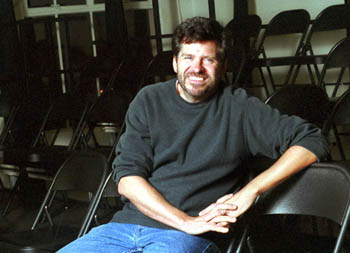 Photograph by George Sakkestad

Satellite Programs: David Dower, artistic director of the Z Space studio in San Francisco, wants to make Santa Cruz an outpost of cutting-edge theater.

From Arts To Z's

Z Space Studio not only survives but thrives during a hard spell for Bay Area artists

By Andrea Perkins

FOR ARTISTS STRUGGLING to make a living--much less to make art--in a part of the world that sends their peers scurrying to fabled far-off lands of reasonable rent, the San Francisco-based Z Space Studio shines like a lone beacon in the night. Born seven years ago amid the ashes of performing group the Z Collective, Z Space Studio continues to succeed in its mission to creatively solve the problems facing Bay Area theater.

Santa Cruz has been a fortunate guinea pig of the Z Space Studio's expansion plans. The Z Festival of New Performance came to town in autumn of 1998, and this year's edition of the now-annual showcase of new performance works marks a further expansion of the Z Space mission with the inauguration of Santa Cruz's own Z Space Studio Artists in Residence program. No longer will Santa Cruz performers need to undertake the arduous commute to San Francisco in order to develop work in this one-of-a-kind program.

"It was our ecologically sound concession to the needs of the planet," jokes artistic director David Dower, who hopes to establish eight to 10 of these festival communities in different cities. "It was our goal [to start a satellite program in Santa Cruz] all along. There is quite a bit of interest in the performing arts in Santa Cruz." There is also about $31,000 in grants from the Community Foundation of Santa Cruz County and the Packard Foundation.

The Artists in Residence program, Dower explains, is based on the idea that quality theater requires a supported period of research and development. Structured around weekly workshops, the program offers playwrights, performers and designers administrative support in addition to 24-hour access to rehearsal space.

"The Santa Cruz Artists in Residence program will allow 20 people to develop new work for the stage," explains John Patterson, manager of the Actors' Theatre, which has housed the festival since the Z Space first came to town. Sarah Albertson and Bill Peters, a husband-and-wife team, have been selected as the directors for the Santa Cruz program. Albertson, a theater teacher at Cabrillo College, and Peters, a theater teacher at San Francisco State University, will lead weekly feedback sessions and shepherd the residents' work toward production.

"It's for people who are ready to really focus on their work, to take it to the next level," Patterson says.

"I know the program will flourish because Santa Cruz artists are ready for it," Dower says. "They recognize an opportunity to do group work that will push their careers and vision simultaneously."

Fest Facts: Z Marks the Spot.

Strange Bedfellows
AND THAT, in effect, is what Z Space is all about. Half artistic mentor, half business adviser, Z Space Studio is a haven where artists can develop a work's artistic vision as well as its market viability. Z Space itself is the love child of a union between art and business.
The Studio's large administrative, rehearsal and performance facility, located on San Francisco's Mission Street, is made possible through an unusual collaboration with computer consulting firm Avelino Associates. In a time when dotcoms are characterized as big bullies who terrorize small nonprofits and artists, Dower testifies to another dynamic that is alive and well in the heart of the high-tech invasion.
"I think there are a lot of heroes in the stories about the dotcom corporate rent situation," says Dower, who is of the opinion that while a great amount of noise is made over the evil few, a greater number of the unsung are engaged in doing good. "You don't hear about the individual heroes as much as the villains.
"Z Space and Avelino have literally been living in each other's hair, and we value that interaction," he continues. "It takes a specific type of patron, one who is not only committed to investing in the integration of arts and business but also in culture and the community."
Rather than withering under the blaze of the new economy, Z Space has flourished, expanding programs and last fall even creating Foghouse Productions, a profit-generating production company designed to provide an alternative theater venue and be a source of revenue for the Z Space Studio programs, which abound. Last year, Z Space received the prestigious Paine Knickerbocker Award. Named after the longtime drama critic for the San Francisco Chronicle, the award is given annually to an organization or person that has made a significant contribution to Bay Area theater.
In addition to the Artists in Residence program, Z Space fosters new musical theater and community forums and hosts discussions on issues facing the theater community. There are programs for solo artists and ensemble acts and regular performances of Z Studio projects. A Z Commissions program awards artists a cash stipend, rehearsal and development space and a three-week public workshop. The Zeta Play Reading Series invites audiences to be a part of the early stages of a play. The range of work Z Space has traditionally promoted is impressive, from Amy Freed's Pulitzer Prize-nominated pieces (Psychic Life of Savages and Freedomland) to the fearless new work of Sara Felder.
Let the Festivities Begin
THE Z FESTIVAL of New Performance is the product of these labors. Santa Cruz is the launch pad. Following a five-week run at the Actors' Theatre, the festival will send some shows off on national tours.
This year's festival opens with Sara Felder's Shtick! A Queer Play about Jewish Vaudeville, directed by Jane Wenger. Felder, a Jewish lesbian juggler, is no stranger to Santa Cruz. Her portrayal of a lesbian wedding, June Bride, sold out every Actors' Theatre show when it came to town two years ago. Santa Cruz audiences will remember her as the woman who did the lesbian version of "one fish, two fish, red fish, blue fish," reciting "one dyke, two dyke" while juggling sock puppets.
"One of the things we do is try to find diversity of form and diversity of voices," Dower says. "Sara represents all of that in and of herself."
Shtick! has played before L.A. and Toronto audiences to much acclaim. Developed with a traveling Jewish theater company, it examines the role of women in classic Jewish vaudeville.
The infamous Josh Kornbluth also returns this fall--but only for one night. On Oct. 14, the hilarious Kornbluth performs three monologues, including Haiku Tunnel, which, thanks to a Z Commission, has been developed into a screenplay. Between performances, Kornbluth will host discussions about the making of the movie version of Haiku Tunnel, which just finished filming in San Francisco.
One production that promises to take off nationally is Brian Thorstenson's Summerland, the story of a gay man coming of age in the Badlands. Thorstenson, one of the founders of the original Z Collective, has already garnered numerous awards and a following in San Francisco for this, his second production. The play is already slotted for production in New York's off-off-Broadway Wings Theatre in January.
"This is Z Festival's first ensemble play," says Dower of Summerland. "It's a gorgeous piece of writing. I know the audiences are going to fall in love with both of the main characters. It's one of those openhearted plays that make you go 'Aw.'"
True Fiction Magazine takes the stage next, but for one weekend only. The five-member improv ensemble has staged more than 5,000 performances, none of them the same. Featured on the radio program West Coast Live, these improv kings will be teaching sold-out workshops while in Santa Cruz. According to Dower, the strong improv community in Santa Cruz lobbied heavily to have them included in the festival this year.
Last but not least are the perennially popular Word for Word productions, short works from literature, staged verbatim. The recipient of a Bay Area Critics Circle Best Ensemble Award for 1998 and 1999, Word for Word presents two stories in one evening: the acerbic Dorothy Parker's Standard of Living, which happens to be the first Word for Word production done at Z Space, and Shirley Jackson's Mrs. Melville Makes a Purchase, the latest example of the form.
"I am really looking forward to the day when the first play from the Santa Cruz Artists in Residence program is in the festival," Dower says.
If the enthusiasm for new theater that Santa Cruzans show each year by filling the Z Festival's shows to capacity is any indication, it may not be long before we have an entire festival of our own.
[ Santa Cruz | MetroActive Central | Archives ]