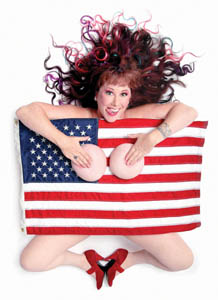 That's a Hell of a 51st State: Annie Sprinkle, who appears as part of a benefit for WAMM Oct. 16, here shows off one of the many designs the government is considering to 'liven up' the flag.

WAMM, Bam, Thank You Mams!

Sex Goddess Annie Sprinkle gives her breast effort in an educational evening of erotic imagery benefiting WAMM

By Mike Connor

Provided you're not Jesse Helms, it's hard not to like Annie Sprinkle. For over 30 years, Sprinkle has been baring her ample assets for all the world to see, from the early days in the '70s as fetish adult film starlet to her "Post-Porn-Modernist" days of avant-garde performance art. She's been a tireless advocate for AIDS prevention and education among sex workers, even making it the subject of her doctoral dissertation.

Now, she's bringing her one-woman show of sexual empowerment to the Del Mar Theatre on Oct. 16 to help WAMM with their exorbitant court costs. Among other things, she'll be showing slides from Herstory of Porn, as well as clips from her upcoming release, Annie Sprinkle's Function of the Orgasm.

"I'll be making tit prints for the people who buy front row seats," says Sprinkle, "and I'm going to show some slides of my work. I'll probably do my infamous bosom ballet ... whatever I can do to entertain the troops on the front lines."

Like a USO show, only sexier--and more subversive. Because instead of reinforcing gender stereotypes and the objectification of women, Sprinkle is out there debunking stereotypes about sex workers. Her infamous "Public Cervix Announcements" (in which she invites audiences to view her cervix through a speculum) are her way of helping to demystify the female body. She's working hard to strip away the moral fabric of our culture that hinders pleasure and intimacy. In Sprinkle's utopia, everybody would be naked, and uninhibited sex would be everywhere we look.

For her part, Sprinkle is certainly setting a sex-positive example. And for my part, I've always felt Sprinkle's breasts would somehow help save the world. As ever, Sprinkle is utterly shameless about baring hers to make some money move in the right direction.

"If sex sells, and if that can help raise money for WAMM," says Sprinkle, "we'll put on as good a show as we can. I think people ought to come down--it's a sexy thing to do for a really good cause."

And if Annie Sprinkle--who now has a Ph.D. in sexology--says it's going to be sexy, aren't you going to believe her? This is a woman who's explored the kinkiest outer reaches of sex and lived to do it again and again. She's the "Shirley MacLaine of Porn"--a nickname she earned as a result of her interest in Tantra and sex magik. She espouses the therapeutic possibilities of sex work, and teaches workshops in sex magik and the fine art of inducing orgasms.

In short, she's a crusader for sexual pleasure and the right of every person to seek it freely. Her motto, "Let there be pleasure on Earth, and let it begin with me," is a call to arms--and legs, and mouths, and everything in between--against a moralistic culture that demonizes pleasure, a tendency which Sprinkle believes dovetails with our government's suppression of medical marijuana and the plight of WAMM.

"There are political parallels; I've had to fight my share of legal censorship battles, and I think the repression of marijuana use is just that same mean-spiritedness of the government trying to play 'dad' and treat us like children," she says. "Overall, we [both] believe in the freedom to do what you want with your own body. And also, sex is a great high--marijuana and sex both make you feel so high and so good."

David Steinberg's Ordinary People

"Do you know what you look like when you come?" local photographer/writer David Steinberg asks me, albeit somewhat rhetorically.

I don't, but an educated--and ridiculously unflattering--guess flashes through my mind, and I can't help but snicker a bit. I'd never considered inviting a photographer into my bedroom, especially at the moment of truth. And yet Steinberg's new book, Photo Sex: Fine Art Sexual Photography Comes of Age, is full of images of ordinary people (taken by 31 different photographers) who have done just that.

The book is also Steinberg's body of evidence that sex is being embraced by an increasing number of skilled photographers as the subject of fine art.

"These are images that have nothing to do with the repetitive, clichéd formulas of commercial pornography," says Steinberg in his monthly Comes Naturally column for the S.F.-based Spectator Magazine. "Rather they are images that invite us to look at sex with wonder, laughter, passion, and tears, from a place of deep appreciation and respect."

And it is from this place of appreciation and respect, Steinberg argues, that people can learn more about their sexuality through "fine art" sexual photography.

"We learn things from art--whether it be visual or verbal, paintings or novels, photos or poems--that we cannot learn from scientific treatises, from newspaper reports, from documentary narratives, from statistical analyses of quantifiable data, even from counselors and therapists."

The photographs he's included fall in line with Steinberg's own style of sexual photography, which focuses on capturing the subtle, intimate connections between longtime partners. Photo Sex is an affirming nod to the varieties of sexual experience, and to the human body in all its forms--thin, heavy, able-bodied and otherwise, young, old, and all different races. The results are often arousing, sometimes amusing, and, depending on your sexual constitution, explicitly challenging.

At Thursday's benefit, Steinberg will present a slide show dealing with the historical background of fine art sex photography and the political and social controversies surrounding it in the last 40 years, from Eros magazine and Betty Dodson in the '60s to Robert Mapplethorpe, Jacque Sturges and Madonna in the '90s.

He'll conclude the show with slides and a talk about Photo Sex. And although this book is already finished, don't think you've missed your opportunity to have yourself and your partner photographed.

Says Steinberg, "I'm always looking for more people to shoot."
---
Just Say Know: An Evening of Erotic Imagery With Annie Sprinkle and David Steinberg will be presented on Thursday, Oct. 16, at 8pm, at the Del Mar Theatre, 1124 Pacific Ave., Santa Cruz. Tickets are $30, available at Herland, 831.429.6636. Special $100 feature ticket admits two and includes an original "tit print" made by Ms. Sprinkle. Visit www.anniesprinkle.org to learn more about Annie Sprinkle. Contact David Steinberg at [email protected] to subscribe to his column.
---
[ Santa Cruz | Metroactive Central | Archives ]