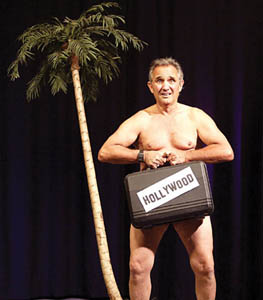 How Many Types of Wood Can You Spot in This Picture?: Ralph Peduto may be hiding something in 'Butt-Naked in Tinseltown.'

No Butts About It

Ralph Peduto bares the awful truth in 'Butt-Naked in Tinseltown'

By Sarah Phelan

The first thing you should know about Ralph Peduto's Butt-Naked in Tinseltown is that absolutely no mooning takes place. Thank God. Instead, you can sit back, relax and laugh yourself silly as Peduto bares all emotionally about his real-life experiences as an actor working with Hollywood's finest, including Francis Ford Coppola, Keanu Reeves and Robin Williams, to name but a few.

Sure, there's a whole lot of name-dropping going on throughout this one-man show, but it's absolutely delicious and 100 percent forgivable, since Peduto does it in the context of shrinking Hollywood's top movers and shakers to bit players in his play. Yum.

Which brings us to the other thing we need to warn you about. Peduto's thoughts on Hollywood are neatly summed up in a reggae-esque tune that he wrote and sang, (presumably while under the influence of Bob Marley rather than Jean Paul), and which will be rattling around in your head long after the curtain comes down. So prepare to channel Jah when you find yourself belting out this joint's catchy li'l refrain, which goes, "Butt-naked in Tinseltown/ You're on your way up/ When you're going down."

Peduto should know. A veteran of Tinseltown, he has appeared in The Rock, Mrs. Doubtfire, Patch Adams, Cheers and General Hospital, to name but a few of his 40-combined feature film and TV credits, and is probably best known to American TV viewers as the Midas Muffler Man. ("Nobody beats Midas ... nobody.")

All of which adds up to a bunch of juicy anecdotes, which Peduto mines to sidesplitting effect as he reveals what was really going on in his mind in an industry in which it's best to keep your thoughts to yourself for fear of pissing off the prima donnas, godfathers and sadists who typically frequent movie sets disguised as stars, directors and assistant producers.

Peduto delivers this material with great timing and a devilish twinkle in his eye, even as he's purportedly eating humble pie. Not afraid to show his vulnerable side, he recalls the infamy of accidentally directing a Coppola movie, smooching with Fran Drescher and appearing in a cat litter commercial in which the cat litter, not him, was the star--all big ouches that are funnier than hell in the retelling.

Rumor has it the show is headed for L.A. and S.F. in 2004, so catch it while it's in town and enjoy the complimentary wine, courtesy of Carlo Rossi (for whom Peduto just did an ad campaign that will soon lead to his cardboard image popping up in a liquor store near you). Is this performance theater or therapy? You decide.
---
Butt-Naked in Tinseltown runs through Oct. 18 at the Actors' Theatre, 1001 Center St., Santa Cruz. Thursday, Friday and Saturday at 8pm. Tickets are $12 Thursday, $15 Friday and Saturday, available at the door, or call 831.420.5260; for more info call 831.425.PLAY.
---
[ Santa Cruz | Metroactive Central | Archives ]